Increasing LAN cabling performance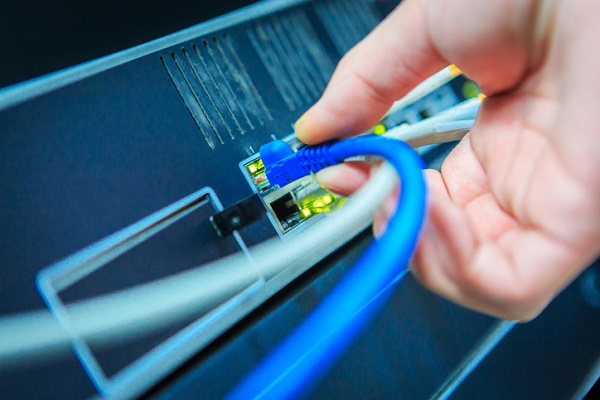 The structured copper cabling of local data networks in buildings and offices needs to deliver better performance.
More jobs for old copper cables
The tasks of structured copper cabling in buildings and offices are on the increase. In the beginning, the Ethernet cabling was only used for networking communication and data devices. Now, the mix features completely different terminal equipment accessing the Internet via the local data network:
More stable WiFi connectivity is required to meet the needs of smartphones and tablets. Access points with a 5GHz frequency range make greater demands of the cabling.
Structured cabling also requires increased agility to deal with the rising number of security systems.
Many of these new applications require more than 1 Gigabit Ethernet.
In addition, devices operated via Power over Ethernet (PoE) are becoming increasingly popular as a way to eliminate the need for additional low-voltage cabling.
Interferences – the problem of crosstalk
It could be problematic for many old Cat. 5e and Cat. 6 installations to deal with future interferences. Alien crosstalk can have an impact on unshielded (UTP) cabling in particular. In the past, the alien crosstalk (AXT) factor was not taken into account during installation.
Recommendations for upgrading the LAN
R&M issues the following recommendation: Check the installation and have it recertified before you upgrade the Ethernet technology. The relevant parameters can be found in the standard IEEE 802.3bz.
Today's new installations should be planned at Cat. 6A level. Correctly installed Cat. 6A cabling offers reserves for the 2.5 and 5 Gigabit era and for the later use of 10 Gigabit Ethernet.
Can your installation take PoE?
With PoE too, the focus is on the vastly increased performance to supply an ever-increasing number of end devices with electricity over the data network. This is why PoE should increase to almost 100 watts and run over all four pairs of wires.
The impact of cable heating on data transmission performance must not be overlooked:
Whether existing installations are compatible with the higher PoE output and have an adequate loss budget depends on the cable and the planning.
Shielded cables and larger conductor cross-sections do not heat up as much.
The size of the cable bundles and the installation environment play a role.
If high currents are pending, the quality of the plug connections is more important than ever before.
R&M has developed a PoE calculator to help planners, installers, and users to evaluate and check their starting conditions.
This article was initially published on the R&M blog here.