Getting our hands on the 2023 Renault Trafic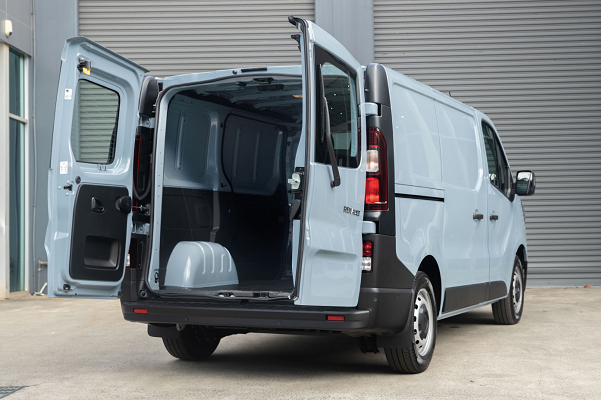 As far as facelifts go, the Renault Trafic's 2022 revamp extends quite a way beyond just an epidermal reshuffle. Sure, there's a new nose at the front and some fresh innards to bring the cabin into the modern age, but there's also a considerable realignment of the Trafic's positioning within the midsize van market too.
Let's deal with the obvious stuff first: the 2023 Renault Trafic is not a cheap van, nor is it a box-fresh design. Based on the same steel bones as the just-superseded model – which went on sale in 2015 – the 'new' Trafic is still built on seven-year-old bones, and the price of entry has been moved up by nearly ten grand to $48,200 for the Trafic Pro short-wheelbase manual. However, according to Renault Australia the changes to the Trafic bring not only fresher styling, but a better engine, more driver assistance tech and a higher load capacity. The new pricing structure makes the Trafic a rival to things like Mercedes-Benz's Vito and Volkswagen's Transporter, but Renault's local distributor says typical Trafic buyers already had a preference for higher-spec models – the increased cost of the new one shouldn't compromise its appeal among the owner-operator tradies that typically favour the Trafic.
Opening at $48,200 for the base Trafic Pro manual, the eight-variant Trafic range stretches to $62,200 for the Trafic Lifestyle LWB Crew van, with the Trafic Premium – which is expected to be the most popular variant – retailing at $53,200 as an SWB, or $55,200 for the LWB.
From a nuts-and-bolts perspective, the biggest news for the 2023 Trafic is the deletion of the old 1.6L turbo diesel entry-level engine in favour of a considerably gruntier 2.0L turbo diesel, which now powers the full range and supplies 125kW of power and 380Nm of torque. Driving the front wheels, that engine can be connected to either a six-speed manual or a six-speed dual-clutch automatic in the base Pro grade, while the automatic is standard-issue in the higher-spec Lifestyle and Premium. Two lengths continue to be offered – a 5080mm-long SWB and a 5480mm-long LWB – and a six-seater LWB Crew van option is available in Pro or Lifestyle grades. However, a sliding door on the right side of the cabin is only standard on Crew vans and the Premium grade, as are side-hinged rear barn doors, while a high-roof bodystyle is not available in Australia.
Load-lugging capacity is also up, with LWB variants able to carry 29kg more payload and the maximum tow rating lifted to 2,500kg for the base model Trafic Pro. Meanwhile, the Trafic's decent (but not class-leading) 5.8m3 capacity (or 6.7m cubed in a non-crew LWB variant) provides plenty of room for cargo, racking, or any other trade fit-out, while its under-seat pass-through on the passenger side allows objects up to 4150mm in length (or 3,750mm for the SWB) to be carried internally.
Inside, the seats are familiar items, with no changes to cushioning. On models with the two-passenger bench seat up front, the fold-down centre position backrest continues to provide drivers with a convenient desktop and document holder/clipboard that's perfect for processing paperwork – or as a place to perch your lunch. The Trafic's dashboard is completely different, yielding new ergonomics while still giving plenty of storage options to keep gear like phones, tablets and chargers stowed while out on the road. The only big oversight is a relative lack of beverage storage options – cupholders and bottle-holders aren't exactly abundant with just two placed far away at the base of the A-pillars, which isn't a great thing for those who spend a great deal of their working day out on the road.
What will be appreciated, though, is the new 8.0" infotainment display. A big upgrade over the previous system, the screen equips every variant and brings Android Auto and Apple CarPlay smartphone mirroring. With the ability to use your own sat-nav software and easily make phone calls and set navigation destinations through voice instruction, it's definitely a handy tool. Only the top-shelf Trafic Lifestyle Crew gets a built-in sat-nav system, but in many ways using the smartphone mirroring delivers a superior result.
All models also ship with upgraded safety gear as well, with lane-departure warning, rear parking sensors and AEB being standard on all variants and Lifestyle and Premium models gaining active cruise control, front and side parking sensors, and blind-spot monitoring.
How's it drive? Commendably car-like. We took a Trafic Premium LWB for a spin through Sydney to scope out the changes, and while the cabin furniture and front end look different, the core driving experience is largely the same – which is a good thing.
With light steering effort it's extremely easy to thread the Renault through tight carparks or heavy traffic, with a 12.4m turning circle making it just a little less manoeuvrable than your average mid-sized sedan. The view from the driver's seat is expansive and the Premium's front and side-facing sensors help eliminate the blind spot on the front-left corner, so navigating crowded loading docks or work sites shouldn't result in scuffed bumpers. The wing mirrors are 30% larger than before too, and the reversing camera also has overlay markings to show how much clearance is required to fully open the rear doors.
The 2.0L and six-speed auto is a good combination, with quick shifts and reasonably fast transitions from drive to reverse. Like most dual-clutch autos it's not as good as a conventional hydraulic automatic for low-speed creeping, such as when backing up to a loading bay, but it's not as jerky as the old robotised manuals of the past. We didn't have the opportunity to put a meaningful payload in the back, however, so an assessment of how the 2.0L diesel deals with heavy cargo can't be made. That said, it feels very sprightly when dealing with the Trafic's 1.9-tonne kerb weight and is surprisingly quiet too.
In fact, refinement is definitely one of the Trafic's strongest suits. Low levels of cabin noise – aided by the Premium's standard-issue steel and glass bulkhead – coupled with comfortable seating, good ergonomics from the reach/rake-adjustable steering wheel, a decent infotainment system and the low effort required to drive it all combine to give the Trafic an easy-going nature that should make it a great work van for almost any tradie.
A five-year, 200,000km warranty that includes five years of roadside assistance also helps, while service intervals are wide apart at 12 months/30,000km, with the first five services capped at $649 each. It might not be the cheapest or the biggest mid-size van around, but as a work vehicle that you'd actually want to spend big chunks of your time in, the updated Trafic still shapes up as one of the better options.
This article was published in January 2023 in Across the Trades. We publish articles online after our magazine has been released to give our print subscribers preference.
ADVERTISEMENT

ADVERTISEMENT