From solar to polar at USC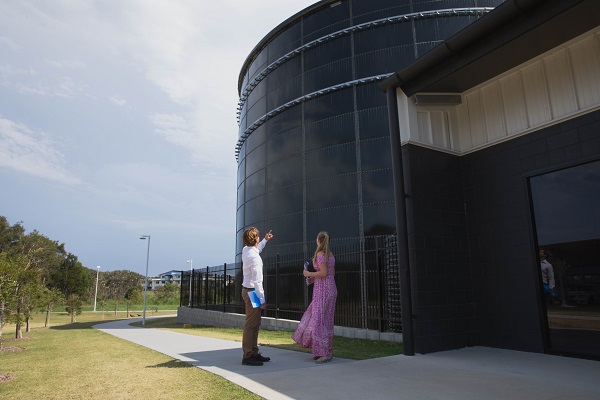 The University of the Sunshine Coast has taken a big step towards becoming carbon neutral by 2025, installing a 'water battery' that keeps an entire campus cool. Anna Hayes finds out more.
There are two certainties to life in Queensland – the sun will shine, and you really, really don't want to be without air-conditioning.
But what if you could use one of those inevitabilities to power the other?
The University of Sunshine Coast (USC), in partnership with Veolia, came up with an innovative way to power the cooling operations of USC's Sippy Downs campus, using the sun and a water battery.
Now, water batteries aren't that uncommon but the source of this one's power makes it a one-of-a-kind project.
Veolia's sustainability solutions manager for energy Angela Cooney explains: "This is the first water battery of its kind to be fuelled by renewable energy in Australia. It's been done elsewhere in the world for thermal heating before, but this is a first for cooling, which requires a lot more energy."
So far, the system has saved more than 4,232 tonnes of carbon dioxide emissions in its first year of operation, believed to be the equivalent of planting almost 70,000 trees and growing them for ten years. Putting that in perspective, the system has a projected lifespan of 25 years… that's a lot of trees and a lot of emission-free energy.
So where did this innovative idea come from?
Like many public institutions, USC harboured a desire to make positive cost and environmental changes, initially intending to implement a thermal energy storage system. Multiple ideas morphed into what became the final design.
In 2016, USC and Veolia were in discussions to develop an innovative system that would integrate large-scale solar PV with the storage of chilled water, which would be distributed to final customers through an upgraded version of the existing cooling network for air-conditioning.
Angela says: "This would allow the university to chill the water using electricity from the solar (instead of electricity from the grid), and thus reduce considerably its carbon footprint."
Working together, USC and Veolia developed a business arrangement that avoided capital expenditure, instead using a Queensland government procurement guideline which saw the university granting Veolia a six-month exclusivity period to design the system and develop the economic modelling.
"The final proposal was based on a shared vision for the continual sustainable development of the Sippy Downs campus by providing a technical and value-for-money energy solution," Angela adds.
"As part of this process, the parties agreed on a transparent, open-book arrangement whereby Veolia and USC would share all information relevant to the project. The final ten-year agreement was based on a Design, Build, Own, Operate, Transfer (DBOOT) model."
There were a number of engineering components involved in the process, which saw more than 6,500 solar panels (2.1MW) installed across campus rooftops and car park structures.
The team also installed 1.6km of piping serving 15 buildings, and an 8.2MW cooling network which offers a peak flow of 140L/s in summer, as well as two HFO chillers, and a 4.5ML chilled water tank, which effectively acts as a thermal battery, and provides 8MWh of energy.
A high-end plant room incorporates innovative engineering solutions but is also designed to function as a teaching and learning space for students. An advanced Building Management Control System (BMS) allows for sophisticated and real-time management of the PV solar output to create chilled water for air-conditioning, to use in building energy consumption or to export to the electricity grid.
Angela explains: "The key technical synergy is ensured by the integrated approach to monitoring and control of energy to determine, in real-time, which is the best use for green electricity coming from the solar installation. In this way, the system seamlessly reacts to the changing load and weather conditions on campus and selects the best use of the renewable energy generated."
A new lake water treatment plant was also constructed to use the lake as a cooling tower make-up. The plant draws water from the lake via a low-velocity screened intake arrangement, ensuring no flora or fauna are detrimentally affected in the process.
In total, construction took about 18 months and was not without challenges, including: the optimisation of the plant energy flows, getting to grips with new engineering concepts such as building-integrated photovoltaics and navigating the quality assurance process with various contractors.
USC vice chancellor and president Professor Helen Bartlett says the system's success in its first year was a major milestone towards the university's goal of becoming carbon neutral by 2025, and proof that regional universities played a key role in innovation.
"USC is the first university in Australia to install a water battery powered by renewables, which is further proof that you don't need to be in the big cities to do big things," Professor Bartlett says.
"In the first full year of operation, the system has generated more than three million kilowatt-hours of solar electricity for our Sunshine Coast campus, representing more than 34% of the total electricity required."
An additional two-million-kilowatt hours of electricity are fed back into Queensland's energy grid.
ADVERTISEMENT

ADVERTISEMENT