Fetching the facts on dogs on site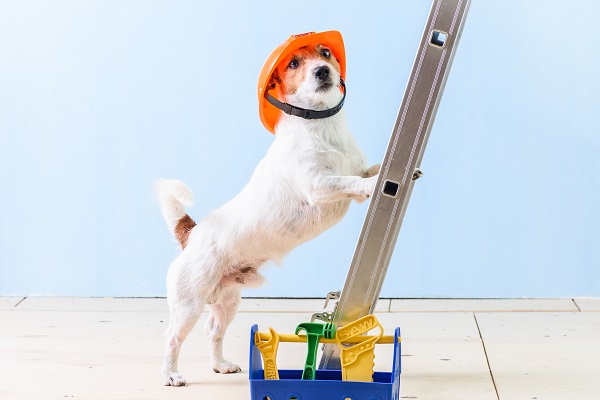 Man's best friend will follow its owner to the end of the Earth. But are there some places that they shouldn't go? Anna Hayes investigates the implications of bringing your dogs to a work site.
Dogs: they are loyal and loving; they are part of the family.
They hold the auspicious title of 'man's best friend' and, in many cases, go everywhere with their owner.
More and more workplaces are opening their doors to canine visitors, acknowledging the impact that they have on people's mental health and wellbeing.
Dogs have long been a feature of construction worksites as well, but there is a big difference between a relatively benevolent office environment and a not
necessarily dog-friendly construction site littered with machinery, loud noises, building materials and other tradies.
So, is a worksite the right place for your hound?
There are some who would argue, in the interests of health and safety for all involved, that your four-legged-friend should be kept away from any such locations. Others fall on the holistic side of the argument, claiming that dogs are good for morale and thus provide a valuable service.
There are numerous things to consider before you give your dog a site pass including questions of legal liability, safety and whether your dog provides a service that will benefit you when it comes to tax return time.
In terms of legal liability, the dog owner, the employer and the site controller all have a role to play.
Ross Levin is a workplace relations partner with law firm Mills Oakley and he points out that the employer has a duty of care to provide a safe workplacefor all employees, adding that they should conduct a risk assessment to ensure their public liability insurance covers these risks.
"The employer would need to obtain sign-off about the safety of individual dogs from owners and provide communications about safe interactions with dogs."
The dog owner too has a responsibility to give a full and honest disclosure about the risk profile of the dog: "They need to be proactive in managing the safety of others and exercise reasonable care in this regard."
Finally, the site controller has safety and negligence obligations as an occupier and operator of the premises to ensure the safety of anyone entering them.
"They would also need to check their own insurance coverage if those risks materialise," Ross says.
There is no one-size-fits-all solution to the question of legal liability, says Ross, adding that the number of things that could go wrong as a result of a dog on a work site are greater than one might think.
"Apart from a bite, there could be other safety hazards such as the dog knocking over a ladder, an accusation of the dog being used to scare another worker, or people refusing to work because they are scared of dogs."
He adds that liability depends on the individual circumstances of each case so it is all about weighing risk versus benefit, and risk mitigation.
"Clearly, the degree of risk is lower on a single, well-planned day where employees bring pets into workplaces as compared with allowing this to occur on an ad hoc or unregulated basis. In particular, it would be negligent to allow dogs to roam freely."
For those who do decide to, or are given clearance to bring their dogs on site, there are safety considerations to be mindful of, particularly the ever-changing set-up of a site.
RSPCA Australia senior scientific officer for companion animals, Dr Sarah Zito says that owners need to enact a high level of care and understanding of the welfare issues that may impact upon their dog on a work site.
Some issues include how their dog reacts around loud noises and new people, as well as their safety around potential dangers like heavy machinery, unstable buildings, holes and sharp objects, moving vehicles and other materials.
"The owner would also need to ensure that areas are provided for safe shelter and access to food and water and that the dog will not get too hot or cold. It's important to also note how quickly the inside of a vehicle can heat up and dogs should never be left in vehicles. The tray of a ute or truck can also heat up on warm days which can easily burn a dog's foot pads."
Each dog, she points out, is different, as is every work site and she stresses that owners need to consider what safety measures they can implement and whether the situation is likely to be adverse to the dog's welfare.
One of the commonly quoted benefits of bringing your dog on site is that of potential tax perks, but there are strict criteria surrounding this and, in most cases, the tradie bringing Rex to site so that he's not on his own in the house all day is not going to cut the mustard.
Mills Oakley private advisory partner Andrew Spalding explains that the two most common scenarios where owners can benefit are when they own guard dogs or farm dogs, as the Australian Tax Office sees these dogs as playing an integral role in the "income producing activities" of a business.
For eligible dogs, their cost of purchase is generally not tax deductible but ongoing maintenance such as dog food, vet bills and council registration can be claimed.
Andrew says: "Whether or not tradespeople can claim tax deduction for their dogs that accompany them on work sites and guard tools/supplies is somewhat of a grey area and does depend on particular facts and circumstances – for example, the breed of the dog and its suitability to security work."
Generally speaking, for tax deductions relating to a guard dog, the dog must have a primary purpose of keeping the business premises secure, and be owned by the business. If it is owned by an employee, there should be a necessary connection with the derivation of the employee's salary or wages.
Very few people are able to claim working dogs according to H&R Block director of tax communications Mark Chapman, who says that the number of people claiming now is largely similar to those who did so in the past. It is, he says, something that they receive many enquiries about.
"Many people ask us if a claim can be made, but sadly in many cases their particular circumstances don't justify a claim. So, if the animal in question is really the family pet (and not a working dog) or if the dog is the wrong breed to feasibly perform guard dog duties, no claim is allowable. Similarly, no claim is allowable if the dog is guarding the family home, even if you store work equipment there."
If a worker is required to provide a guard dog, which is not a family pet, claims can be made for food, vet bills, shelter and registration costs.
Mark adds that the scope for claiming on a dog is very limited and points out that before making a claim people should be sure they can conclusively prove the dog meets the necessary criteria, including showing how the dog helps the business to generate income.
Other factors include whether the dog is partly or wholly a family pet, in which case no claim is allowed; if the dog resides on the business premises; and if the dog is actually suitable for the role of guard dog – your poodle or chihuahua is unlikely to fit the bill