element14 now stocking award-winning IsoMOV protectors from Bourns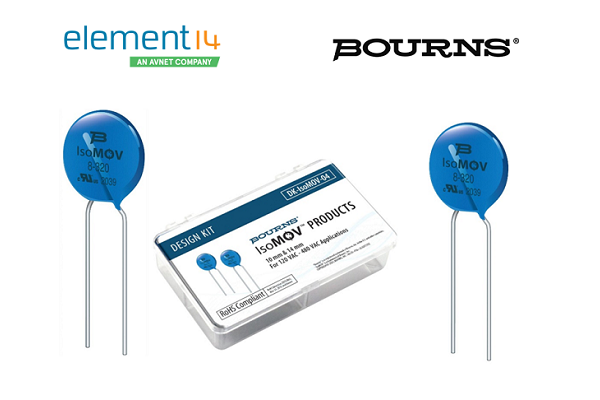 element14, an Avnet Company and global distributor of electronic components, products and solutions are now stocking the award-winning IsoMOV protectors from Bourns.
The hybrid protection component was singled out as a significant breakthrough in MOV device design and won the Electronic Products Passives Product of the Year award in February 2022. This important product introduction further elevates element14 as a leading distribution partner that offers customers breakthrough products that can solve complex design challenges.
The development of Bourns' family of IsoMOV protectors is one of the most revolutionary technological breakthroughs in overvoltage protection achieved over the last several decades. Applications include electric vehicle charging systems, industrial power supplies, power line communications, high-speed information and communication technology (ICT) equipment, as well as a wide range of certain harsh environments or remote, exposed applications where repairs can be both physically challenging and expensive to perform.
The fully integrated GDT and MOV IsoMOV protector's hybrid design provides a market-leading protection solution that solves MOV failure issues while delivering considerably enhanced surge performance, operational life and device reliability.
Product designers are now able to tailor or upgrade surge protection without having to make performance, size, cost or redesign compromises. IsoMOV protectors allow designers to do away with larger, generally lower-performing, and often more expensive surge protection design alternatives.
Bourns is an innovator in device and package design, constantly looking for ways to overcome complex technological problems for customers. Key features of the IsoMOV protectors now available from element14 include:
Hybrid protection component integrating the GDT function directly into the MOV itself, providing an elevated level of surge protection performance, operational life and enhanced device reliability.
Combining both devices into a single package allows the GDT to block leakage currents through the MOV that may lead to premature failure, making the MOV inherently more robust without adding additional components into the circuit design.
IsoMOV protectors enable designers to better tailor the surge protection performance to their space requirements and allow them to upgrade their MOV overvoltage protection to include the proven benefit of GDT isolation without a PCB redesign.
Industry-standard pin layouts offer a substantial performance and reliability upgrade over same-size standard MOVs in a pin-to-pin drop-in-replacement form factor.
"We are delighted that our customers can now purchase Bourns IsoMOV protectors from us," element14 vice president of product and supplier management Simon Meadmore says.
"element14 congratulates the development team for winning this prestigious award and it is great that designers can now get the right level of surge protection for their application without having to make any performance, size, cost or redesign compromises."
The IsoMOV protectors from Bourns are now available from element14 in APAC.