Electrocution in plumbing: What you need to know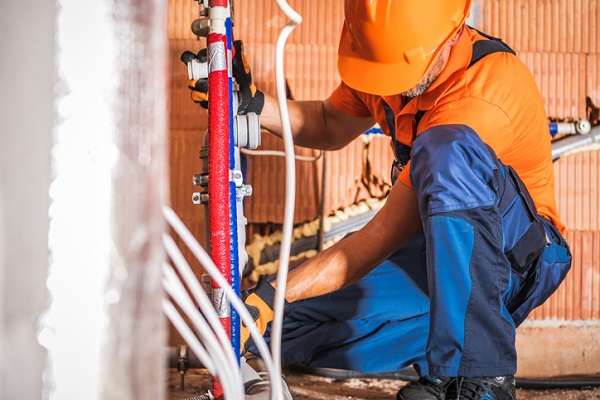 Metallic waterpipes can become 'live' through various methods. While there is a low probability of an incident, Chris Halliday writes about the genuine risk of electrocution for plumbers and what to do.
Most 'tingle' incidents from waterpipes go unreported, but they serve as a warning for higher-consequence incidents. Smarter water authorities and plumbers are managing this issue, but many aren't. This paper looks at the risks, as well as how the risks occur, and the options to manage the hazard.
THE RISK
The likelihood of an electrical incident while working on metallic waterpipes is somewhere between 'likely' and 'unlikely', but with catastrophic consequences. This leaves the risk between high and extreme, and so the hazard must be managed.
In plumbing/water authority situations, AC voltages as low as 3V can cause a person to 'lock-on' to the waterpipe and not be able to let go, and voltages as low as 24V can cause a person's heart to go into ventricular fibrillation.
THE MECHANISM
There are two main mechanisms for those working on metallic waterpipes to be killed.
The first, and most common mechanism, is because of a faulty neutral connection on the incoming electrical service. This causes the return current from the electrical installation to travel through the ground and via metallic waterpipes back to the supply transformer. Work at one electricity supply authority some years ago identified around 2% of older installations had a faulty neutral connection.
The second mechanism is where an electrical fault occurs, often in an appliance or electrical wiring, and 'livens' the electrical earthing system and metallic waterpipes. Generally, the electrical protection equipment will operate to remove the fault, but this is not always the case. Porcelain fuses, which are common in older properties, may be shorted with wire instead of fuse wire. Circuit breakers and safety switches can fail or fail to operate due to limited fault current.
Other mechanisms are equally noteworthy.
A reverse connection on the incoming electrical service wire coming into a property can 'liven' up the metallic waterpipes. This is rare but it does happen. Normally, these are generally found and rectified quickly but in one case the reverse connection had been in place for 16 years.
Another mechanism, again a rare occurrence, is where the active conductor in the incoming electrical service wire into a property shorts to the neutral conductor and burns the neutral off the supply transformer. This then makes the metallic waterpipes 'live'.
Lightning also presents a significant hazard to anyone outside in a storm, but especially for those working on metallic waterpipes. Lightning should never be underestimated and a direct strike with waterpipes is not necessary to kill or injure. Waterpipes can be 'livened' through the ground and can even be 'livened' through the air by what is called induction and/or capacitive coupling.
Other electrical hazards include using faulty appliances and leads, digging up underground electrical cables or sticking metallic items into or near overhead mains. These types of incidents can also result in the electrocution of plumbers and water authority technicians.
DEATHS & INJURIES
The following are some examples of the tragic circumstances that can occur if the 'live' waterpipe hazard isn't effectively managed:
The last water authority technician that was electrocuted (the injury or killing of someone by electric shock) that I am aware of occurred in Sydney in 2005. Allegedly, he was repairing a water service at a residential property using a bridging lead, but it wasn't connected one end or had been knocked off during work.
A plumber was electrocuted in Yennora in Sydney's west in 2009 who had been cutting a waterpipe without a bridging conductor or any other controls.
An apprentice was electrocuted in 2008 when he tried to rescue his boss, who had been cutting a metallic waterpipe. The boss survived but not the apprentice.
Denishar Woods was 11 years old when she touched a 'live' metallic tap in 2018. Her heart went into ventricular fibrillation, and she suffered permanent and debilitating brain damage. Whilst Denishar isn't a plumber or water authority technician, the same thing could have happened to these tradies.
There are many examples of deaths and severe injuries from faulty appliances and metallic objects.
CONTRIBUTING FACTOR & CAUSE
Prior to a change in the electrical 'Wiring Rules' in 1979, electrical installations generally used the metallic waterpipes as the earth electrode. From 1979 onwards, an earth electrode driven in the ground has been used to provide a return path for the neutral current should a neutral connection burn off. Additionally, metallic waterpipes have still been required to be connected to the electrical earthing system.
If replacing the metallic water service into a property, then an electrician will be needed to install an earth electrode if one is not already installed.
CONTROL MEASURES
Control measures include:
have the electrical installation checked by a competent electrician or electrical inspector;
use non-contact voltage testers for an initial voltage test;
voltage monitors connected to the metallic waterpipes for the duration of the work;
screw-up bridging conductors;
wear insulated gloves for the duration of the job;
turn off all electrical load;
stop work on metallic waterpipes during storms;
dial before digging;
look up and live; and
Use tested and tagged electrical appliances.
ADDITIONALLY
Policies, procedures, and safe work method statements will be needed to ensure the safety of workers.
Training in the procedures and management of the electrical hazard will be essential.
CONCLUSIONS
Working on metallic waterpipes can result in catastrophic incidents if the electrical hazard hasn't been managed properly. Additionally, anyone receiving an electric shock, no matter how small, should seek medical attention.
Equipment, procedures and training are also important in managing the hazard. Companies like PowerLogic can help in this regard.
Chris Halliday director of Electrical Consulting and Training, trading as PowerLogic, in NSW. PowerLogic are power quality, electrical safety and electric shock investigation specialist trainers and consultants.