Electrical Connection is turning 20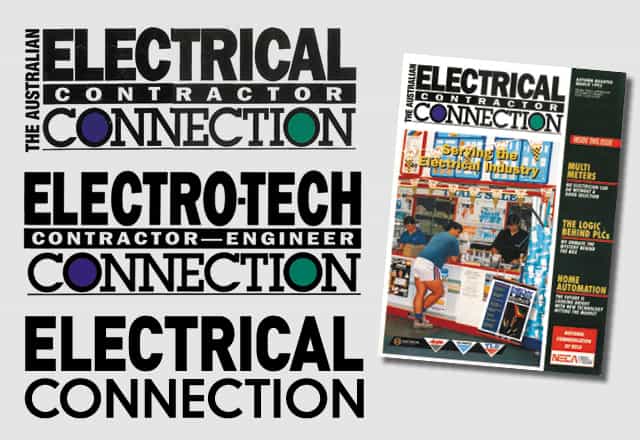 Paul Skelton looks back at how the magazine has survived, thrived and dived into many of the issues surrounding the industry.
The year was 1995. John Howard was named the leader of the Liberal Party, OJ Simpson was found not guilty of killing his former wife and her friend, the DVD format was announced and Ginger Rogers died aged 83.
At the same time, in a small office in the Victorian suburb of Carnegie, magazine publisher Jeff Patchell and his team at Patchell Publishing (now Connection Magazines) were putting the final touches on the first ever edition of what was then called The Australian Electrical Contractor Connection.
Twenty years, and four names, later The Australian Electrical Contractor Connection is this year celebrating its 20th anniversary.
You know it as Electrical Connection.
"Back in 1995, Patchell Publishing already published two magazines for plumbing and building contractors – Plumbing Connection and Building Connection (both of which are still published today)," Jeff says.
"After the response we received for our other titles, printing a magazine for the electrical sector simply made sense.
"We wanted to apply the same philosophy of independent, educational, relevant and technical content to this industry. We wanted to raise the standard of the whole industry, so that's what we set out to do."
To achieve this, building a stable of technical writers and contributors was important. Coming from a plumbing and building magazine background, the technical electrical industry was a new beast to be mastered.
Further, Jeff understood that in order to find a place in the market, building relationships with industry associations, wholesalers, suppliers and, of course, the primary audience – Australian electrical contractors and electricians
"Back in those very early days, Jeff worked quite closely with NECA's national secretary Peter Glynn to ensure that the entire industry would benefit from the new publication," former NECA national chief executive James Tinslay says.
"Jeff was determined to take the 'every man' approach he had successfully applied to plumbers and builders and apply it to electrical contractors. There was nothing else like it in the market.
"Other magazines out there were full of ads but had no content. Even the front cover was a paid for advertisement!
"When Electrical Connection came along with independent editorial and advertising it was so refreshing.
"Over the years, we started working closer and closer together, to where we are today with having newsletter in every edition.
"Now, Electrical Connection continues to play an important role in the industry, educating its readers on the issues of the day. In particular, electrical safety and licensing have been issues where the magazine has really played an important role. It pushed hard (and continues to do so) for widespread safety switch adoption; it always works in the contractor's best interests.
"In my time with NECA, I spent a lot of time with Jeff and Paul talking about what was affecting the industry and they always found ways to help. The magazine has always been on the front pushing for a unified industry."
When Electrical Connection was first conceived, NECA already had its very own member publication.
"NECA at that time was called Electrical Contractors Association of Australia (ECAA). We employed a journalist full time out of our Victoria office, to produce a monthly magazine in house," James says.
"When Electrical Connection began, we understood that it was aimed at the whole industry, not just our members, and it was all the better for it."
Jeff adds, "When I began talking to Peter about Electrical Connection, he immediately saw the benefit of an independent, unified publication.
"So did the suppliers. In those very early days, we received great support from the late Kevin Irwin at MM Electrical Merchandising. He helped us to commercially get the magazine up and running.
"Kevin also helped by getting MM's suppliers involved too. We are forever indebted to him for all the help he gave us in those early days."
Electrical Connection would like to take this opportunity to also thank Ampere, which has advertised in every edition of the magazine. And to HPM Legrand, Ideal Electrical and Fluke, all of which appeared in the very first edition, as well as Clipsal by Schneider Electric, which has also been a long-time supporter of ours.
"Trade magazines provide a fantastic opportunity to support industry associations and suppliers, without becoming their mouthpiece," Jeff says.
"The story is all-important, which is why we rely on industry experts to provide technical and business content.
"There's no such thing as a fully educated electrician, because the industry is constantly changing and evolving. And we have changed along with it."
A lot has changed over the past 20 years, but it turns out that a lot stays the same, too. When looking through the very first edition of the magazine in preparation for this article, it was hard not to notice the similarities in content.
Twenty years ago, Electrical Connection looked at the important issues surrounding multimeters, estimating accuracy, PLCs, smart homes, RCDs, licensing, illegal and non-compliant electrical work, smart meters, smoke alarms and the burgeoning solar industry.
All of these issues have been covered again in the past 12 months.
Someone quite heavily involved in defining the editorial direction of Electrical Connection in the very early days is Allan Alderson.
Allan was technical editor of Electrical Connection from 1995 to 1996.
"In one sense it feels like a lifetime ago, but in another it was only yesterday," he says.
"I remember that one night, about 20 years ago, I got too drunk at a party. I was with a mate of mine, who happened to be a colleague of Jeff's, banging on about how I was sick of engineering and that I didn't want to do it anymore. I made the declaration that I thought I wanted to be a writer instead.
"My mate then organised a meeting for me with the then-group editor John Hardcastle.
"He should have kicked me out of the door; I had no editorial experience or skills. But Jeff and John were kind enough to give me a go.
"The next two years were sheer hell and a hell of a lot of fun, putting together the first eight editions of the magazine. It was a great learning ground for me."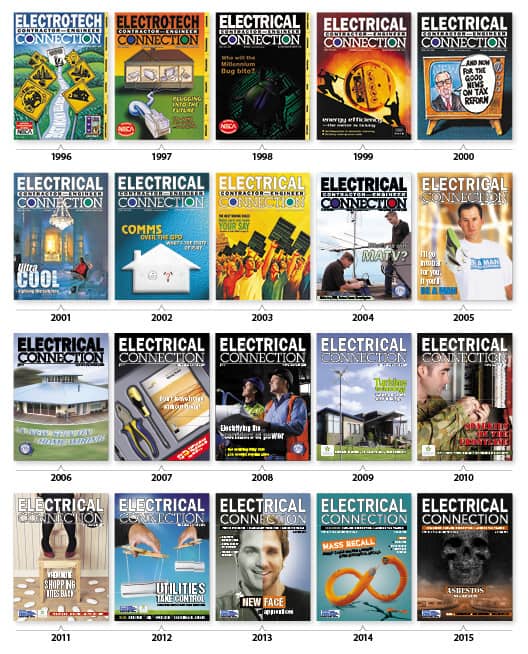 Allan pulled together a team of contributors and explained to the sub-editors what all the technical jargon meant.
"It all came together; after a few issues we had a beaut little magazine," he says.
"There was no other publication in the country that was doing anything vaguely like independent editorial. And I'm talking about editorial that hung together and genuinely told a story. And I believe that still continues today.
"In our competitor's magazines, it was always difficult to navigate your way through all of the advertorial puff. They were too hard to read. Personally, I wanted to blow those guys out of the water because it annoyed me that they were claiming to present technical information to the electrical industry but were falling so short.
"We did it so much better. We had beefy, interesting books of the same calibre as what was available in the UK and US."
Allan says he would often sit down with his electrician mates and ask them if he was on the right path.
"High quality print magazines are still revered. Even young people will sit down and read a good quality magazine. For contemporary audiences, sitting in front of a computer feels like work, so having a hard copy print magazine of something that's premium quality is more like relaxation.
"That's why Electrical Connection has lasted so long, and I don't think it will disappear anytime soon."
There's no denying the long and storied history of Electrical Connection (pun intended). I began writing for the magazine in 2006 and took over as editor in 2009. From day dot, it was always clear that our readers' interests always came first – an ethos that I make sure any new contributor understands before they put pen to paper.
Over the past eight-and-a-half years I have gotten to know many members of the industry and have always found it interesting just how much they consider Electrical Connection to be 'their' magazine. It puts great pressure on everyone involved in the production of the magazine to ensure that what we send to the printer is relevant, interesting and maintains the same integrity upon which it was founded.
But, as they say, from great pressure comes diamonds.
For me, my experience with Electrical Connection has been particularly educational because I didn't come from an electrical background. Fresh out of uni, I wrote about music and rugby league on the Gold Coast. A lot of people have helped me along the way, in particular my stable of contributors, who have produced some amazing content over the years. I would be remiss not to mention Phil Kreveld and Brian Seymour, who have both written for this magazine far longer than I have been a journalist.
Most importantly to me, Electrical Connection wouldn't be where it is today without the efforts of our staff writers, who have been instrumental in making sure we have content to fill the magazine; Gail Splatt, who works tirelessly behind the scenes; and Kylie Mibus, who makes my words look good.
Here's to 20 more.