Ektor releases Duo Core IP65 emergency luminaire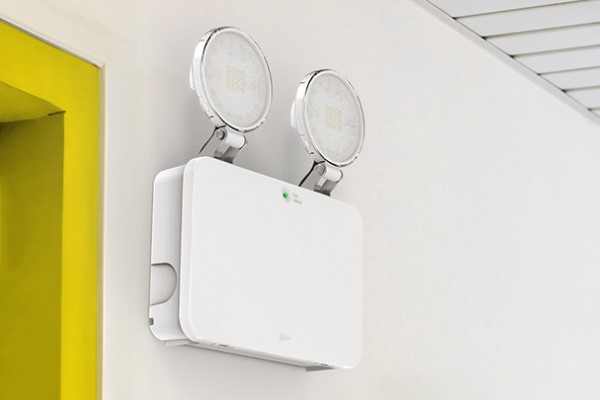 Ektor has released its Duo Core IP65 emergency luminaire, combining a compact design with unparalleled light output and setting new standards for emergency lighting.
To withstand the rigours of demanding environments, the Duo Core is designed for longevity. With an impressive IK10 impact resistance rating, it can endure the harshest treatment without breaking a sweat. It's an investment in durability, ensuring that your emergency lighting solution will be there when you need it most.
The Duo Core Emergency Floodlight combines a sleek design with superior lighting output, outstanding durability, resistance to the elements, energy efficiency and flexibility for optimal illumination. This product shows our dedication to safety and innovation by offering a dependable and efficient emergency light source.
The Duo Core stands out with its small yet stylish design, perfectly balancing looks and functionality. Boasting a superior emergency light output of 2 x 215 lumens, the bright light helps guide building occupants safely to the exits in emergencies. Installing the Duo Core is straightforward with its 1.2m flex and plug. This feature simplifies the installation process and integration into existing systems, giving you a dependable emergency lighting solution without fuss.
Thanks to its IP65 weather rating, the Duo Core is built to resist both water and dust, making it suitable for outdoor use and ensuring that it remains operational when exposed to the elements. You can rely on it in various conditions, regardless of the weather.
Flexibility is a crucial feature in emergency lighting, and the Duo Core delivers, allowing vertical (up/down) and horizontal (left/right) adjustments to meet your lighting needs. This level of adaptability ensures effective and efficient illumination in various situations.
Duo Core consumes energy more efficiently, saving you money without sacrificing light quality. Its focus on both energy efficiency and strong light output makes it a solid choice for organisations looking to be more eco-friendly.
With a design life of up to six years in maximum ambient conditions, it's a long-term solution that you can trust when it matters most. Illuminate your path to safety with the Duo Core Emergency Floodlight.
ADVERTISEMENT

ADVERTISEMENT