Edison and Tesla – Were they both right?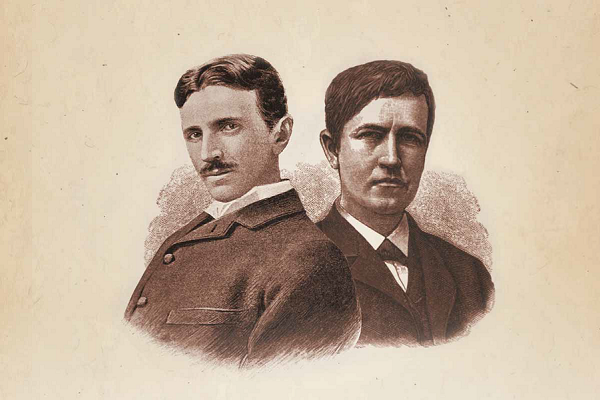 It's the age-old question, Tesla or Edison? Peter Vandenheuvel writes about what the two did for the electrical industry and whether the future is AC or DC?
And now for something completely different. A statement entrenched in our vocabulary and credited to John Cleese and the Monty Python crew.
How does it relate? Well, it is certainly a (possibly welcome) change from recent more routine and less than riveting Wiring Rules, switchboards, electric vehicles articles. Hopefully this will give an insight on how our electrotechnology industry continues 'being completely different'.
So what will be different? The number of new initiatives in the pipeline that could, in the not-too-distant future, change even decisions made in the late 1800s by some of our fledgling industry's 'giants'.
So who were Edison and Tesla?
Thomas Alva Edison
Italian-American Thomas Edison (1847-1931) was a ceaseless experimenter and tinkerer – an 'inventor extraordinaire'. Both as a result from his indisputable genius in the laboratory and ruthlessness as a businessman. He holds a record 1,093 patents singly or jointly with others.
He is also credited by some with inventing the incandescent light bulb, phonograph and motion picture camera and also many improvements to the then new-fangled telegraph and telephone.
He lived in a time when the new novelty, electricity, was starting to light up the cities of the world and ending the civilisation-shackling controls forced on society by the sun's rise and fall.
But it was very dangerous! The technology of the day – arc lighting – needed for voltages often above 3,000V. This led to overheating, arcing and full-on explosions raining sparks over the public at large and starting fires.
So, once Edison had developed stable long-life incandescent light-bulbs, he saw an opportunity to safely light homes and other buildings. He packaged it with the installation of local 110V DC power plants and the installation in between. He must have foreseen what we now call micro-grids.
Nikola Tesla
Serbian-American engineer and physicist Nikola Tesla (1856-1943) made many breakthroughs in production, transmission and application of electric power by championing Alternating Current – AC – principles.
Ironically, Nikola worked for Edison for a year or so after arriving in the USA. However, they parted ways after a misunderstanding.
Following an unsuccessful own-business start-up he was hired by George Westinghouse – another great name in the electrical industry. He was granted 30 patents – seven in just 1888 – and with Westinghouse's patronage – as licensee of Tesla's AC motor design – he had considerable income from the royalties. But this unfortunately didn't last.
Like Edison, he was also a prolific experimenter in areas as wide ranging as electric oscillators, meters, HV transformers (the Tesla Coil), radio control, radio communication and so on.
With Westinghouse, he lit the World Fair in Chicago in 1983 and installed the first modern AC power station at Niagara Falls. He was both famous and respected, but never able to translate his many inventions into enduring financial success.
And some clarification here; the Tesla enterprises in the late 1800s are not related to the 21st century Tesla, though it is highly likely he would be quite proud of the name being associated with it.
The 'war of the currents'
In all this, Edison and Tesla became somewhat embroiled in what is now known as the 'war of the currents' in the late 1880's, with some saying it was over whose electrical system would power the world.
Mind you, that's maybe a bit pretentious; after all, there were many scientists and engineers in other places around the world dealing with the same conundrum. But it does highlight, that this was a time when extremely important world-effecting decisions were being made.
Basically, it grew out of:
Edison on the side of Direct Current and his ambition to 'light the world' using his newly invented incandescent lamp ideally suited to DC power with small local power plants within a mile of the user, and
Tesla with his vision that Alternating Current had the potential to electrify all the world through using AC motors, transformers and the like with much fewer larger power stations at higher voltages covering much wider areas.
Well, it is no secret the AC system, preferred also by the Europeans and strongly promoted in the USA by George Westinghouse – who just happened to have taken on some of Tesla's patents in that country – won the day. It is still the predominantly adopted system around the world.
There were a number of compelling reasons for this, including the;
Simplicity of motor design – no need for commutators or brushes
Ease of stepping voltages up and down – using transformers
Greater transmission distances – higher voltages with lower power losses
More compact, better and reliable switching – less arcing
Why did Edison draw the short straw?
That is difficult to say.
Did he overlook Ohms Law, those basic fundamentals anyone doing even a simple electrical course learns very quickly? How could he not consider the only three things that define electricity for what it is? After all there are only three values in the equation, Voltage (V), Current (I) and Resistance (R). Especially as all should have been a red flag when using DC, with – if you pardon the pun – the negatives at the time far outweighed the positives.
Voltage; with no recognised practical way to change voltage the entire system had to be at a 'user friendly' value. Also with DC's continuous one-directional flow and AC passing through a 'voltage zero' twice as it changes direction in each cycle, it is more difficult to interrupt the current flow, so for this, the voltage also needed to be low.
Current; with the low voltage needed – Edison's preference was 110V – the current had to be higher, a double whammy. So not only was switching more difficult, but as the thermal effect is directly related to the value of the square of the current, it required larger conductors.
Resistance; although the typical resistance within the installation remains constant, the higher currents needed at the lower voltages to deliver the same power created additional line losses – aka voltage drop. Even Edison found it impractical to power more than one square mile in New York from a single power source at 110V DC resulting in his 'one power station per square mile' model.
Granted, Edison's lamps were considered superior at some stage but his competitors were already using similar on AC systems and even internal advice within his own company recommended considering AC.
So did he have a brain freeze? Was Edison's focus on his incandescent lamp business and turning that into the centrepiece of his 'generator to lamp' business wise or just a Westinghouse/Tesla vs Edison thing where ego got in the way?
Perhaps it could have been just a case of him being so focused on selling the lamps and installs, when his competitors had seen the world was ready for the whole AC 'electrotechnology' end to end solution?
And here is perhaps a warning for those sparkies and the like wanting to start or grow their business; always look at the big picture, don't just sell the lamp if there is more to be had.
So was the war over?
Maybe, with new technologies emerging all the time, we can call those late 1800s and early 1900s happenings as 'the end of round one'.
In the interceding 100-plus years – and the almost unbelievable electrotechnology advances – we could fairly say our world is now 'something completely different'. We moved from just having lamps in the home to all the electrified appliances we can't live without today and instead of powering up industry with real horses and steam engines, went to using electricity for everything, even including trains and now cars.
Just look at the last 30 years or so, with the internet, computers, LED lighting, solar cells and EVs.
But now, the average home, apart from the washer, dishwasher and vacuum, almost everything else is – or can be – DC and it won't be long before technology finds a way around that for the rest.
That is now changing the predominantly AC landscape. It is realised that now most (including cars) are now able to operate equally – or even better – on DC.
But currently, every one of those, from solar generation to cars and phones, all need a power pack, inverter or charger and every change from AC to DC – and back – incurs losses. Just charging a car from solar panels could include at least four steps – each losing from 5% to 10% per step – and six if a stationary battery is also involved.
Our world has completely changed. Even long distance HV high-current power transmission is now more cost effective with DC and there are now also ways to convert DC from one voltage to another.
So is it time for a rethink; if the 'current war' was being waged now, who would win?
The answer for now at least; probably both sides, but the war may not be over yet! We could be back to wiring for DC.
Here is just a short list of the 'completely different' things to come.
More solar. There is no doubt there will be ever more – and possibly smarter – solar, not just for homes and commercial enterprises but also larger and larger scale solar farms.
A recent TV programme noted the solar energy falling on NT was enough to power the world. If true, simple maths would suggest that, as we in Australia use around 1% of the entire world's energy, we would need 'only' about 1% of that equivalent area to power that. And as across all of Australia we still have plenty of space and sunshine to do this. EVs will possibly be a large driving force.
If we are serious about climate change targets we should certainly boost our use of sunlight via solar or wind power; providing of course that doesn't affect the climate in a negative way.
Hybrid homes; It already it looks very much like AC and DC may be working in tandem in future, especially in installations with larger DC equipment, be it from solar generation, storage batteries or electric vehicle (EV) charging.
This way, smart AC/DC installations – where all energy being generated or stored in the installation and any connected EVs – may be used for optimum economic 24/7 energy use.
Using DC directly by wiring both AC and DC could optimise the use of solar installs and may reduce the conversion losses from converting solar-generated DC to AC, to only covert it back for use in DC appliances and EVs.
This – or 'all DC' homes – may become the norm. There are already moves afoot to try to bring this in, especially in residential and commercial premises.
All-electric homes; quite apart from hybrid homes, a new think tank led by Australian inventor Saul Griffith – now advisor to the US government – with a 'Rewiring America' initiative promoting a new message "Electrify Everything!" He now hopes to do the same 'Rewiring Australia'.
Griffith and the Australia Institute have a discussion paper "Castles and Cars", noting the substantial savings Australian households can make by electrifying everything, including cars, home heating, water heating and cooking. No more gas pipes or bills needed.
The group believes the average household can save thousands per year by 2030 with solar panels on the roof, a home battery, EVs in the garage, and replacing all gas appliances with more efficient electric ones.
They note the efficiency gains will drop energy use to about one-third – that is by two-thirds – and Australia's world leading solar is cheap enough to power the house while saving money. And let's face it; even a one-third drop would be most appealing.
Also, Australia will be best placed to take advantage with our solar as we are already the best at harvesting sunshine directly with solar and well on the way indirectly via the weather; with wind turbines.
Power over Ethernet; is not a new technology because many have (possibly unknowingly) already used it for years. After all, every peripheral device connected to a computer via only a USB does just that. The latest technology sees USB type connections continually increase to power the ever increasing range of USB powered devices and saving having a conventional AC socket-outlet adjacent to the low-power device.
In addition to having both AC and DC wiring, there will possibly be a third power distribution system powering lighting fixtures and the like as well as other low-power appliances.
System outlets rated at 100W are already in use and this could grow to 200W and beyond very soon.
Green Hydrogen; with the ever-growing move to clean energy, the production of hydrogen as a fuel is already being very seriously explored.
However, current methods for manufacture of hydrogen still use fossil fuel (grey hydrogen) and natural gas (blue hydrogen). For it to really be green it must be produced using renewables, in particular; solar, wind or similar.
Well known Australian businessman Andrew Forrest is one of many investing very heavily in its future and was noted during an interview recently challenging the industry to produce "one kilogram of hydrogen for one dollar within ten years".
If successful, this will no doubt form part of Australia's strategy to meet the climate-change targets. This will require even more solar generation and wind power as well as building hydrogen manufacturing equipment, plants and storages, also new power stations and small-scale equipment.
Fuel cells; this technology also exists already. Hydrogen can generate electricity in fuel cells producing only electricity and water. There are many materials currently being tested to find the best materials and methods. So as well as stationary batteries now coming into vogue, fuel cells will be in our electrotechnology future.
This will include large plants to build the cells and for generation in a completely new type of power plants or power stations, with many integrated with the green hydrogen initiative detailed above.
Transport of the hydrogen will also have its challenges as it needs high pressure pipelines and tanks.
An offshoot of this technology may also be the production of fertiliser on a substantial scale.
Wireless EV charging; already in the 'pipeline', will see us park an EV over a charging pad. This has the potential of eliminating the need for all the plugs and adaptors and no struggling with leads now needed to get that top-up.
No doubt the technology will be so advanced that it will sense the charging requirements for any type of vehicle – and who's account it is going to bill – all automatically.
There are also already plans under way for charging 'on the run' where the EV is just driven over a section of road to top-up whilst still moving.
Emerging technologies;
There may also be other things down the track. Just think; if there were another electrotechnology advance like the change from incandescents to LEDs – a jump in efficiency from 10% to 90% (by my reckoning a 900% increase) – these will also go on a future agenda.
One of my suggestions in this regard would be a high priority focus on finding superconductor materials that will operate in the normal ambient temperature range as this will positively affect our whole planet's way of life tremendously with less power losses, huge increase in power output per watt, much reduced cables sizes and smaller equipment.
In conclusion, the predominantly AC world had served us well. But perhaps if both Edison and Westinghouse had joined forces and looked for a win-win outcome our world could be much different now.
However, now could be a time to fine-tune it to be a more efficient system.