Driving down fuel and energy costs at home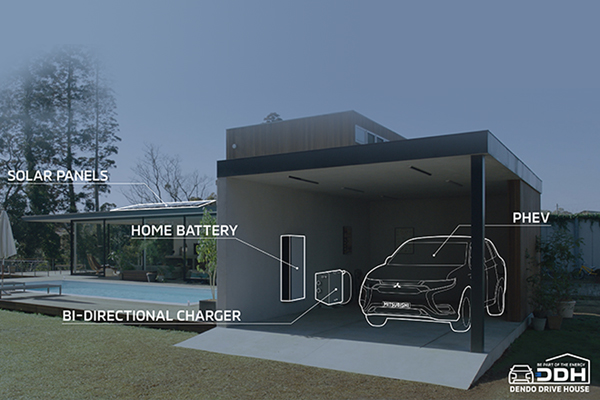 As electric vehicles slowly enter the market, one manufacturer has developed a system that will make charging a two-way street. Anna Hayes reports.
In recent years, sustainable energy and the function of solar power in particular has evolved at a frantic rate.
Imagine you could power your house from the sun? Check.
Imagine your car could run on something other than fossil fuels? Say, for example, an electricity charge from your house? Check.
Now, Mitsubishi is taking that notion a step further with the recently announced Dendo Drive House (DDH) which, thanks to a bi-directional charger, will allow your house to charge your car and, if required, your car to supply power to your house.
The company unveiled the new project at the Geneva International Motor Show in March. It is expected to be available, through Mitsubishi dealerships in Japan and Europe later this year, offered as part of a package deal when the customer buys a new electric vehicle (EV) or plug-in hybrid electric vehicle (PHEV).
The bi-directional charger is key to the operation of the DDH and it's a concept that had a more humble beginning for the company in early 2018, as part of a collaboration project with Hitachi Europe and French multinational electric utility company, ENGIE. At that time, the three companies joined forces to develop a recharger that could charge an EV/PHEV as well as a building, examining the potential for a vehicle to act as a means of energy storage for said building.
Hitachi made available its vehicle-to-everything (V2X) charger for the project, which enabled bi-directional charging between car battery and another object with an electricity grid. ENGIE offered one of its office buildings as a Building Energy Management System (BEMS). The building also had solar panels that collect and store energy so this integrated with the V2X and other renewable energy sources on a smart grid.
Finally, Mitsubishi provided an Outlander PHEV SUV to act as the unit that could charge or discharge through the V2X charger, as well as act as energy storage for the building. The result when operating off solar panels was, effectively, clean and free energy.
Fast-forward little more than 12 months and Mitsubishi is announcing the Dendo Drive House – the speculative project enhanced into an all-encompassing
residential ecosystem allowing electric vehicle drivers to generate, store and share energy automatically between their house and home.
In a triple context of climate change, customer defiance, and volatile energy prices and sourcing, the auto industry is going through a major shift that involves a revolution of mindset, technologies and business models, with electric vehicles just one component of that.
The DDH will be offered as a bundle to buyers of new EV/ PHEVs, with sale, installation and after-maintenance included. The installation, which can only be carried out by approved Mitsubishi installers, includes the bidirectional charger, solar panels and the home battery. The system allows, just like the original project, for the storage of energy collected via the house's solar panels and the subsequent redistribution to power the house or vehicle. If required, the power in the vehicle can be used to run the house, i.e. in the case of a blackout.
In areas where electricity is cheaper at night, the home battery can be charged from the grid.
Mitsubishi stresses that the system delivers significant cost savings and lets the customer contribute to the creation of a low-carbon society by using solar- generated electricity to power domestic appliances.
The notion of using your car as an energy storage and dispersion device is not a new one.
One of Tesla's original Roadster models did have the ability to work as a battery outputting power but that was removed from later versions. Tesla chief executive Elon Musk tweeted last year that it was a function that was worth revisiting.
Meanwhile, in the UK, OVO Energy is trialling the world's first large-scale domestic vehicle-to-grid (V2G) project, using Nissan LEAF cars. The trial is aimed less at the sharing of energy inhouse, and more towards cost savings.
The government-funded, two-year project has been rolled out to 1,000 households. OVO, working off the charging schedule set by the motorist, will charge the car when the demand on the grid is low, and sell surplus energy back to the grid during times of high demand. Monthly statements will highlight the amount of  money saved through the process.
For now though, it seems that Mitsubishi is leading the pack in bidirectional charging functionality and green energy, cutting customers' fuel and electricity bills with one innovative suite of technology.