Developments in electrical contracting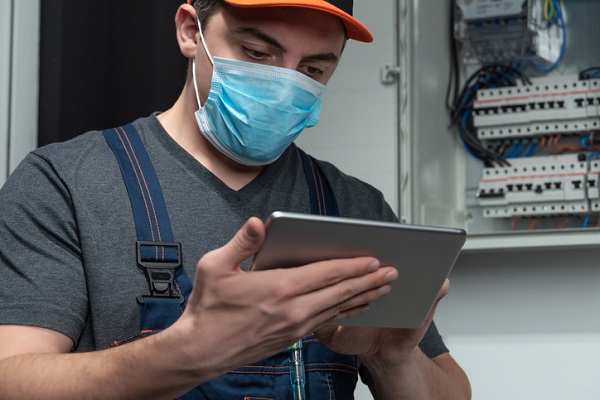 For electricians entering the industry today, the electrical world is ripe with opportunities across several fields. Phil Kreveld looks at everything out there for sparkies today and what it entails.
Electrical contracting covers a wide field, much of it no longer about pulling wires through inaccessible places and is increasingly involved in new technologies for applications such as industrial automation, process control, communications, transportation, hospitals, defence and more.
Given this wide scope, it may well be more appropriate to talk about 'technologies contracting' as the activities of many electrical contractors are not restricted to only connecting electrical power, but cover installation, commissioning and testing of diverse machines, all manner of apparatus and control systems.
The traditional role of electrical contracting certainly is not undervalued and is also experiencing significant change. Examples include the expanding market of smart homes, new concepts in lighting, electric vehicles and also renewable energy sources. The latter area covers solar photovoltaic plant and wind turbines, whether farms, solar domestic rooftop or commercial and industrial installations.
Some of the above-mentioned activities are usually restricted to specialist contractors, in particular those with high voltage certification. However, there are many service and preventive maintenance opportunities that can be filled by electrical contractors, and in general preventive maintenance provides good business opportunities.
Electrical power
The Australian electrical power reticulation market is experiencing big changes, also providing new opportunities such as substation automation which is of increasing importance for controlling distribution voltage and voltage regulation equipment including on-load tap changers for transformers.
As more renewables are connected the requirement for voltage control and also renewing and testing of protection gear can be expected to increase.
Another result of changes in distribution is the desire of companies to have alternate power available in case of grid interruptions. Hospitals, IT servers and other mission-critical organisations have been traditional customers but there are also opportunities in regional areas. We deal further down with the specific application area of uninterruptible power supply systems (UPS).
Rooftop solar is continuing to be a good market but distribution grids are beginning to push back on the installation of larger rating systems of over 5kW as they are adding to high voltage limit problems. Power quality problems are also more evident as a result of the large numbers of solar inverters. Many electrical contractors will be aware of neutral to earth voltage build-up. The loss of a neutral conductor can be a reason as can phase imbalance. There are therefore opportunities for electrical contractors to assure the safety of domestic installations.
Industrial applications
It is not hard to imagine situations where hundreds of sensors are in use, all required to be monitored and used in controlling a plant. The modern way is to use an industrial bus to which the sensors are connected via suitable electronics. One bus system deserving special mention is HART. The HART bus extends the use of the 4-20mA current loop enormously. In outline the bus system permits the use of the two-wire current loop for both analogue as well as digital communication, and as importantly makes it possible to place multiple sensors on the same loop.
These sensors have to be HART-protocol complying so that they can be digitally addressed. Their outputs being the value of the measured parameter is the same 4-20mA signal as in non-HART devices.
Communication with individual sensors is done following the HART protocol with two tones; 1200Hz representing a "1" and 2200Hz, a "0". Because the tones are pure sine waves, there is no DC shift and therefore no interference with the analogue signals which can be simultaneously present.
The beauty of HART is its adaptability to readily available wiring but in many other ways buses such as Modbus, Profibus, CAN, etc. provide the advantage of greater speed and overall system performance. Process control, of which the above is a good example requires familiarity with a wide range of sensors and transducers including thermocouples, resistance bridges, capacitance and flow meters. There are specialist process control companies, but they frequently have to rely on electrical contractors with appropriate field experience.
Fibre optical
Initial new opportunities in electrical contracting were in data cabling and that is still a viable business but in the meantime, much of that is being replaced with single-mode and multi-mode fibre as an alternative for controls as well as communication.
Fibre optics are used in a large variety of sensors, the CT being well established but not commonly encountered application. Sensing of current is based on the polarisation rotational effect on coherent light beams by magnetic fields.
In principle, a polarised beam of light transmitted through an optical fibre subject to magnetic field, surrounding it, will have its polarisation angle changed. The change in angle can be related to the strength of the magnetic field as set up by the current to being monitored. This type of CT is suitable for high voltage applications.
There are many other, sometimes abstruse, applications but apart from the CT one, found in high voltage applications, the other fibre uses are a handy replacement for 4-20mA wiring. Field sensors such as pressure, linear variable differential transformer (LVDT), liquid height, etc. utilise electrical to optical converters.
Photodiodes are used both for transmission and detection and analogue signals are converters to digital signals. Multimode fibre is the most popularly used method. Advantages include the ability to carry signals over large distances without appreciable attenuation or interference from electromagnetic emission sources.
The world of GOOSE
Protection relays also make use of optical fibre and substations use optical fibre transceivers to retrieve data and provide direct control as well. Motor protection also provides applications converting RTD sensor outputs to optical signals.
Although substation technologies are a specialised field, industrial electricians are increasingly likely to encounter switchboard applications involving IEC 61850 communication standards. The standard communication standard is popularly referred to as GOOSE (generic object-oriented substation event). GOOSE provides a fast and reliable communication method with an average latency of four milliseconds. It is basically a multicast communication method so that multiple devices receive the same message with a distinction between rebroadcast messages and new status messages.
Although as yet uncommon in many industrial environments, large plants involving not only extensive acreage but also technology distributed over large areas and requiring integrated controls, for example, bag houses and a series of conveyor belts as found in many mining operations, cement and brickworks, GOOSE can be very successfully applied.
Switchboards and motor control centres
'Metal bashing', switchboard construction and motor control centres are also undergoing changes with the use of intelligent switchgear and motor monitoring. Companies involved in this area are also integrating boards into larger control schemes using industrial buses such as CAN-, Modbus and Profibus in hierarchical and ring control structures.
Conventional switchgear with its many electromagnetic-mechanical devices is experiencing a shift to microprocessor-based relays, communication networks linking switchgear bays and data logging providing energy use statistics as well as scheduling maintenance.
New switchgear is able to function with a reduced footprint but has also required new current and voltage sensing. Being low power sensors their ability to drive a multiplicity of devices is precluded. This disadvantage is overcome via the employment of the IEC 61850 process bus, addressing multiple devices, also by virtue of the standard, having defined protocols that facilitate the task of system designers.
The new switchgear also makes use of Rogowsky coils instead of current transformers, and voltage is measured either by resistive or capacitive dividers. Their low voltage signals are well adapted to the electronic circuitry to which they are connected. The traditional heavy wiring looms between bays is eliminated through the use of communication buses. Low voltage inputs and the elimination of hazardous voltage if a CT is accidentally open-circuited are eliminated with signals in the millivolt range.
The Internet of Things
A field that is rapidly expanding for control and automation is IIoT (the Industrial Internet of Things). To a large extent, it is doing away with large capacity programmable logic controllers in favour of distributed controllers.
Industry 4.0 is no longer around the corner and will see to fresh markets for artificial intelligence (AI). Obvious application areas are in remote control of mining vehicles and in customer fulfillment centres as well as traffic control.
Subsections of AI provide opportunities in product recognition, orientation of components for further manufacturing operations. IIoT for monitoring plant and in particular, motors are also a widely applied technology, for example in chemical and plastics processing plant as well as paper manufacture.
IIoT technology relies on radio communication such as LoRa but not exclusively. There is Bluetooth operating at 2.4GHz with a range of 10m and WiFi with about double the range. Transmission of information relies on CSS (chirp spread spectrum) modulation wherein the carrier frequency (915MHz for LoRa) is linearly varied over a small frequency range with a number of starting chirps (low to high) indicating the arrival of information. The information content consists of bits that are denoted by specific frequency excursions for ones and zeros (chips) with the weight (2N) of the 'chip' indicated by specific frequency excursions within the modulation bandwidth.
Home automation
Home automation, an ever-increasing market, definitely affords opportunities for modest-scale contractors willing to specialise in smart home technologies. The overall concept sees the integration of numerous solutions which are ultimately controlled through subsystems that allow customising via software platforms operating through pseudo-hardware.
As to the latter, there are already many household appliances with intelligent control. In the absence of occupants, for example, as indicated by home security being activated, various devices can be put in standby mode. Many intelligent devices are operated via Zigbee. ZigBee Home Automation is a global standard for the control of appliances, lighting, environment-energy management, safety and security. It supports a diverse ecosystem of service providers, original device manufacturers and original equipment manufacturers with a standards-based wireless solution for home and small office automation.
ZigBee operates at 2.4GHz compared to the 908MHz of Z-Wave, which is rapidly overtaking ZigBee. The higher frequency allows ZigBee to transmit more data but reduces the range of the signal. The lower range is reduced even more when there are obstacles. A Z-Wave signal between two nodes can travel up to 330ft in an outdoor, unobstructed setting.
At the top of domestic energy management are platforms as provided by companies like Creston and Control4 which utilise OS3 operating systems, permitting sophisticated page designs, icons and dynamic room controls. Complete projects can be set up in minimum time, using intuitive programming
The Savant systems are based on proprietary programming and include high-end control and home automation systems running in a graphical programming environment. The software is compatible with Mac hardware and supports technology like Quartz Composer and Automator. Savant's systems utilise their own "SmartSystem" controllers which integrate with in-wall touch panel displays, coffee table controllers, the iPhone and iPad.
Developers can create programs to control devices like flat panel displays, AV receivers, lighting, blinds and other equipment commonly used in home entertainment. Creston appears to be more of a hardware-oriented company and has a number of its own devices including thermostats and lighting controls.
Creston is less of an 'out of the box' solution, and therefore requires more software development by system integrators. Some players in home automation use KNX, a bi-directional Ethernet interface to KNX/EIB devices, capable of addressing and controlling up to 250 KNX/EIB objects.
KNX Association is the creator and owner of the KNX technology. It is considered an open standard for applications in home and building control, ranging from lighting and blind control to systems for heating, ventilation, air conditioning, monitoring, alarming, water control, energy management, metering as well as household appliances, audio and AV. It is compatible with European Installation Bus (EIB) devices
Electric vehicles and charging stations
The slow-growing market for electric vehicles (EVs), which from a contracting aspect, offers small scale business, is one to be on the lookout for emerging business opportunities.
Smart chargers for the home, integrating with solar but also becoming a part of smart homes are likely to be a growth business. Significant business opportunities already exist for large shopping complexes and apartments which in view of the life of the building assets, need to cater for EV charging. Unlike overnight, domestic charging, convenience charging will have to be fast and therefore attracts the design and building of significant additional electrical infrastructure.
Although we want to address as wide a field of contracting as possible, EVs provide a challenging technically speaking as well as fresh business opportunities. Electrical construction companies already involved in transport infrastructure, for example, substations for tram and train networks, should deploy their expertise or at least prepare for networks of fast chargers requiring power levels of the order of 0.3 to in excess of 1MW and higher for multiple outlet charging stations.
There are a lot of interesting angles to the electrical infrastructure required that will almost definitely not be the province of the actual equipment suppliers.
Power quality
The subject of fast chargers is a convenient segue into markets opening up in both low voltage and medium voltage distribution. Both are subject to power quality problems. This is on the increase, in part due to solar installations and also due to proliferation industrially of variable speed drives. In fact, direct on-line motors other than in domestic installations are becoming a rarity.
Solar inverters and variable speed drives as well other industrial electronics including welding, inductive heating, dielectric heating and gluing all add their bit. One effect, not counted for variable speed drives is the loss of inertia in Australia's networks. Spinning motors add to inertia of generators but when their terminals are connected to a power converter that inertia link is lost.
Power quality deterioration provides market for industrial contractors, for example, ensuring connection to the grid can be made by performing power quality analyses but also in the installation of filters and particularly active filters.
Power quality when mentioned in the light of harmonics, comes across as somewhat abstruse subject. However, part of a power quality survey is voltage balance—or rather imbalance. The number of supermarket fridges with compressors running on unbalanced three-phase would be surprising, a 3% unbalance can cause the motor to draw 30% above rated current. Resulting fixes can provide significant income to contractors.
In mining operations, motorized pulleys can also suffer from phase imbalance and the generally large deployment of medium and large rating motors.
Uninterruptible power supplies
Uninterruptible power is a lucrative field as there are a many companies and obviously hospitals that simply cannot tolerate any interruption of supply.
The following systems are relevant:
Static UPS
RUPS—Rotary storage UPS
DRUPS—Diesel rotary storage UPS
There are various levels of redundancy, depending on the criticality of applications. For large systems, of the order of 500KW and higher, invariable tier IV redundant power supplies are required. Although redundancy is imperative for failsafe conditions, the many ways in which it is achieved are not discussed in any detail, the reason being that much depends on individual sites. The Uptime Institute, an independent advisory organization focused on improving the performance, efficiency and reliability of critical infrastructure for the information economy defines four levels:
Tier IV – Fault intolerant site infrastructure
Tier III – Concurrently maintainable site infrastructure
Tier II – Redundant capacity components site infrastructure (redundant)
Tier I – Basic site infrastructure (non-redundant)
Tier IV Guaranteeing 99.995% availability.
Tier III Guaranteeing 99.982% availability.
Tier II Guaranteeing 99.741% availability.
Tier I Guaranteeing 99.671% availability
Tier IV has all components fully fault-tolerant including uplinks, storage, servers, and HVAC. Although defined in IT terms, operating theatres, dialysis centres, etc. can be subject to the same requirements. Tier IV in addition to duplication, triplication, etc. aspects to achieve redundancy, also implies special engineering measures many of which are highlighted here.
Standby generators
Standby generator testing is often recommended and a source of income as part of preventative maintenance procedures.
As a rule, standby generators are rugged pieces of equipment. Even so for rarely exercised machines, a regular run with a resistive load bank, particularly for generators that do not reach full load, is a good idea to prevent the risk of wet stacking, i.e., a buildup of partially burnt fuel on cylinder linings. In operation, any loads with capacitive input impedance should be tested. Leading power factors can cause voltage control problems.
Therefore, testing with loads including active harmonic filters and capacitor-based power factor correction is advisable. With lagging power factors, voltage compensation when voltage is too low is achieved by increasing DC field current. The reverse is the case when there is a leading power factor. Voltage control is achieved by reducing excitation, the problem being that eventually near-zero excitation, the voltage regulator runs out of the control band.
The short circuit impedance (sub-transient reactance) of generators is high by comparison with that of the equivalent grid to which they might be connected when in peak shaving mode. This again requires careful monitoring of voltage phase angles to ensure that 'motoring of the generator is avoided, i.e., its voltage phase angle should be leading that of the installation's load bus at all times.
Battery testing
Battery testing at regular intervals is a given, and incoming inspection is also necessary. However, there is also a need for battery monitoring providing a continual check. Battery monitoring relies on cell voltage, string voltage, string current and battery impedance measurements. The latter type of testing is particularly useful for UPS battery banks.
The use of a discharge tester suitable for lead-acid cells is recommended. The apparatus allows for constant current, constant resistance and constant power discharge. Individual battery voltage is monitored during the discharge.
The batteries used in substations are flooded cell (VLA), valve-regulated lead-acid (VRLA), vented nickel-cadmium (Ni-Cd), and recombinant nickel-cadmium (RNi-Cd). The testing regimes have to be appropriate to battery capacity characteristics. The lead-acid VLA and VRLA require frequent testing by the time 80% of capacity is reached. Thereafter the testing frequency should be increased to yearly intervals. With the Ni-Cd batteries, the test frequency should be at five-year intervals, and when at 90% of rated capacity, at yearly intervals.
The VRLA battery is the most popular type found in substations. Its one-way valve can in cases of over-charging vent gases (hydrogen and oxygen) but that's not what normally should take place. In VLA (flooded cell) batteries the creation of hydrogen gas, H2, and oxygen radicals (1/2-O2) is the cause for the loss of water in the electrolyte and decrease in the electrolyte specific gravity causing a decrease in cell open-circuit voltage. In VRLA batteries the electrolyte is immobilised by means of a porous separator between the positive plate (lead oxide) and the negative plate (lead, in sponge form). The separator is an absorbent glass mat (AGM), trapping the oxygen, or better put, making the gas diffuse slowly to the negative plate where lead oxide is slowly formed during the battery discharge.
Despite the inherent ruggedness of VRLA batteries, over-charging will lead to oxygen generation in excess of the AGM to trap the gas, and outgassing will occur via the one-way valve, and if the over-charging is continued, a premature drying out will be the result and a permanent loss in capacity. The recharging process is therefore very important.
Lithium battery testing is a tricky field and as yet, rapid functional tests are not available. The question arises how those 'squillions' of individual cells making up grid supporting batteries providing hundreds of megawatts are being 'kept alive', or rather dud ones removed. One can only assume that some proprietary technology is built into those vast banks of individual cells.
Attempts at rapid testing include internal resistance measurement but with disappointing results. Another method relies on the measurement of ion mobility between electrodes by employing load pulses and using a form of a time-domain analysis. In short, testing methods not suited to easy application in the field.
Education-education
As made plain by Philip Green of NECA Education and Careers, keeping up with technological developments is key to staying 'strapped in' to emerging business opportunities including data communications, IT, and business administration.
Digital disruption such as home automation and extra-low voltage are responsible for fresh business and training will be available on IoT applications. Business opportunities in infrastructure, home ownership renovations and general industrial projects have continued to provide a healthy business climate. Pre-apprenticeship and apprenticeship courses make up part of the offerings. There are also specialist courses such as solar grid-connect courses and storage batteries.