Detecting arc faults before they happen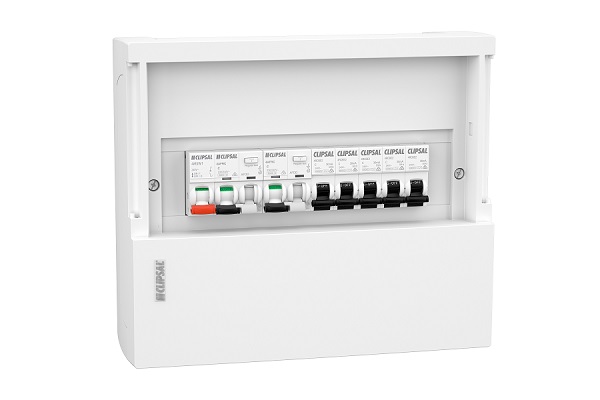 Arc faults are an invisible danger that can have severe and serious consequences. Sean Carroll finds out more about Clipsal's new device which aims to reduce the chance of electrical fires and how it works.
An arc fault is an unintentional electrical discharge within a circuit which is caused by loose, damaged or corroded wires and terminals. Low-voltage currents that can't be detected by circuit breakers or residual current devices, over time, generate enough heat to break down the wiring insulation and ignite any surrounding flammable material.
A 2019 study by Macquarie University found that more Australians are killed in house fires each year than natural disasters. In a similar study by the European Fire Academy (EFA), electrical failures, including arc faults, account for 25% of all building fires.
In light of this and countering an issue in the electrical industry today, Clipsal by Schneider Electric has released the arc fault detection device (AFDD) which aims to reduce the chances of fires caused by arc faults.
AFDDs are compact, easy to install and fit into residential and commercial electrical switchboards to protect a single final sub-circuit.
It's a little bit (but not at all) like that episode of The Simpsons where Homer takes over the fire department, he comes up with the brilliant idea to start putting out fires before they actually happen.
The AFDD monitors for electrical arcs, using a special algorithm to differentiate between normal ones, such as those created when you flick a light switch or pull a plug from an outlet, and potentially dangerous ones. When it detects the latter, it trips the circuit.
Clipsal standardisation manager Gary Busbridge says that the whole point of the device is to shut out the source of the fire very early stage.
"30 years ago, it was RCD safety switches that were the new and exciting development in home electrical safety," he explains.
"I witnessed how members of the industry gradually became accustomed to offering and installing them. It took about five years for the market to gain confidence in their effectiveness and once it proved itself, became mandatory for power circuits. Over the years, that product has evolved and now covers all final sub-circuits in a home as well as being required in commercial and industrial installations."
He believes that the AFDD is on track to become the next industry standard once more electricians are aware of the benefits and what it does.
"It's recommended for use in sleeping areas, accommodation, bedrooms and houses," he says.
Additionally, the devices are critical in places like museums where people need to protect the irreplaceable.
"Use cases are predominantly for domestic for homes, but it can be also work for that commercial application. But because no one really understands them at the moment, people don't really understand what they can do for a home.
"We were talking to our installers, explaining its usage and how the unit should be a priority for customers."
Currently, the AFDD is just a recommendation, but there's thought of having it mandatory in the future. As a no-brainer and positive for end users and electricians, it seems like it's only a matter of time.
"It needs to be understood by the industry and end users long before we can make it mandatory because no one really understands what they do right now. We must get a market acceptance," Gary says.
Gary feels that this will likely lead to mandatory application in the future.
"My prediction is that within the next five years the AFDD will have infiltrated the industry and eventually become a new addition to the list of mandatory safety solutions by around 2030."
He says there is no doubt that an AFDD will help to reduce fires and save lives, but it will need time to prove its value and for those in the trade to acknowledge its efficiencies.
"At Clipsal, we are championing this new device as the gold standard of electrical protection and hopefully through our channel partners we'll be able to see a swift uptake in the product to help cover more homes and business with more top-level care in the near future."
This article was first published in late February 2021 and can be found in the Winter edition of Electrical Connection. Given the timing, some information may have changed between now and then.