Defined Area Early Warning System to help combat natural disasters
A new system from Nexus Technologies could help alleviate the loss of life caused by bush fires. Engineer David Ambry talks to Paul Skelton about a new technology that could save lives.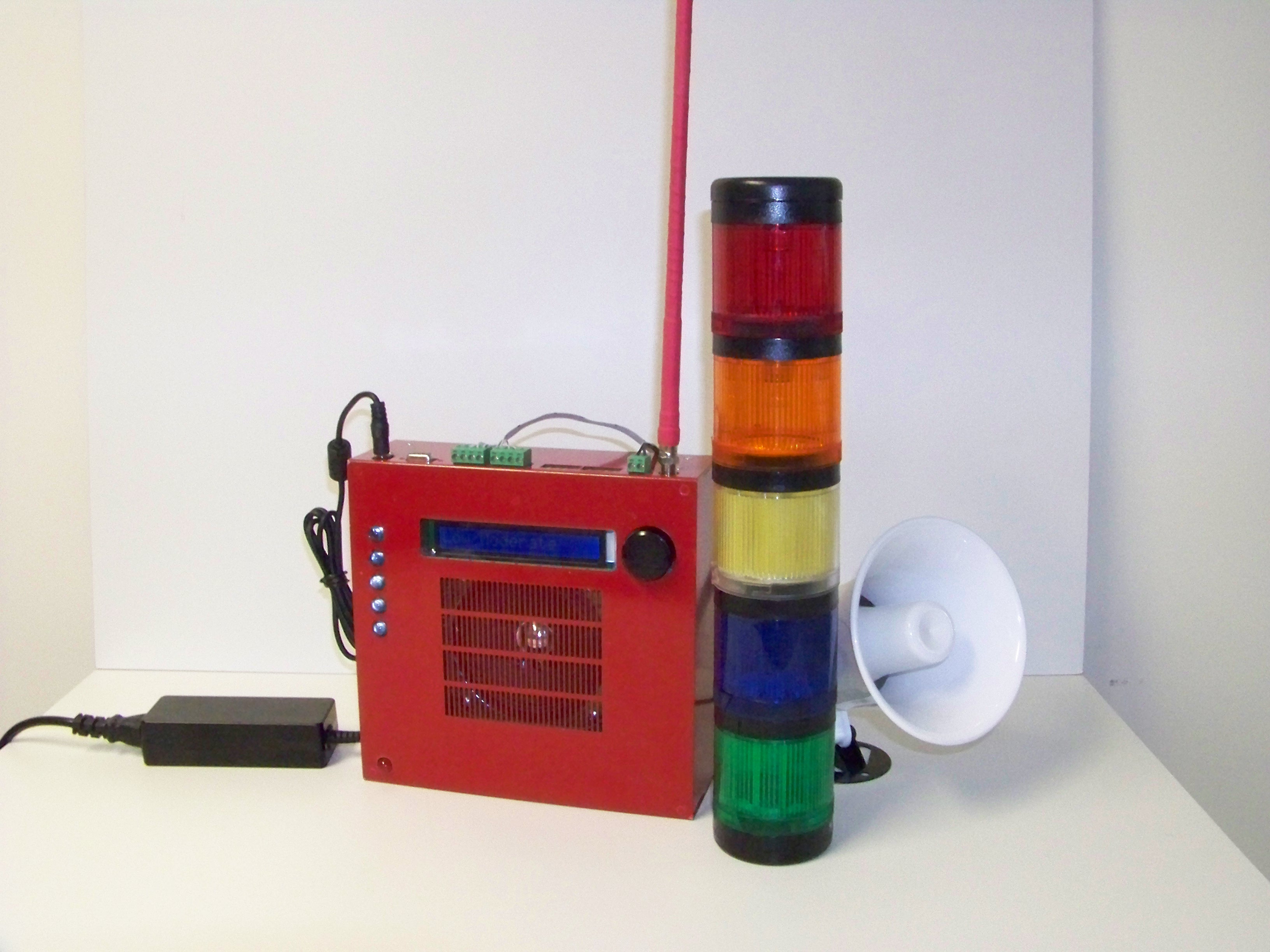 Have you ever been shopping, seen a product and thought: "why would anyone want that?" There is a lot of crap that is being sold today – the 'egg cuber', 'butter stick', 'tissue cap' and the 'baby cage' to name just a few, but every so often a simple idea is conceived of and developed and for some reason falls by the wayside.
On 7 February 2009, over 400 individual fires burned throughout Victoria. Subsequently known as Black Saturday, 173 people died and 414 were injured.
Nexus Technologies, the company behind Leaf Audio, is an Australian manufacturer that designs and builds high-quality, low volume AV equipment. In the wake of Black Saturday, engineering manager David Ambry turned his attention to designing the Defined Area Early Warning (DAEW) system, which seeks to alert home owners of potential fire risks, their severity and their time to impact.
"The tragedy in one way or another touched us all and the depth of the generosity shown to those directly affected was truly admirable," David says. "Like so many others, I also wanted to do something that would help prevent loss of life when, as it surely will, similar circumstances arise in the future.
"As an electronics engineer I thought that there must be a better way to get information to those in areas of high risk to help them make the right and timely decision about when to activate their prepared fire safety plan. That is, whether to leave while it is still safe to do so or to stay and defend."
The initial concept of the receiver included:
The ability to display in real-time the current threat level for the area that it is physically located in;
Be located inside the radio footprint of a carrier that would remain reliable throughout the duration of the emergency;
Have backup power to continue to provide service in the case of loss of mains power;
Be operationally reliable, physically robust and suitable for low maintenance installations in rural areas; and,
Be easy to manufacture, cheap to buy and easy to install.
"The inspiration that I was hoping for finally arrived on 14 October when I heard on the news that as part of the unified national bushfire strategy there would be, firstly, a common Fire Danger Rating (FDR) and that, secondly, the ABC was to be responsible for broadcasting the FDR and fire threat warnings by radio.
"I immediately thought of using radio to carry the warning information in a digital format to a dedicated receiver to those in areas specifically at risk of fire at the time. But as any designer knows, the inspiration is the easy part!"
Prior to commencing his design, Telstra had announced plans for a telephone-based National Emergency Warning System (NEWS), but David says it had some severe limitations that would be hard to overcome.
"NEWS seemed to be intrinsically complex and I felt that local infrastructure damage and high traffic use in emergency situations would make it particularly vulnerable to failure, particularly when it was vital that the messages be delivered. I felt that augmenting the system with another delivery mechanism, something that worked in parallel with the Telstra system, would vastly improve the reliability of information delivery to those required when they needed it."
How it works?
After considering satellite telephony, digital radio (DAB) and the AM band, it was clear to David that the FM band was the one serious candidate to distribute the signal. By their very nature, radio transmissions cover large areas without local infrastructure, such as that required by a wired or cellular telephone service. The infrastructure is thus far less likely to be damaged in the event of a serious bushfire.
The FM standard includes Radio Data System (RDS), a method of transmitting data by way of a separate sub-carrier that is a simple enhancement of station equipment and has been widely adopted. Although not all stations make neither use of it, nor most receivers display the information when it is used, virtually all FM radio stations are capable of transmitting RDS information.
Further, an analysis of the available data on transmitter coverage and fire risk estimate maps showed that an estimated 90% of the population in the higher fire risk areas would be capable of receiving ABC FM transmissions.
"The rest was simple," David says. "The centralised co-ordinated controlling bodies would provide the fire threat information for the State, deliver the FDR information delivered to the transmitters by Internet and then broadcast to the special receivers that would display the information. Technically speaking, there was nothing that could not be done."
As a result, Nexus Technologies has produced a prototype radio receiver (codenamed SAM) of compact dimensions (210 x 220 x 70mm) with a 24 hour battery backup, a text display, visual threat display and an audio alert.
It is a low-cost device designed primarily for standalone domestic installations, but can also be integrated as part of a whole-house system. It has also been designed to control external devices such as sprinkler systems or rotate automated FDR signs and is able to be solar powered. It has a high level of self-diagnostic capability and can perform a complete self-test on command from the central control site.
The SAM receiver features a large single-line plain text display that shows the current threat level for the area that the device is located in. SAM also features a simple high-intensity colour-coded warning light tree that reinforces the text information. SAM includes an in-built siren and radio receiver to provide audible warning and voice alerts to the end user. Further, it is capable of driving external sirens, threat-level indicators and even emergency sprinkler systems.
As all the information for all cells is always transmitted, SAM is capable of delivering all of this information to a PC which is then able to regenerate the threat map for the whole state. This is of use for local authorities who need to be aware of the situation of adjacent cells or areas. Although SAM only displays the cell information that it is programmed to decode, it is possible to use it to manually inspect other cells. This information could be crucial in deciding on an escape route in an extreme emergency.
The SAM receiver is able to alert the user if the transmission signal has been lost. It is also capable of escalating the threat level by itself in such an instance. It is able to test itself under its own periodic test regime or when instructed to by a specific transmitted message.
When used in conjunction with a system, such as Telstra's SMS-based one, the DAEW provides an additional level of redundancy and information allowing those at risk to make accurate and timely decisions as to whether to evacuate or stay and defend.
"SAM might not win any styling awards, but this is a case of form simply following function," David says.
"We have trimmed the core design of the Sam receiver down to a level where we had a viable business model that would deliver a small but acceptable profit margin by selling the basic unit at a price of $100 on a production run of no less than 10k units."
The current protocol allows for a new threat message to be broadcast to every grid across Victoria in three minutes. As a threat level escalates, cells that are at a higher level of risk are updated more often than those at little or no risk. In this manner timely and up-to-date information is delivered directly to where it is required so that those affected can make informed decisions about what emergency actions they need to take.
But, importantly, the DAEW system isn't limited to bushfires. It could also find a place in assisting in other natural disasters, such as earthquakes or floods.
The installer's perspective
"Residential technology is about either ease use of use or improving lifestyle," David says. "And the DAEW system provides useful and specific information and improves lifestyle by providing the user with up-to-date relevant information. From this information the end user is able to make a timely and well-informed choice to whether they should stay and defend or flee.
"Prevention is always better than cure. The DAEW SAM receiver, once incorporated into the fire warning systems of a smart house, will provide some level of security from having the most up to date knowledge on any fire threat to home and property."
The DAEW system can connect to a smart house system at the SAM receiver's signalling interface via a RS232 serial connection for text-based alert information, via line-level audio for audio alerts or via contact closure for external alert sirens and/or displays, and for triggering an emergency sprinkler system. This enables ease of integration to nearly all control systems currently on the market.
The home control system can in turn route the SAM audio stream into all zones of the home's distributed AV system. As each SAM includes its own receiver, this will bring live emergency radio feeds as well as warning tones generated by the DAEW to the living room.
"PC software can also be used to reconstruct the threat map for the entire State. This is primarily intended for the use of local authorities who need to be aware of the situation of adjacent cells or areas. However, this information could be crucial in deciding on an escape route in an extreme emergency or checking the threat level of a holiday home remotely.
"SAM is also able to alert the whole-house system on any failure to receive a valid message update within a specified time, indicating possible loss of transmitter capability. In such conditions SAM is capable of escalating the threat level by itself."
The road ahead
"We can see no reason why this product should be solely for rural installations. We have had fires in Perth and Canberra that directly threatened suburban areas," he says.
"The assumption that fire is a threat only to regional areas is totally without reason. If it was, there would be no need for total fire bans within cities. So, if there is a possibility of a total fire ban then there is an application for the product.
"In fact, there is no place that is not under an FM coverage umbrella that would not benefit from having one of these devices installed."
While the DAEW system has been met with enthusiasm from volunteer fire fighters and a few local politicians, David and his team are still waiting to hear back from various state governments.
Further, ABC Radio has responded negatively to the idea.
"We were, in all honesty, naively optimistic that the DAEW system would be rapidly and enthusiastically embraced. After the internet information site fell over at the first whiff of summer smoke we were seriously considering whether we could roll out perhaps a thousand units by February for immediate deployment in some of the highest risk areas.
"But still we wait."
But why? The NEWS SMS system, despite being announced almost three years ago, is still nowhere to be seen. Trials of DAEW have already been conducted and were incredibly successful.
Further, if the government was to get behind this system, the cost of the device could be as little as $100 per unit – a fraction of the Essential Services budget. And it could be ready to go with weeks, not years.
It's about time the government learned to look at the options that are available now. Reliable options that could save lives. And we as an industry need to get behind this idea, to make sure that we are moving forward, staying productive and relevant as that is the only way you'll move forward and make money.
Until that time, though, can someone pass the butter stick?
ADVERTISEMENT

ADVERTISEMENT