Connected Home Conference: Ben Phillips (HIA)
Ben Phillips of the Housing Industry Association explained the economy is recovering and the worst is behind us.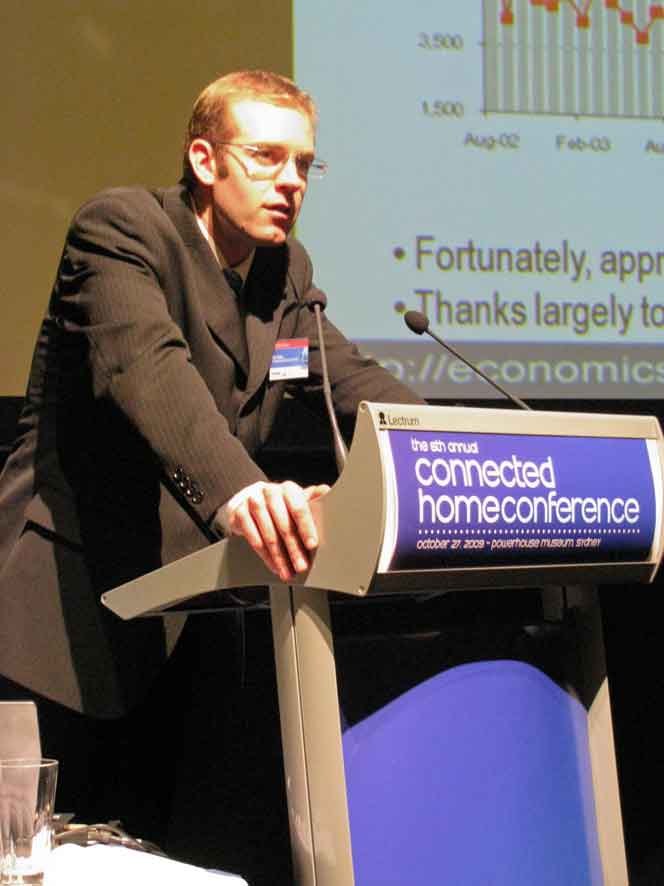 He said China's insatiable appetite for Australian resources has supported the nation and that the economy didn't get as bad as predicted by many economists.
This is largely due to fast work by the Government (fiscal stimulus), cash handouts (strong retail results), first home buyer boost (improved housing) and other housing initiatives, infrastructure spending (State and Federal), and a guarantee of bank deposits.
"During the crisis there has been sensible and speedy action from the Reserve Bank and the variable mortgage rates reached a 45 year low. However, look for interest rate increases of 25 basis points in the November and December sittings.
"The RBA could well continue lifting rates up to a 'neutral' position of around 5.25% by Dec 2010."
Also see:
David Ives (Avtec Consulting)
Geof Heydon (Alcatel Lucent)
John Fennell (Copper Development Centre)