Ampol releases AmpCharge EV charging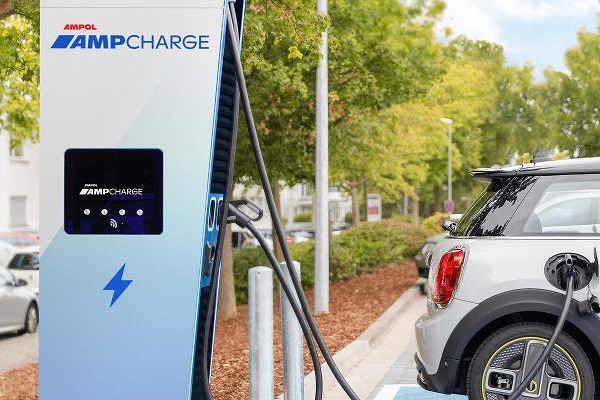 Ampol has released its EV charging brand, AmpCharge, alongside the plans for the initial rollout of fast chargers in what will become a national charging network.
AmpCharge will service customers both at home and on the road at both forecourts and destinations, leveraging existing Ampol infrastructure and customer relationships to ensure Australians can recharge wherever and whenever they need to.
At-home branded charging infrastructure is also expected to be developed under AmpCharge, with offers to be made available to consumers as part of a broader home energy offer.
Ampol managing director and chief executive, Matt Halliday, says the announcement is an important step forward in the execution of Ampol's future energy and mobility strategy, including its objective to reduce emissions in the transport sector and support the uptake of battery electric vehicles (BEVs): "I'm pleased to today unveil our full-service electric vehicle fast-charging ecosystem, AmpCharge, leveraging our existing network, skills and infrastructure to provide a diverse and comprehensive charging network that can minimise range anxiety and support the uptake of BEVs in Australia.
"We've been keeping Australians moving for over 120 years. Today, as energy needs evolve, our vision is to become Australia's leading distributer of energy, providing mobility solutions for any of the vehicles our customers drive, anywhere and anytime they need it.
"As we begin to evolve our national network, consumers will see AmpCharge in Ampol service stations, depots and terminals right across the country. For the first time, we'll also be entering homes, workplaces and shopping centres as we seek to deliver simple and efficient charging solutions at convenient locations to keep people moving."
Ampol is looking to establish the leading EV charging network in Australia by 2030, including a fleet offer for business customers.
The AmpCharge rollout will commence with five pilot sites at Ampol service stations in Carseldine QLD, Alexandria NSW, Northmead NSW, Altona North VIC, and Belmont WA, coming online in June and July 2022.