Allen-Bradley 931N 'Nano' signal conditioners protect equipment, maintain progress integrity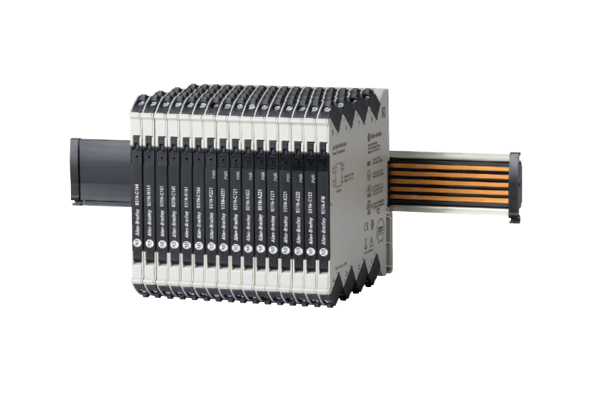 Allen-Bradley, distributed by NHP, has released the 931N 'Nano' Signal Conditioners which provide optimal signal isolation, conversion and amplification.
The range includes both isolation and conversion model options and includes a powered DIN-rail feature, which eliminates the need to separately wire devices to the power supply. The 6mm width also lets electricians save space in the panel.
Critical process measurements such as temperature, pressure, flow, level, weight, speed, frequency, current or voltage in your continuous or batch production process are exposed to noise and harsh environmental conditions that result in erroneous signals. In this respect, 931N signal conditioners can help protect your measurements and provide a more reliable signal so your process can run efficiently.
These DIN rail-mounted analogue signal conditioners are compatible with all types of integrated PLC and DCS I/O systems. They can also be integrated with PlantPAx DCS to leverage a single control platform for batch, drives, motion control, process and safety.
Signal conditioners are commonly used in industries such as food and beverage, pharmaceuticals, oil and gas, water treatment, energy and power, chemical processing and steel production.
Extensive certifications for global use including UL/CSA, CE, ATEX, IECEx, FM, DNV-GL, KC, RCM, Hazardous Area (Class 1 Div 2 / Zone 2).
ADVERTISEMENT

ADVERTISEMENT