All-Energy Australia 2023 brings the crowd in record numbers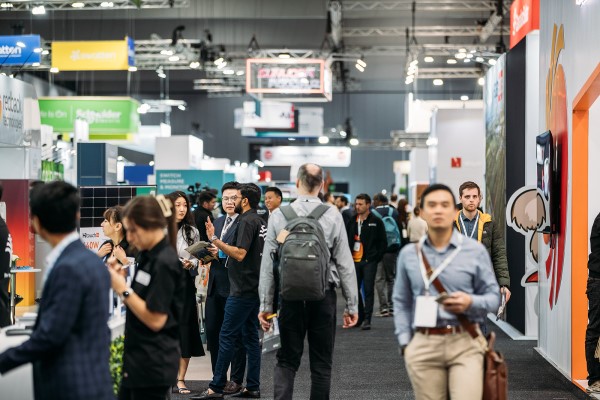 The nation's largest clean energy conference outdid itself with the biggest rendition to date. Looking at its success, San Williams covers the technologies, information and trends that were on offer. 
All-Energy Australia hosted its 2023 conference to a resounding success, leaving an indelible mark on the clean energy landscape in the country with an overwhelming response from event visitors and exhibitors, alike.
Taking place from 25 to 26 October 2023 at the Melbourne Convention and Exhibition Centre, the event set a record with more than 11,500 unique visitors who took part in a diverse array of installations and attractions and were excited to learn about new technologies and product launches.
"It's the biggest exhibition for the entire clean energy industry with over 400 exhibitors showcasing their latest products alongside a fantastic speaker program," Clean Energy Council, a partner of the event, chief executive officer Kane Thornton says.
"We had some extraordinary keynote speakers and some highly technical sessions throughout the two days. It's been a massive step up from last year to this year and we think it's just going to keep on growing."
This year's convention proved to be a powerhouse of ideas and insights showcasing the latest advancements in the clean energy sector, from solar panel garages and AI-generated robots to thrilling remote-controlled car races, delightful ice cream trucks and an exclusive visit from Her Royal Highness, Princess Astrid of Belgium.
Alongside industry giants, including Tesla, BayWa r.e., Raystech Group, Schneider Electric and SolarEdge Technologies, those in attendance were treated with access to a platform for industry leaders, professionals and enthusiasts to converge, explore, learn and collaborate.
SMA Solar Technology managing director, APAC and Australia, Doris Spielthenner says the event is essential, providing a hub for the industry to come together: "It's a place for us to come together and network, but also talk about the latest technology advances and figure out how we can tackle the energy transition together."
Featuring over 400 expert speakers covering a diverse range of themes like decarbonisation, electric vehicles, solar, hydrogen, grid integration, security and reliability, sessions at All-Energy Australia didn't hold back, delving into the latest developments, trends and projections in the energy sector, both nationally and internationally.
One of the many notable presentations was from Australian Renewable Energy Agency (ARENA) chief executive officer Darren Miller who said in his keynote address on the opening day that progress in the industrial sector is critical to reducing carbon emissions by 43% by 2030 and to net zero by 2050.
In another keynote address, Australia's ambassador for climate change Kristin Tilley said decarbonisation will be a key focus of the COP28 climate talks set to begin in five weeks.
Also featured in the program was the Energy Management Zone, supported by the Energy Efficiency Council, spotlighting sustainable solutions driving improved energy management and substantial cost savings. Additionally, the revamped CEC Solar Masterclass provided solar designers and installers with expert advice and professional growth opportunities, further enhancing the event's educational value.
All-Energy Australia 2023 not only fostered knowledge and innovation but has also ignited a collective commitment to shaping a cleaner, more sustainable energy landscape, with the industry left inspired, motivated and united on its conclusion, ready to embark on a future powered by renewable energy.
Planning now starts for the 2024 edition to be again held at the Melbourne Convention and Exhibition Centre from 23 to 24 October 2024.
Tapping into the grid with Evnex
New Zealand-founded electric vehicle (EV) company Evnex featured its range of full-service smart charging solutions at All-Energy Australia.
Boasting the latest generation smart chargers, including the bio-based plastic E2 home charger and commercial charger X Series charger, Evnex's powerful driver app brings actionable insights that will assist with day-to-day charging needs.
Evnex's software comes with the installation and CP Link app and, most uniquely, its function to provide live monitoring of grid energy usage, allowing for the ultimate optimising of a charging schedule.
Using the mobile app, the EV driver can view the peak use times of grid solar, hydro, hydro storage, wind, grid battery, biomass, gas, diesel (distillate), coal, imported (QLD) and imported (VIC), with an easy setup-and-forget process that helps scheduling without relying on everyday phone use.
To coincide with emission monitoring, the app also comes with options for solar charging control, charging cost tracking and accurate cost reports.
K2 showcased its latest in PV mounting solutions  
K2 joined the mass of clean industry experts who attended All-Energy Australia 2023, delivering the latest in forward-looking and highly functional mounting system solutions for worldwide PV systems.
Since 2004, K2 has been developing forward-looking and highly functional mounting system solutions for worldwide PV systems with a portfolio that covers almost the entire spectrum of possible roof coverings and soil classes.
All the products K2 showcased at the convention were easy to install, robust and safe, with systems designed in their development department and adapted to the constantly changing market conditions and country specifications.
Open to project planning outside their standard range and individual to the customer, the K2 Base is a free planning tool boasting a dashboard for efficient project management that allows for quick, easy and reliable PV planning. In five steps, K2 Base makes K2 mounting systems planning easier for pitched and flat roofs with help from Google Maps integration and graphical drawing tools.
For a roof connection and mounting rail in one component, K2's MultiRail is available as a short rail or flexible component in different lengths. Elevation is also possible.
On corrugated sheet metal roofs, SingleRail's classic L-foot can be used as a roof attachment for flexibility in different roof coverings. Additionally, the SingleHook Vario roof hook can be quickly and easily mounted on tile roofing.
Winners announced for the Solar Design and Installation Awards 2023
Winners of the Clean Energy Council's Solar Design and Installation Awards 2023 were announced at the All-Energy Australia conference with the Clean Energy Council congratulating all recipients.
Clean Energy Council chief executive Kane Thornton says this year's winners had demonstrated innovation, ingenuity and the inherent flexibility of rooftop solar to meet the energy needs of Australian households and businesses.
"The Clean Energy Council's Solar Design and Installation Awards celebrates those in Australia's flourishing solar installation and design industry who take these ideas to the next level. I'd like to thank everyone who took the time to submit an entry," Kane says.
"The unique and innovative solutions showcased by our finalists prove that rooftop solar is the leading light of Australia's clean energy future and can be adapted to meet any needs from customers to slash their power bills, their carbon emissions or both at the same time."
The 2023 Solar Design and Installation Award Winners are:
Under 100kW, Domestic Winner: Philip Christian (Solpac Energy Solutions)
Working with Solpac Energy Solutions, Philip installed two stacks of BYD HV batteries, each connected to a 5kW Fronius Gen24 inverter on a three-level building overlooking Queensland Alumina Limited (QAL) and the Gladstone Harbour.
Solpac's design objective was simple, to get as close to eliminating the $1,500 quarterly power bill as possible while using only the available roof space and staying within the two oversize ruling for hybrid solar inverters.
Under 100kW, Commercial Winners: Matthew Linney and Joel Cronan (Iberdrola Australia), Mark Fanning (Flow Power)
Working with Iberdrola Australia, Matthew and Joel designed and installed a designed a combined solar and EV charging solution for the Lismore Council. The structure used bifacial solar panels to generate electricity from the high reflected light in the car park as well as directly from the sun.
The structure was also designed to reflect the shape of a butterfly and provide a habitat for the local, endangered Richmond Birdwing Butterfly, which had also been a focus of local environmental groups. The panels provided water collection for native plants and vines favoured by the butterflies, with a storage tank and reclaimed timber panels helping improve sustainability.
Flow Power, teaming with Mark, designed and installed a 96.8kWp (80kVA) solar system on the Lake Mountain Alpine resort to help manage the extreme seasonal load and reduce carbon emissions and operating costs of the resort's microgrid.
Over 100kW Winner: Sam Saada, Eddie Greco, Michael O'Mahony, Alex Musgrove, Joel Gilchrist, Veli Markovic and Pat Carne (Greenwood Solutions)
Greenwood Solutions was contracted to design and install a solar system to help power the substantial pump electrical loads that a Victorian wastewater treatment plant experiences, reducing the plant's energy bills and carbon footprint. At the core of this pioneering venture lay the ingenious concept of harnessing solar energy through a floating PV system.
For more information on the winning projects visit the Clean Energy Council Solar Design and Installation Awards page via their website.
ADVERTISEMENT

ADVERTISEMENT