Siemon launches the LightBow fibre Termination System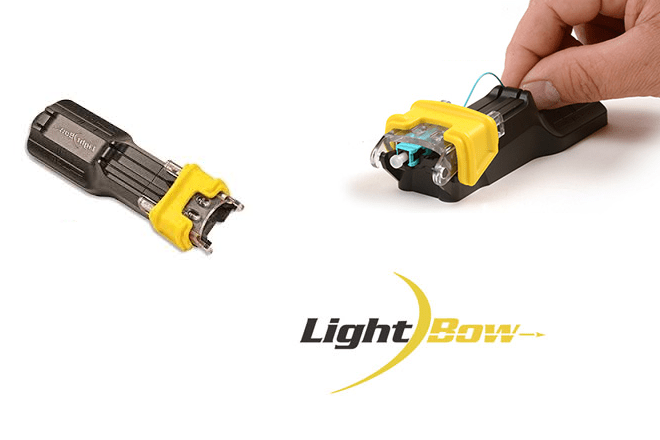 Siemon has launched the LightBow fibre Termination System that continues to improve fibre termination speed, performance and reliability while reducing cost.
Part of Siemon's LightHouse Advanced fibre Optic Cabling Solutions, the new LightBow Termination System features an exclusive patent-pending termination tool and pre-polished mechanical splice connectors that together reduce termination time, prevent fibre end face contamination and air gaps and enable easy verification of termination quality.
Ergonomically optimised for use in hand-held or table-top orientation, Siemon's LightBow termination tool dramatically reduces termination time by combining both splice activation and crimping in a single, optimised step and providing universal LC and SC connector compatibility with no time-consuming changeover.
It also features integrated LC and SC strip templates moulded right into the tool to ensure proper strip length of the fibre. To enhance connector performance, the tool's alignment channels simplify fibre insertion, while its patent-pending bow feature maintains proper pressure of fibre ends during termination to eliminate air gaps. To further ensure reliability, the entire LightBow termination process is completed with the connector dust cap in place, protecting the critical end face polish from contamination or damage.
For use with the LightBow termination tool, Siemon LightBow pre-polished mechanical splice connectors ship factory assembled to eliminate time-consuming field assembly of inner and outer connector bodies. Available in both LC and SC configurations and in multimode and singlemode versions, the connectors feature a built-in verification window in the connector body for use with Siemon's 0.5mW output power, Laser Class 1 visual fault locator (VFL). This allows technicians to immediately verify that a good termination was achieved. Following termination verification, the LightBow system offers the unique ability to adjust the fibre or reterminate the connectors if needed.
"Fast deployment and superior reliability are of the utmost importance in today's fibre networks and fibre field terminations remain popular due to their ability to meet a variety of installation scenarios," says Siemon fibre optice systems product manager Kevin Stronkowsky.
"While we have long offered a fast, high-performance fibre termination system, our new LightBow system is a direct result of listening to the voice of the customer. Not only does the connectors built-in verification window and ability to be reterminated significantly enhance connector reliability, but the entire LightBow system is much less expensive with a low-cost, lightweight tool."
The new LightBow termination tool is available in a complete kit with a convenient carrying case that contains all accessories required for high-performance terminations, including Siemon's 0.5 mW VFL with 2.5mm to 1.25mm universal connector adapter and precision cleaver with a long-lasting blade that provides consistent, precise and high-quality cleaves.