simPRO integrates up-to-date Auslec/L&H catalogues into job management software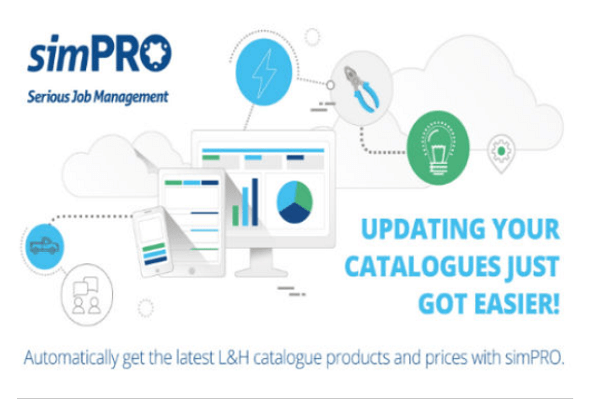 simPRO has announced that Australian simPRO users will now be able to access up-to-date Auslec/L&H electrical catalogues through simPRO. This ensures that even out in the field users can be confident when giving a quote to customers that the prices and products are current.
"There's no need to spend time manually importing your catalogues. simPRO will update your catalogue items automatically with the right prices without you having to lift a finger," says simPRO Software Australia general manager Mark Alfred.
"This is an integration that is automatic. simPRO can update the catalogue every week and can automatically push updates into all the builds. There is a log of this activity in the builds which clients can keep track of. When simPRO Australian customers, both service and enterprise, log into their simPRO build and then log into Auslec/L&H online account, their catalogues and price lists will always be up to date."
Auslec/L&H has been servicing Australian contractors for 130 years and has built a strong reputation as an electrical expert. The company has also established relationships with the largest manufacturers across Australia and around the globe to ensure that contractors will be receiving and installing quality products and components.
simPRO customer Laser Group, which is one of the leading plumbing and electrical contracting networks across Australia and New Zealand, says it is welcoming the integration.
"At Laser Group, we're really looking forward to the pending release of simPRO's auto catalogue integration with Auslec/L&H," says Laser Group Australia general manager – group support services Ashley Clemmett.
"We can instantly see how this new functionality would be a big help for our Laser Electrical businesses right across Australia. It will provide each of our locations with more timely and accurate catalogue pricing in their systems and will remove the reliance we currently have on our teams to ensure our Auslec/L&H pricing is regularly kept up to date. It will certainly streamline this area of our operations."