Siemon announces SkinnyPatch 6A S/FTP modular patch cords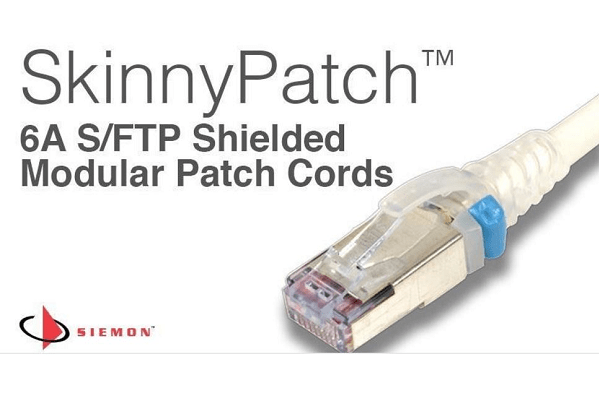 Siemon today announced the addition of SkinnyPatch 6A S/FTP modular patch cords, which deliver category 6A shielded performance with a reduced diameter. This improves pathway fill, airflow and increases flexibility in high-density data centre environments.
The cable diameter of just 5.5mm also provides pathway savings in racks and cabinets, and maximises airflow for improved equipment reliability. At the same time, the S/FTP shielded construction of these cords delivers superior transmission and enhanced alien crosstalk performance over UTP cords, making them ideal for high-density patching areas in 10G Ethernet (10GBASE-T) switch-to-server applications.
"The use of 28 AWG patch cords has grown significantly in popularity due to concerns surrounding airflow in today's data centres and telecommunications spaces where high-density patching areas are commonplace," says Siemon product manager Susan Cocco.
Featuring a 28 AWG stranded copper construction, SkinnyPatch 6A S/FTP modular patch cords offer a significantly tighter bend radius and enhanced cable management.
SkinnyPatch 6A S/FTP Modular Patch Cords exceed ANSI/TIA-568-C.2 and ISO/IEC 11801:2002 performance standards, which was confirmed by Intertek, an independent third party test lab.
Our new SkinnyPatch 6A Shielded Modular Patch Cords provide the exceptional shielded cable performance that our customers have come to expect from Siemon, while offering them a smaller diameter to improve airflow, accessibility, routing and space savings in these tighter spaces."