Schneider Electric announce new TeSys D Green range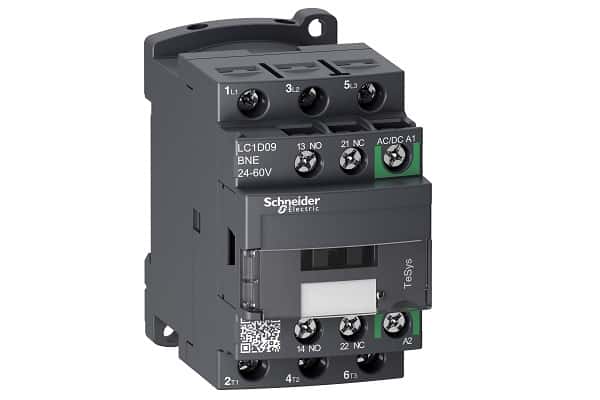 Schneider Electric has announced the TeSys D Green range of energy-efficient contactors for control and switching applications.
Equipped with an electronic coil, the new contactors require up to 80% less energy and generate 50% less heat which will be ideal for large manufacturing plants wanting to reduce their energy bills.
"New regulations and standards are requiring companies to become more accountable for energy efficiency and sustainability. We've given TeSys D Green best-in-class coil efficiency for significant energy savings. It's also very simple to select while including many cost-saving installation features. Plant managers will also appreciate its exceptional reliability and eco-friendly design," says Schneider Electric operational offer manager Ali Zoghi.
The contactors are made to keep processes continuously running with SEMIF47-compliant performance t to a wide band coil and higher resistance to voltage disturbances. They also include a electrically noise-free design, reduced contact bounce from mechanical shock and vibration, and reliable repetitive actuation.
Ordering has also been made easier with just four product references, which cover control voltages 24V to 500V in AC or DC. TeSys D Green products are also compatible with other TeSys accessories and have standard dimensions that allow them to replace other standard contactors, regardless of manufacturer.
Integration is effortless as the design is made to enable direct PLC control from standard 24V DC / 500 mA static outputs without the need for interface relay.