Phoenix Contact release new current indicator terminal block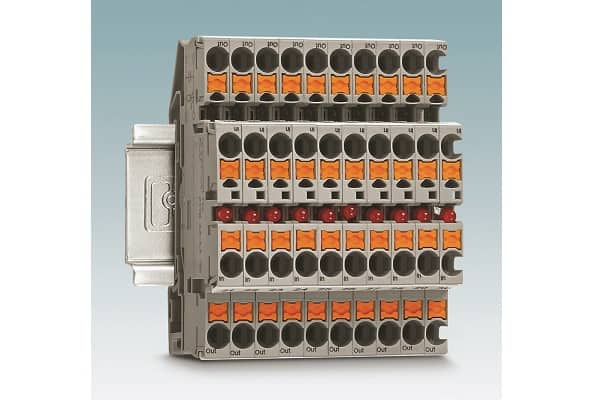 Phoenix Contact has released a new current indicator terminal block with Push-in Connection Technology for ease of use.
The Phoenix Contact PTTB 2,5-ILA 100 current indicator terminal block simplifies the connection process with the Push-in Connection Technology, which allows direct plug-in capability.
Technicians can now connect directly to the terminal point without any fuss by simply aligning and inserting the wire into the marked terminal points.
The low insertion forces the push-in connection terminal block which allows the conductors to be inserted easily and directly without needing tools.
The new current indicator terminal block detects interruptions or line breaks during operation to guarantee excellent performance. The voltage drop is evaluated at a Zener diode in reverse direction and is shown by a LED so that the technician can see the operating status of the system. The device also has a printed circuit diagram for clear identification to help minimise faulty wiring.
Compact, the Phoenix Contact PTTB 2,5-ILA 100 helps users save on space with its slim design and allows flexibility during the configuration process. The device is also shock and vibration resistant making it robust and safe to use and operate in all situations.
The unit is suitable for use in situations which include systems manufacturing and machine building, process technology and process engineering and chemical and petrochemical, just to name a few.
Phoenix Contact now offers a wide range of current indicator terminal blocks with different connection technologies.