Obsolete? Cat 5e cabling in offices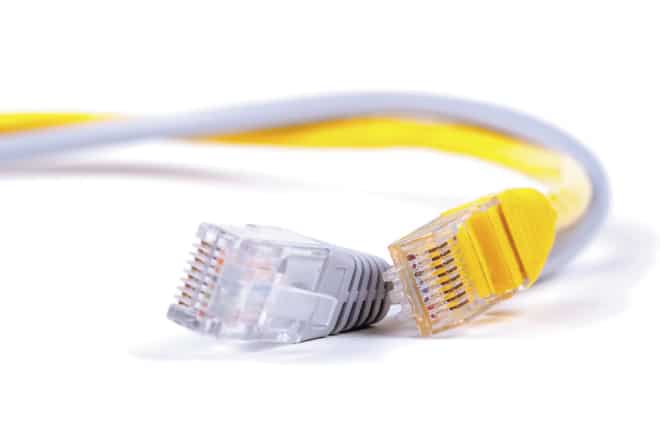 A significant change is on the way in how office buildings are cabled, writes CommScope Asia Pacific vice president for intelligent buildings Matias Peluffo.
Category 5e cabling, which is used in many offices around the world, will be considered obsolete for new installations following a decision in October by the ISO/IEC cabling standards body.
After careful consideration of technology trends, wired and wireless bandwidth requirements and current market demand for the various cabling types, the ISO/IEC Working Group (JTC1/SC25 WG3) responsible for the development of the 11801 standard, recently decided to upgrade the minimum recommendation for the horizontal cabling in offices.
At the recent working group meeting in Milan, Italy, the group agreed to raise the minimum horizontal cabling requirement stated in ISO/IEC 11801-2 for offices (expected publication on or before 2017) from Class D (Category 5e)  to Class E (Category 6), with a recommendation for Class EA (Category 6A) or better cabling. Class D cabling is still the minimum requirement in the drafts of 11801-3 (industrial) and 11801-4 (single-tenant homes), but upgrades may be considered in the near future. In the drafts of 11801-5 (data centres) and 11801-6 (distributed services), the minimum requirement is already Class EA cabling. For new office installations, Class E will now become the minimum requirement, with a recommendation to specifiers and customers to deploy Class EA to support applications with alien crosstalk requirements, enabling the smooth migration to 2.5, 5 and ultimately 10Gbps.
Published more than 20 years ago, the ISO/IEC 11801 standard was the first international standard for cabling in commercial buildings and helped pave the way for consistent implementation of voice and data cabling on a global basis. It enabled the explosive growth and mass deployment of Ethernet and IP communications everywhere in the world.  In its first edition, the standard defined Class D balanced cabling − based on Category 5 copper components − to provide an upgrade path from 10 to 100 megabits per second (Mbps) up to 100m. At that time, some experts and industry observers argued that 100Mbps (100BASE-T) to the desk was overkill for the typical office user.
Fast forward 20 years to today where many would say that 100BASE-T technology is in rapid market decline. Now1000BASE-T (1Gbps) is commonplace for desktop personal computers and laptops, as well as a wide range of other devices such as phones, cameras and wireless access points (WAPs). The 11801 standard now includes additional cabling classes that were introduced to enable support of up to 10 gigabits per second (Gbps), including the addition of Class E (Category 6), Class F (Category 7) and more recently, Class EA (Category 6A) and Class FA (Category 7A).Today, 1000BASE-T is commonplace and, once again, some experts and industry observers argue that 1Gbps is overkill for the typical office user. However, others predict the rapid adoption of speeds beyond one gigabit within horizontal cabling, expecting the increasing bandwidth demand in offices to support applications such as telepresence, video conferencing, high definition imaging, 3D printing and others.
Additionally, wireless LAN speeds are rapidly increasing due to media-rich user expectations and the explosive growth of smartphones and tablets. Wireless LAN infrastructures are getting upgraded at a rapid pace to IEEE 802.11ac, offering peak speeds of up to 7Gbps and with backhaul requirements exceeding the 1Gbps supported by Class D and Class E cabling. As a result, new IEEE specifications are being developed for 2.5BASE-T, targeted at installed Class D cabling and 5GBASE-T targeted at installed Class E cabling. However, the transmission requirements of 2.5 and 5GBASE-T exceed the Class D and Class E specifications. While it is expected that a sizeable percentage of the installed base will be able tosupport the faster speeds, the definition of supported configurations and use cases is currently in development. In some cases, the costly and time consuming alien crosstalk qualification of Class D and Class E installed cabling may be required to verify support of 2.5 and 5GBASE-T, and some mitigation steps may be required.
The 2.5 and 5G specifications in development are based on 10GBASE-T technology, using scaled down 10GBASE-T capabilities. As a result, it is also expected that the rapid market growth of 2.5 and 5GBASE-T will result in downward price pressure and efficiency improvements for 10GBASE-T technology. Some industry analysts predict that these developments will accelerate the growth of 10GBASE-T deployments in office applications, supporting even higher speeds for WAPs and enabling other bandwidth intensive applications.
More than 60 cabling experts across 19 countries with long track records of standards participation attended the working group meeting in Milan, and arrived at the decision to raise the minimum horizontal requirement in offices to Class E. This historic milestone effectively marks the obsolescence of Class D a full 20 years after its initial introduction in the international standard, and positions Class EA as the optimal horizontal medium for new office installations.