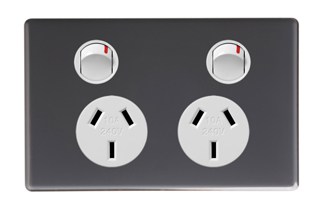 Excel Life is a complete offering for everyday residential, commercial and medical applications enabling contractors to work fast and effectively.
"In the residential and commercial arenas, Legrand is releasing a number of products that are industry game-changers," said CEO and managing director of HPM Legrand Tony Berland.
"The new Excel Life single and double power points have been meticulously re-engineered in consultation with electrical contractors, resulting in 10 new innovations incorporated to make them the fastest and safest power points to install. These include having the smallest footprint on the market, innovations in screws, mounting holes, cable terminals and insulation barriers as well as in-built child safety shutters and a contemporary, slimline design," says Berland.
A specification upgrade for the Excel Life dual USB chargers (a finalist at the Good Design Awards 2015 and Gemcell's Product of the Year) now delivers an exceptionally fast charging speed of 2 x 2.4A (a combined charging speed of 4.8A).
Whether integrated into a power point or used as a charging hub fitted into multi-gang plates, these dual USB chargers are proving a very successful value-add for homes, airports, universities and hotels.
Flicker resistant electronic push-button dimmers compatible with all loads deliver a smooth experience, particularly when combined with HPM LED downlights.
Also a Good Design Award finalist 2015, the Excel Life Medical Range features advanced antimicrobial technology that helps reduce the spread of bacteria in hospitals and other healthcare environments dramatically. That is between 99.72% and 99.99% against Escherichia coli and Staphylococcus aureus*, leading to enhanced patient care.
A further benefit of the Excel Life range is that there are three plate styles to choose from depending on the installation environment. The Dedicated Plate Series, delivers a slimline contemporary look popular in residential applications, the Common Plate Series ideal for commercial environments, where a common coverplate can be used across the entire range, and the Secure Plate Series is vandal resistant for applications that require a little more protection, such as public areas.
"Excel Life is compatible with the Legrand Arteor dual modules, which enables 200+ advanced functions including skirting lights with sensors, miniature emergency lights and more to be offered to customers as value-adds. This is by far the most extensive range for contractors available today," said Berland.
In addition to product innovations, Legrand has also released Product Environmental Profiles (PEPs) for key products. These outline materials, manufacturing, distribution and end-of-life product management to assist with the selection and documentation of products used on projects where measuring environmental impact is a key deliverable.