Laser Group raises $132,000 for beyondblue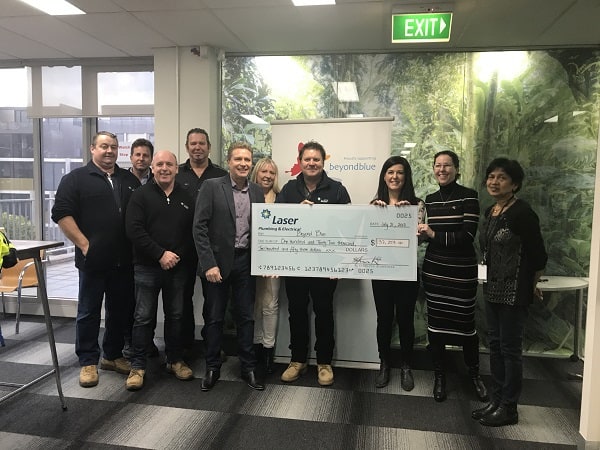 When the statistics of depression within the construction industry were released not too long ago, it was a no brainer that Laser Plumbing & Electrical managing director Steve Keil would get behind beyondblue.
Recently Steve, and other Laser members from Australia and New Zealand, handed a cheque to beyondblue deputy chief executive Susan Anderson and her team to the sum of $132,253. The money was raised from the Monkey Off Your Back Ride – a bike ride from Melbourne to Cairns. If members were unable to make the ride, then other events were held throughout the country instead.
The total amount raised equates to 4,408 information packs which will be printed, packaged and posted to educate individuals about depression, anxiety and self care or 132 Support Coordinators trained to help those who have attempted suicide. It can also translate to 2,755 calls to the beyondblue support service or allows 1,202 beyondblue speakers and ambassadors to share their stories with the wider community.
"The end goal is for Laser Plumbing & Electrical to improve the statistics around mental health of people in the construction industry. We also want to encourage people to talk about how they are feeling however, we can't do this ourselves" says Steve.
"Our strength is our network. Utilising this strength, we have been able to help beyondblue, raising funds and increasing awareness."
Between 2014 and 2016 the Laser Group has raised over $250,000 for beyondblue as well as an extra $100,000 for the New Zealand equivalent the Mental Health Foundation.
Steve is very proud of what his group has achieved and is every excited by what will happen in the future as the partnership prospers.
"As passionate as we are about the work of beyondblue, equally important is creating a culture within our Group that encourages the Members to talk to each other. The most important outcome of the Postie Bike Challenge, the Kokoda Challenge and the Monkey of Your back ride has been the camaraderie built between the Members and that on these adventures, we get blokes talking, something which we know blokes simply don't do enough".