IXL Easy Duct Thermal Transfer System
The Easy Duct Thermal Transfer System – which is designed to transfer either hot or cold air from one room to another, allows the heat source from your Cannon Gas Log Heater, large space heater or reverse cycle air conditioner, to be enjoyed in another part of the home at minimal extra cost.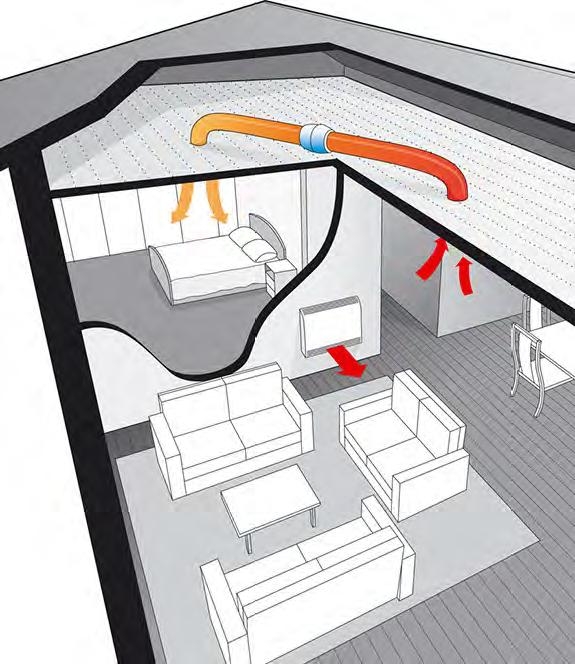 IXL's Easy Duct Thermal Transfer System allows consumers to get more bang for buck out of their investment in an existing primary heating or cooling appliance. It's a very cost and energy efficient solution for an additional room or space, that saves the need and associated cost of buying a second heater or air conditioning unit.
Running costs for the Easy Duct Thermal Transfer System are estimated to be approximately 0.5c per hour. That's because the 40W, 55 litres/second fan uses less energy than an average light bulb, and much less than an electric heating or cooling device.
Intelligently engineered with self-sealing back draught flaps, warm or cool air is prevented from escaping into the ceiling cavity. This considered design feature also thwarts draughts from penetrating a space when the unit isn't being used. The unit is also supplied with 6m of insulated ducting which prevents any heat loss or gain during the air transfer process. The subsequent maintenance of a constant temperature in a room thereby minimises the amount of energy required for heating.
The usual high quality production values and performance assurance associated with Australian made, IXL apply, along with the backing and peace of mind of a 2-year replacement warranty on the in-line unit. The effective source of warm or cool air is courtesy of the powerful 170mm in-line exhaust fan with an impressive air extraction capability of 198 cubic metres/hour.
For people wanting to reduce energy bills and their environmental footprint in general or for use in 5-Star energy rated homes or significant scale renovations– IXL's Easy Duct Thermal Transfer System is a very smart option.
Installation nuts and bolts
As a one-way transfer unit, IXL's Easy Duct Thermal Transfer System, is designed for horizontal applications in either multi-storey or standard roof situations. It's suitable for use in low ceiling cavities and is supplied with a cut out template (200mm diameter) to ensure installation is a breeze. A wall mounted heating and cooling thermostat is also included for installation of the unit, which needs to be undertaken by a qualified electrician.
If a heater and air conditioning unit is located on separate sides of a room, a separate Easy Duct Thermal Transfer System will be required for each. For effective circulation and transfer of cool air during warmer months – installation of a ceiling fan is worthy of consideration. This will assist to create the turbulence needed to encourage cold air to rise up into the exhaust rather than the tendency for cold air (which is heavier than warm air), to sink to the ground.