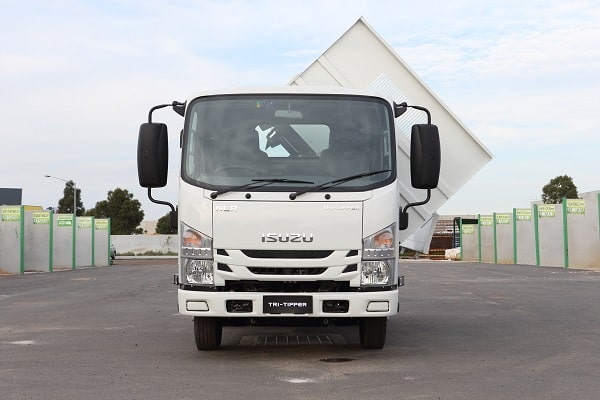 Isuzu Australia has expanded its range of fully fitted-out 'ready to work' trucks that are pre-bodied to cater for various trade applications, with key NLS and NPS variants now available with the practical 'Servicepack'.
The market-leading Japanese truck brand has also added a factory-built three-way 'Tri-Tipper' body to its NLR 55/45-150 model, which can tilt to the left side, right or rear to make easy work of tipping loads onto jobsites.
The new Servicepack variants include the NPR 45/55-155 model, the NLS 45-150 crew cab 4×4 and the NPS 75-155 4×4 in single and crew cab configuration.
These four-wheel drive variants are described as being ideal for reaching worksites, no matter how difficult access may be, while the NPR Servicepack was specifically developed, Isuzu says, 'to out-carry, outperform and outclass the average Australian work ute' – a comment designed to get tradies thinking about the benefits of moving from a traditional one-tonner to a light truck.
As the '45/55' in the NPR's model designation indicates, the 45/55-155 has a GVM of 5,500kg but can be de-rated to 4,500kg which allows it to be driven on a car licence.
The engine is a 5.2L '4HK1-TCN' four-cylinder diesel that produces 114kW of power at 2,600rpm and 419Nm of torque from 1,600-2,600rpm, and combines with a six-speed automated manual transmission (AMT).
The Servicepack comes with a fully powder-coated steel service body featuring seven lockable storage compartments with a total volume of 3.7m3 – a useful amount of room for carting tools and equipment – as well as a central storage area (measuring 2.28m long x 1.17m wide) with chequer-plate floor and six tie-down points.