Australia's first solar panels with an integrated battery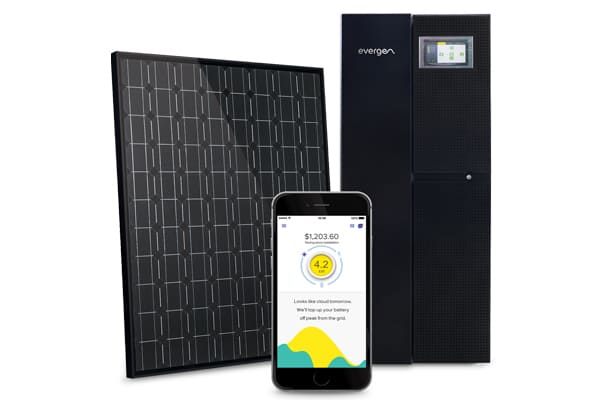 A start-up which spun out of CSIRO research is producing Australia's first ever solar panels with an integrated battery and intelligent technology. The system can deliver households an 80% energy saving. Joe Young reports.
As Australia's energy consumption and pricing continues to grow, the demand for distributed energy technologies grows with it.
In an Australian first, renewable energy tech start-up, Evergen has launched an intelligent home energy management system which, compared with existing domestic solar and battery solutions, is expected to deliver an additional 20% energy saving.
So how does it work?
The technology gathers data on household power consumption patterns and analyses local weather reports, then combines both sets of data to determine and use the most efficient source of energy, whether it be solar, battery or grid.
This way the system is less likely to over-store power or unnecessarily use power from the grid.
Users also have control over which energy source the system draws power from, but this is not recommended.
According to Evergen chief executive Dr Glenn Platt, the system's ability to store power and intelligently source energy can save households "60-80% on energy costs".
And with less over-storing of power, he says the "lifetime of the system is longer than standard solar battery systems".
Every installed Evergen system can be remotely monitored and managed at the Evergen office. Not only does this give the research team access to a lot of data to work with for ongoing development, it also plays a vital role in the system's maintenance, enabling many system issues to be rectified remotely.
The technology was developed by CSIRO, in partnership with AMP Capital. Evergen was granted exclusive usage and distribution rights to roll out the technology.
Today, the start-up is doing limited releases of the system as the company is managing scale. The units are undergoing rigorous safety and performance testing in anticipation of a full commercial release in January 2017.
Glenn says the system costs no more than for what you would buy a standard solar panel and battery unit.
"But with Evergen systems, you get the intelligent control functionality as well," he says.
As technology development aims to enable societies to become less reliant on non-renewable resources, the integration of solar, battery storage and smart technology can prove to be a game-changer.
With our abundance of sun, Australia is a prime candidate to be a leader in this technology with pioneers like Evergen and the CSIRO leading the way.