Working live or your life… you choose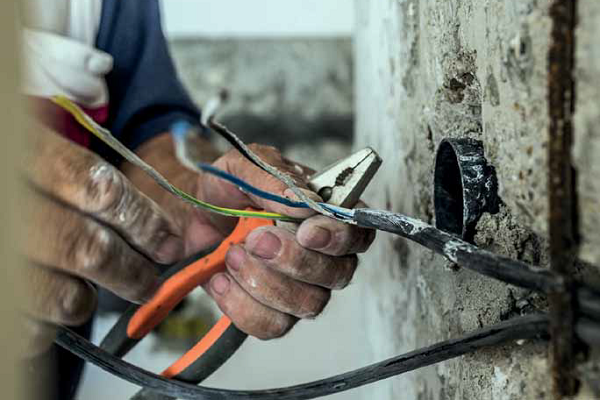 Sadly, the above title is the blunt reality for those working in our industry. An electric shock or arc blast incident can potentially change your life forever; and not for the better. In fact it can see you being either responsible for – or suffering – a horrific death. Peter Vandenheuvel explains.
A recent video prepared by WorkSafe Queensland and promoted to the industry by the Electrical Trade Union as a podcast 'Arc flash safety – Mark's Story' (Google it) very much brought home that the electrical hazards in our industry are real and the consequences potentially life shattering.
Fortunately for Mark, after enduring much pain and discomfort, many of his physical injuries are – with the help of our much-envied health services and ER departments – well on the mend. However, the psychological impact will likely remain with him and possibly his family for the rest of his life.
What can start out being ' just another day at the office' for an electrician can have a profound effect on the whole family for a long time.
The two – shock and blast injuries – initially might look like different issues, but don't be fooled; they arise from the same activity; working live intentionally or unintentionally on or near anticipated or unexpected live parts.
There is a held perception in our industry that effects of electric shock and/or arc blast are tremendously under recognised. That needs to change.
Working live or live working
There is an overwhelming agreement among all seriously concerned with safety and safety management within our industry that working on or anywhere near live parts should be prohibited, especially near unprotected live parts.
However, there is a 'grey area' dilemma that arises when it comes to testing. This is because there is a necessity for testing that requires instruments which may create a shock hazard, particularly where instrument probes or clamps need to contact live parts for fault finding.
And guess who is responsible? It is the company owners and managers' – including the owner in sole trader enterprises – clear and inescapable legal responsibility to ensure electricians and technicians 'at the coal face' have a full understanding of what their employer defines as the differences between live work, inspection and testing and how each must be strictly undertaken to the
organisations' written standard operating procedures.
Also as a point of interest, it is my understanding that most well-informed safety-aware companies do just that. They actually prohibit live work and stipulate in great detail what is expected from employees when testing or inspecting.
The cavalier attitude to working live
In spite of the above, there is, unfortunately, still a significant lack of awareness – and a sometimes offhand attitude – to working live. It is possibly due to a number of misconceptions, attitudes or other, including, but certainly not limited to electricians, technicians and even company management;
Not understanding an electric shock incident from an RCD protected circuit bears absolutely no comparison to a shock from an unprotected or only partially protected live part. This is especially the case where muscle contraction or a body part being trapped in contact with a live part keeps the current flowing through the body with no or insufficient protection to cut off the current flow.
Not realising an accidentally created short-circuit by a small conductor, measuring tape, dropped tool, screw-driver or instrument probe near exposed or partly exposed live conductors can unleash an almost unlimited amount of arc energy in a split-second. With an arc temperature three times greater than that of the surface of the sun and where, apart from the arc flame plasma itself, the accompanying shock wave can be so intense that it literally liquefies your internal organs with no hope of survival.
The customer or the electrician not wanting to disrupt the customer operation or not wanting to arrange the work after hours for what appears to be just a small simple task, without considering what the high probability, worst outcome could be for either yourself or the customer operation, not just in terms of injury, but also in damages, rework, investigation, medical attention etc.
Expectation by the customer, owner, occupier or their own management or supervisor to, for whatever reason, doing it now and doing it live, perhaps even bullying them into it.
Not properly testing that each and every conductive part (not just the 'live parts') in the area or compartment to confirm the work is completely isolated so that work can proceed in absolute safety and totally preventing the coming into contact with any live parts due to not having and/or not policing a sufficiently detailed lock-out isolation procedure.
Testing for isolation based on the assumption there will only be one supply, and then deeming the isolation complete, especially when potentially multiple supplies from different sources are now becoming the norm.
Working on a customer's equipment that is obviously in disrepair without isolating it and without requiring for it to be made fit-for-purpose before placing it back into service.
The legal obligations on employers reporting shock incidents
A quick web-check reveals that throughout Australia, company management must report all electric shock incidents.
As the various jurisdictions have differences in the exact reporting protocols, depending on their nature and severity, as well as the time frames and reporting details, it is not practical or intended to go into additional detail here. But suffice it to say, the particular obligation in the jurisdiction must be confirmed by all company managers and sole-traders alike. So sole traders beware, especially as for you it is not just to protect the company, but also your personal wellbeing.
Likewise, company management must report any and all arc blast incidents as for any other industrial accidents as part of their obligation to provide a safe place of work.
Remember, there may be little or no physical damage surrounding an electric shock incident at the time, but there will potentially be latent medical injury, physical and psychological trauma and
even a fatality.
Similarly the consequence of arc blasts will comprise serious physical injury or a fatality, substantial equipment damage and local or widespread power disruption.
Even the smallest incident is, and must be recognised as, a potentially serious near-miss. It could also be an early warning of a lack of employee training, misunderstanding or indication of an internal culture problem. So, even the most minor incident must be treated as an extremely serious near-miss that can ultimately result in a future major incident waiting to happen.
In addition, employers must have clearly defined operating procedures in place to;
Ensure any person having received a shock, regardless of its severity, will be correctly medically treated.
Instigate action to prevent a further occurrence, including any retraining, culture change or operating procedure adjustment.
Follow through with attendance at a nearby hospital for a check-up. It should be noted here; however, many doctors may not be up to speed with the long-term implications of electrical shock so a specialist opinion may need to be sought if any doubt exists.
The risks and consequence associated with shocks
As a member of the Standards Australia 'wiring rules' I was fortunate during discussions in relation to the introduction of further RCD protection requirement in the 2018 revision, to attend a discussion by an Australian recognised as a world expert in the effect of electric currents on the body. He made a very disquieting observation that the consequences of an electric shock on the body are much more far reaching than most on the committee – and it is suspected in industry in general – are aware of.
From the discussion it was noted that the heart cellular level function can be totally disrupted in an electric-shock incident with the longer-term effects 'time-current curve situations' ranging from ventricular fibrillation being unlikely, through 5% likely to 50% likely.
Out of interest, an electric-shock current of 30mA for 30mS falls just below the 'ventricular fibrillation being unlikely' threshold, hence a key reason for selecting and mandating 30mA RCDs.
The consequence of electric shock can include;
Electric contact burns requiring medical treatment
Secondary physical injury (eg being thrown from a ladder)
A fatal outcome where no more can happen or be done
Physical effects, eg muscle weakness, stamina lacking, increased fatigue, hearing loss and some visual effects
Psychological effects, eg depression, anxiety, memory loss, lower learning ability, personality changes and even suicide. Also, for multiple quick-succession shocks the effects can be increased
and delayed fibrillation can in certain instances also occur, so ongoing patients' wellbeing-monitoring can be required even where the person is thought to be unaffected.
In addition, both physical and psychological effects tend to further deteriorate over the next two or three years. They may recover somewhat after; however, they are unlikely to ever go back to what they were.
So some form of follow up and understanding of the effects of depression and personality change may need to be part of ongoing monitoring.
Recommended treatments, even for minor shocks
Because these effects and consequences may not be immediately obvious and can be long-term, electric shock incidents may need to be better understood by company managers and their OHS persons so these are taken more seriously.
This may need for your best practice response to include;
For low level cut-off level shock incidents such as where there was an involuntary moving away (thus limiting the effect); as a minimum; attendance at a hospital ED, an ECG, a blood test, a urine test and a Q and T (QTc) wave interval test.
For higher level shock incidents where there was a 'lock-on' effect; all of the above and in addition; a check for muscle strength deterioration, MRI scan for the size/shape of the hippocampus, ocular examination, echo cardiogram and psychiatric monitoring.
As you can see, it's an extremely important topic that all members of the industry need to be made aware and accountable for.
In the next edition we'll focus on arc flash incidents, risk analysis and the importance of implementing safe isolation and avoiding working live altogether.