When is it time to upgrade?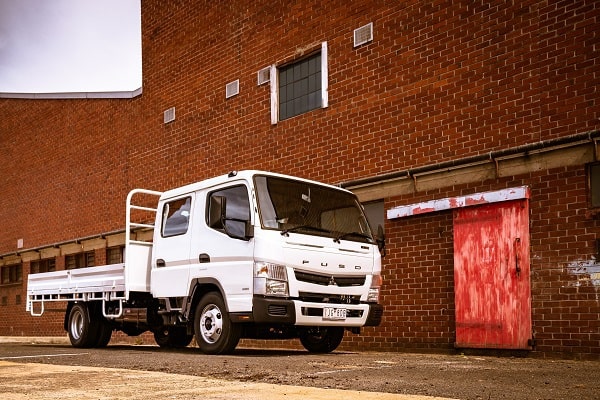 Utes are impressive vehicles that are a staple of many worksites around the country; but, there comes a time when you need to move to a van or light truck. Terry Martin explains.
More than 190,000 new utes were sold in Australia last year, cementing their place as one of the biggest segments in the marketplace – second only to small passenger cars – as their popularity continues to skyrocket, new models reach showrooms and intense competition takes hold.
These are the vehicles of choice for most tradespeople, a workhorse that looks the goods, carries at least some of the goods and which is good enough for personal use on the weekend.
But this combination has its drawbacks, especially the limitations in load space and weight restrictions that can require multiple trips to a worksite, a trailer to be permanently hitched or, worse than that, create a situation where payloads are routinely exceeded.
You see 'overloaded' utes on the road every day – it's part of the landscape – but less obvious are the inefficiencies this creates, the extra running costs, wear and tear on the vehicle and, not least of all, the compromises on safety.
Light trucks do not carry the same sex appeal, but the big brands in the trucking business now produce vehicles that are designed with the modern-day tradesperson in mind.
What's more, the common myths and perceptions about trucks with their higher costs, old technology, impracticalities with size and difficulties in driving are just that – myths – as we found by digging into the light-truck market and talking to product specialists and engineers from Isuzu, Hino, Fuso and Iveco.
GETTING THERE
Just as ute model ranges are extensive, light trucks come in a wide variety of configurations, but these can be quickly narrowed down when making the move for the first time from a one-tonne ute to an entry-level truck that only requires a regular passenger car licence.
This restricts gross vehicle mass (GVM) to 4.5T, and at this point the choices typically boil down to the cab size (single or double), transmission (manual or auto, the latter sometimes as an automated manual transmission, or AMT), wheelbase length (generally short/medium) and body style – be it cab chassis, where you add your own tray and build it up based on your personal requirements, or a 'ready to work' body that has a tray, toolboxes, ladder racks and the like already fitted. Tipper bodies are also widely available.
There's a fair bit to consider, just as there is with any vehicle purchase, but websites and dealers are easily accessible and will take you through their range based on your specific needs.
Prices vary between brands, and according to specification, but the bottom line is that for around $50,000 you should be able to get a light truck on the road with a single cab, proven diesel engine, a handy built-up body, plenty of equipment and load space, and a payload of up to two tonnes.
There is no equivalent ute with which to compare prices, but in raw dollar terms this is more than a basic workhorse but less than a high-series pick-up. And in a package that makes a lot of sense.
"When you buy a (ute) model they are very much all the same in terms of dimensions – they're very limited in terms of length and width," says Iveco Australia product manager for Australia and New Zealand, Marco Quaranta.
A light truck, on the other hand, "is something that truly gives an advantage to the tradesman in terms of space, dimension and flexibility".
GOING THE DISTANCE
There are, of course, different viewpoints in the industry, but the trucking companies we spoke to all insisted that the costs involved in owning a light truck is competitive with smaller one-tonne utilities, pointing to issues such as fuel economy, replacement parts, servicing costs and resale values.
Dual rear tyres are commonly fitted, but these are often standard sizes and can be less expensive to replace than those on high-spec utilities, while the ability to transfer the body across to a new cab chassis can protect the investment made with the fit-out for many years.
Service intervals vary according to the manufacturer but can extend to 40,000km, fixed-price servicing schemes can help remove any doubt over ongoing costs, and extra reassurance comes with new-vehicle warranties – out to five years in some cases – and roadside assistance often thrown in.
"From a fuel and a running perspective, there is not a lot of difference compared to a light commercial vehicle," says Fuso Truck and Bus product manager and chief engineer Romesh Rodrigo.
"From a maintenance perspective, the advantage that you've got with starting with a truck is that that's what its sole design purpose is for – to carry a substantial load – so what that means is that the brakes, the wheels and tyres, the axles and suspension, are all sized for it.
"A lot of the commercial vehicle manufacturers will design for well beyond what would be perceived to be an acceptable life for a passenger vehicle."
This should mean durability, longevity and lower operating costs over the long haul.
A DIFFERENT DRIVE
Light trucks typically come with a flat-faced 'cab over' body style – as seen on the Isuzu N Series, Hino 300 Series and Fuso Canter, for example – although others, such as Iveco's Daily, have the engine up front, albeit without the extra bonnet length found in a traditional ute.
There is a higher driving position, and often a longer vehicle length, to take into consideration, but modern-day light trucks can be unfairly lumped with the negative connotations associated with prime movers or trucks from decades past.
Time behind the wheel translates to ease of driving, but from the outset these trucks are built to be comfortably managed, with independent front suspension, relatively tight turning circles, reversing cameras, ergonomic dash layouts, disc brakes, torquey diesel engines, easy-to-use automatic gearboxes (whether AMT or regular torque converter type), and so on.
Safety equipment such as airbags and electronic handling systems are now commonplace, along with up-to-date infotainment and connectivity systems.
At the entry level, a light truck should be easy to park in the street or at the hardware store and comfortably manage a typical underground carpark entrance. The sat-nav can often be programmed to take the vehicle's dimensions into account, taking the worry out of low clearances and the like.
While braked towing capacity is often akin to traditional utes (around 3500kg), the need for driving with a trailer is greatly reduced with the extra payload on-board, even with a dual cab truck – which in turn keeps the options open for family/recreational use on the weekend.
"You look at the pros and cons and the pros actually far outweigh any perceived cons with the trucks old," says Hino Australia product strategy manager Daniel Petrovski. "If you go back 20 years, yeah, a passenger car and a truck were very different; today, the trucks have gone ahead in leaps and bounds."
FOOD FOR THOUGHT
A truck is a truck, and is designed as such, but brings with it advantages for a tradesperson's business with its dedication to the work application.
It will not stroke the ego like a top-end ute from a light commercial or passenger car brand, but might in fact save you money and make for an easy-going and long-lasting partnership.
"It's a serious decision by a tradie to move up into a truck to elevate his business to the next level," says Isuzu Australia's advertising manager Jeff Birdseye.
"With the custom crew cab ute, they're a lifestyle decision and we're not interested in competing with them, really, because it's a four-door and it's got a tub on the back – and often people in the trade are towing a massive trailer with them because they've compromised by having a $65,000 crew cab that's really a weekender."
It's something to think about.