Wago JUMPFLEX delivers signal conditioners and isolation amplifiers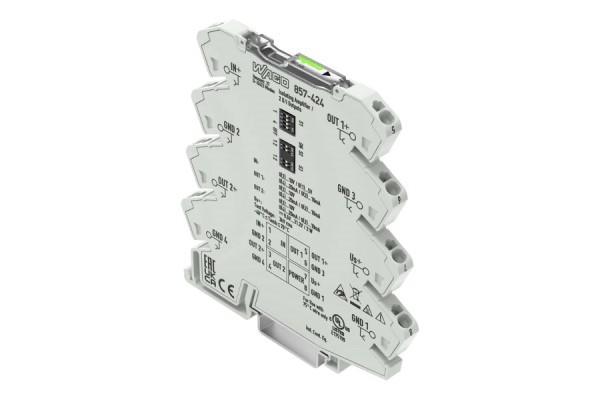 Wago JUMPFLEX has delivered its signal conditioners and isolation amplifiers to handle a large number of functions in a wide variety of applications while ensuring safe and error-free signal transmission thanks to a comprehensive range of approvals for worldwide applications.
With a focus on user-friendliness, convenient operation and absolute reliability, the power supply can be easily commoned using the same profile design across different widths, eliminating the time-consuming wiring of each component.
Signal conditioners are housed in a 6mm-wide package, with the 857 Series setting a standard among signal conditioners. The modules offer numerous technical highlights and feature a common profile, allowing the same flexible push-in jumpers to be used across the entire line.
Benefits of Wago's signal conditioners include multiple, easy-to-use configuration options, an expanded ambient operating temperature range between −40 and +70°C, safe three-way isolation with 3kV test voltage per EN 61010-1 and labelling using WMB + TOPJOB S marking strips.
Isolating amplifiers handle many functions in industrial applications while providing secure, error-free signal transmission, and Wago's range is no different.
Offering a suitable solution for every application, Wago's isolating amplifiers are permanently configured with supply voltage and available as configurable universal isolating amplifiers, bipolar isolating amplifiers, supply isolators and signal splitters.
Benefits include galvanic isolation between input/output/power supply, zero and span adjustment to compensate for error or signal shifts, switchable filter function to prevent signal interference and configurable digital output to measurement range limits and configurable with additional functions (for example, switch-on delay).
ADVERTISEMENT

ADVERTISEMENT