Vibe Lighting's new Calais LED outdoor garden lighting
Vibes NEW CALAIS LED Outdoor garden lighting range will increase safety, security and ambiance in both commercial and residential areas.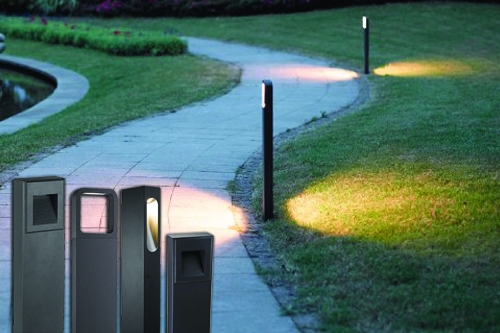 Outdoor and garden lighting is essential for residential domains, but some may say even more so for commercial areas. Finding the right lighting for your business can enhance visual appeal to make it more attractive, drawing the attention from by passers as well as lowering the risk of liabilities. Great lighting creates atmospheric settings and positive experiences for your customers. Vibe lighting have acknowledged the importance of superior design and quality for lighting commercial businesses and residential areas and in recognition are pleased to introduce their NEW CALAIS 500 LED lighting range.
Via a contemporary aesthetic, these lights will enhance any exterior setting to meet the everchanging needs of the modern day consumer. Vibe's NEW CALAIS 500 LED lighting range will illuminate and enhance applications such as shopping centres, hotels, restaurants and cafes, museums, marinas and retail stores.
Utilising high strength die casting body and bracket, with UV stabilised polyester powdercoating for corrosive resistance, Vibe's LED CALAIS Garden Lighting are as beneficial as they are stylish. A long 50,000 hour lifespan will ensure that night can be made luminous for approximately 8 hours per night for 17.1 years! With several different contemporary designs to choose from, each equipped with energy efficient chips (CREE LED or EDISON LED chips) and a 3 year warranty, be confident that your exterior lighting will add beauty, function and safety toy our outdoor area.
Curb Appeal
With the ever increasing popularity of home and renovation shows such as The Block, House Rules and Better Homes and Gardens (to name a few) there is a constant display of exterior landscaping ideas and inspiration around us. Whilst it is clear that such TV shows are capitalising on Australia's love affair with home renovation, for some the idea of styling the outdoors can be daunting and made last on the list of home priorities – it is outside after all.
Quite the contrary, a well-lit home or outdoor area presents a cared-for impression to the entire neighbourhood. With an improved entrance appeal, your home will appear warm and inviting whilst providing a delicate ambiance to the area.
There are a large variety of options when it comes to outdoor lighting designs, Vibe Lighting can assist to simplify this choice. Backed by impressive modern style and high quality features,Vibe's LED CALAIS Garden Lighting range will set any exterior environment apart.
Nothing highlights and emphasises beautiful architecture or a well designed landscape quite like a carefully planned outdoor lighting scheme. From increasing safety and security to creating a warm and inviting environment, the benefits of outdoor lighting are all positive.
Here are a few things to consider:
Safety and security
Outdoor lighting can add safety in a variety of ways. Illuminate patios, decks, gardens, playgrounds, pool or outdoor seating areas as well as walkways, side-walks, driveways, garages and entryways to ensure safe navigation. Exterior landscape lighting is also a provenprimary deterrent to residential crime.
Comfort
A garden with landscape lighting can bring a whole new setting to the home and provide the perfect spot for outdoor entertaining. Extend your living areas by lighting your outdoor landscape. Your family and friends will envy your enchanting, ambient and useful outdoor area.
Appearance
By providing reliable, high quality and aesthetically pleasing LED garden lighting, Vibe's LED CALAIS lights will ensure your exterior stands out from the rest. When night falls, make your garden shine.
ADVERTISEMENT

ADVERTISEMENT