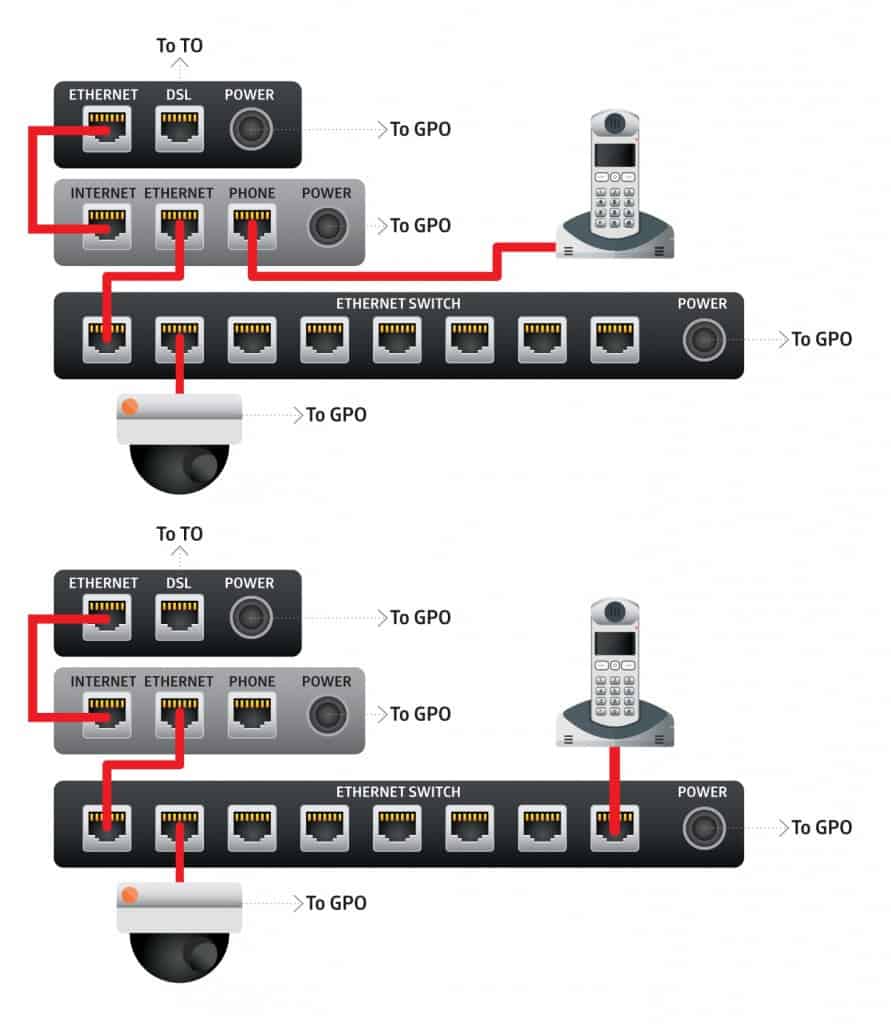 Power over Ethernet is ideal for communications devices. Ian Millner outlines a future technology that is available today.
The old days are well and truly on the way out and a new era is dawning fast and furious.
You could be walking into a mine field if you don't get some of the basics right. As always, a disruptive technology is a threat to many and an opportunity to those that are well informed and ready to harness the potential.
In this article we will look at how communications devices will be powered in the future, the technology, how it works and what you need to do to make sure the infrastructure is in place to support it.
Today's communications devices are generally powered via a 240V AC socket through a power adaptor. Such devices include the:
Cordless phone
Modem
Security system
Computer
Television
CCTV camera
Wireless access point.
You need access to a socket and connection to the communications network, which can be achieved using twisted-pair Category 5/6 cable or wireless.
For the plain old telephone system, power comes from the exchange. Medical alert and alarm systems usually come with battery back-up so that communications can be maintained for some time in an emergency.
As we know the world is changing, and communications systems in your house (including basic telephone services) will need to be powered locally. This will include your broadband modem, network termination device (NTD), home gateway and any devices that are mission critical or essential to life.
To provide a power back-up in a residential environment you can simply buy lots of uninterruptible power supply (UPS) units and place them around the house. They can support various items, be they network devices or user devices that need to be running if the mains supply fails.
Naturally this presents some challenges, having multiple UPS units to start with, and potentially adding a battery back-up for the broadband NTD, plus batteries for the alarm system and medical alert system. It soon becomes a management nightmare.
The solution lies in structured cabling. Yes, you read it correctly, structured cabling – good old star-wired twisted-pair cable.
Enter tomorrow's technology that is available today – power over Ethernet (PoE). This is power delivered over Category 5 cabling or, even better, Category 6.
The Standards continue to evolve, and they are getting to a point where they can deliver up to 70W of power on Cat 5 or better cable.
The first Standard was IEEE 802.3af, which supported 15.4W. Then came IEEE 802.3at, which supported up to 30W.
The benefit of the technology is that you can start to power devices such as IP phones; IP cameras; a range of devices for security, fire detection and environmental monitoring; aged and assisted living; and home health.
Structured cabling brings it all back to a central location where you locate the patch panel and all the essential communications equipment – the broadband NTD and/or modem, the gateway, the security system and monitoring systems.
This means you can install one UPS to support everything at one central point.
Figure 1 shows an installation without PoE, and you can see that every device needs to be connected to a 240V AC socket.
Figure 2 shows an installation with a PoE switch. Now power to the phone, CCTV camera and home gateway can come from that switch.
How does PoE work? It's simple. The Ethernet port in the gateway/switch injects a DC voltage into two or more pairs of the Ethernet port.
This means that if you need to provide back-up to the DSL modem and the CCTV camera only, you could install a UPS next to the telecommunications equipment then connect the DSL modem and the PoE switch to the UPS.
All other devices can now be connected to the PoE switch, which provides networking access and power. You can then program the PoE switch to power only certain ports during a mains power failure.
So far we are only seeing the beginning, but one thing you can be sure of is that PoE is here to stay and will cause disruption in areas you may not have considered.
You can do one of two things – ignore it or embrace it.
A final word: several manufacturers use PoE technology for lighting systems, so think very carefully about the choices you make.