Tridonic releases its 48V portfolio of drivers and LED modules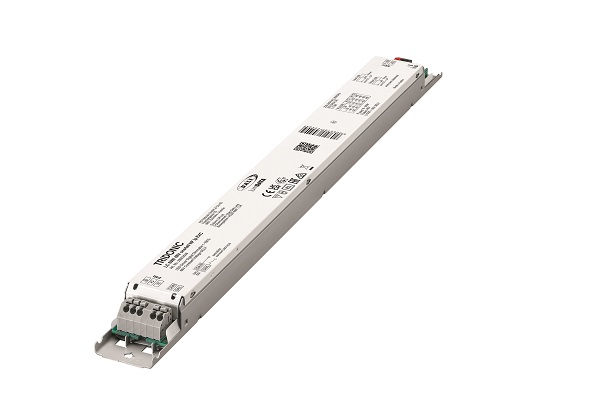 Tridonic has released the first DALI-2-compatible 48V drivers in combination with flexible LED modules offer enormous freedom for luminaire designers and lower costs for on-site installation.
With its new 48V portfolio Tridonic is taking the benefits of 24V low-voltage technology, such as safe and easy installation, and applying them to 48V applications.
The new DALI-2-compatible LC CV 48V EXC SC/lp drivers and matching 48V FlexTape EXC LED modules from the Tridonic range are the key to longer lighting strips with a reduced number of drivers, lower energy consumption and no loss of luminous flux. This makes for simpler lighting designs and helps luminaire manufacturers to save on wiring, energy and costs.
The new dimmable LC CV 48V EXC drivers are the first 48V drivers on the market to be certified according to the DALI-2 standard. Two different designs (Ip and SC) allow installation in integrated or standalone applications. These 48V drivers are available in 35W, 60W and 100W models. Thanks to NFC support, the drivers can be configured in no time. Diagnostic data and energy consumption data are easily available via lumDATA. The new IoT-ready drivers are compatible with the new flexible 48V FlexTape EXC lighting strips. The dimmable drivers are a reliable and user-friendly solution for a wide range of lighting applications, not least because of their long service life.
The new 48V FlexTape EXC LED modules from Tridonic have twice the range of conventional lighting strips while maintaining the same luminous flux. From a single point of power supply, it is possible to cover a distance of up to 20m – making installation and wiring much easier.
The new strips are also great wherever flexibility is required to create shapes and follow contours. These flexible strips make it easy to create round or curved luminaires – for example for furniture lighting or along handrails or across steps for greater safety. Thanks to an innovative reel-to-reel process, the strip lights from Tridonic do not require solder joints; the length of the individual reels is up to 10m. The strip lights can be split every 62.5mm and the distance between the individual LEDs is 7.81mm. In this way, up to 8 LEDS can be accommodated on one segment of the strip light. The strips have a life of up to 60,000 hours.
ADVERTISEMENT

ADVERTISEMENT