Trade business continues to grow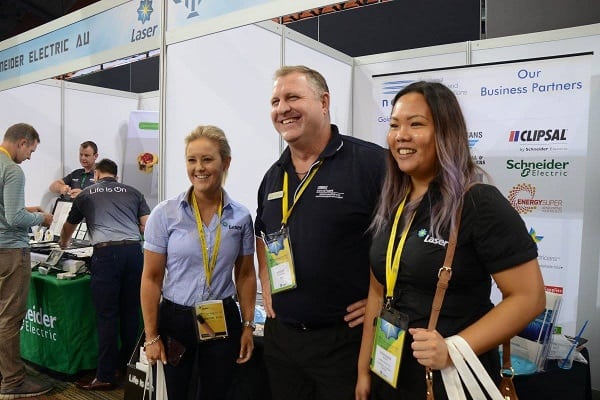 The Laser Group has announced LaserCon 2017, which was held in Cairns, was a success, with nearly 600 plumbers, electricians and their suppliers from Australia and New Zealand attending the event.
Speakers were sourced from around the world and selected based on their ability to engage and inspire the Laser Group's members and their staff on topics relevant to their businesses. They included host of Australia's number one marketing and small business podcast, Tim Reid, technology leader and researcher in the renewable energy and clean technology space, Glenn Platt, the youngest Australian to conquer Mount Everest, Alyssa Azar and multiple award-winning speaker on Neuroscience and Leadership, Josie Thomson.
The theme of LaserCon 2017 was 'Transforming Your Business' and almost 100 suppliers used the event as an opportunity to showcase new innovations and industry stakeholders.
The three-day conference also saw 120 plumbers and electricians spend a day at the Salvation Army's Centennial Lodge, replacing lighting and electrical fittings, damaged roofing as well as painting the façade and rehabilitating the garden.
"LaserCon is a significant event on our annual calendar, designed to inspire, educate and inform our growing network. This year we've launched some exciting new systems, initiatives and opportunities which will continue to assist our Members to differentiate themselves in the market. We create plenty of space in the agenda for our Members to network with fellow Members and our important suppliers, supporting knowledge sharing in a collaborative environment," says Laser Plumbing and Electrical managing director Steve Keil.
The conference ended with the Laser Plumbing and Electrical Gala Awards Night, which celebrated the 10 and 15 Year anniversaries of members, achievements in marketing, networking, software and systems. Employees of the year were also awarded.
The major awards for Australia, 'Laser Plumbing Business of the Year' and 'Laser Electrical Business of the Year' were won by Laser Plumbing Lismore and Laser Electrical Narre Warren North, while the 'Peter Bassett International Laser Business of the Year' was won by Laser Electrical Napier.