Toyota unveils HiLux Tonka concept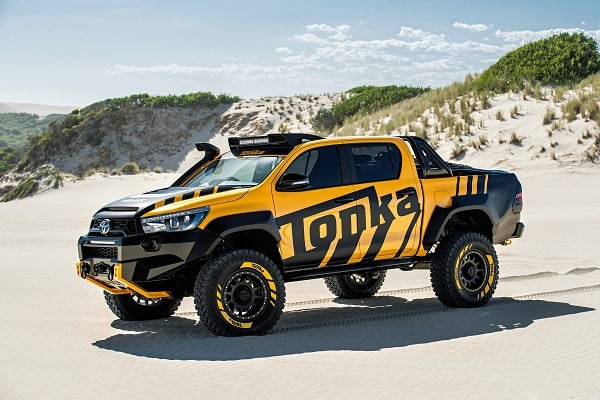 Officially, Toyota says it created the stunning HiLux Tonka Concept to celebrate a couple of anniversaries for both the car and toy manufacturer, as well as the fact that the ute was the top-selling vehicle in Australia last year – a feat it is well on the way to repeating in 2017.
But the big boy's toy also serves to reinforce the fact that the Australian subsidiary of the Japanese auto giant still has a busy product planning and development division – made up of 150 or so engineers and designers – that will continue to operate after the company closes its local manufacturing operations in October.
The team conceived, designed, assembled and tested the full-size concept vehicle that it hopes will rekindle childhood memories and capture the imagination of kids and adults alike – many of whom have moved out of the sandpit and into the trades, working with all manner of 'grown up' machinery to earn a living.
Based on the top-spec diesel-powered HiLux SR5 dual cab and finished in a custom yellow paint job called 'Sun Fusion', the Tonka has emerged as a ute fit to reach the most inaccessible jobsites and weekend retreats, fitted with a heavy-duty suspension (with adjustable remote reservoir shocks), portal axles (with hub-mounted reduction gearbox) and 35" diameter Toyo Open Country M/T-R tyres.
The ride height pushes up to an extraordinary 429mm (+150mm), while other protective measures include a newly designed steel bull bar, rugged 6mm-think alloy bash plate (with front overriders) protecting the sump and other components, and tubular side rails that protect the body and chassis.
With an eye on both weight reduction and body modification, the bonnet has a carbon fibre skin with a big 'power bulge' and air scoops, while at the rear a new tailgate is also wrapped in carbon fibre and incorporates an integrated spoiler, two air vents for optimal airflow and a lightweight release strap in lieu of a conventional release mechanism.
It's also impossible to miss the roof-mounted LED light bar integrated in a pod that includes fresh-air cooling ducts for vehicle occupants, while the tub is fitted with a removable tubular frame designed to keep gear in its place.
It is a neat package but there is not a lot of room for tools – save for the storage boxes designed for off-road recovery gear – once the spare wheel, diesel jerry cans, fire extinguisher, axe, shovel and high-lift jack are loaded in.
Compared to the SR5, the Tonka is 70mm longer (5,400mm), 325mm wider (2,180mm) and stands 235mm taller (2,050mm). It has a 250mm wider front and rear track (1,785mm/1,800mm respectively) and its approach/departure angles are 35/30º, an extra 4º on both counts.
There is, alas, no extra muscle in the powertrain department – it sticks with a 130kW 2.8L four-cylinder turbo-diesel engine – but the stopping power improves with rear disc brakes replacing drums. The park brake is also electronic in the concept, swapping from a regular lever in the SR5.
Heavy? You bet. Despite the carbon fibre, the Tonka tips the scales at 2,400kg – 325kg more than its donor vehicle, which was already heavily kitted-out.