Toyota announces update to HiLux range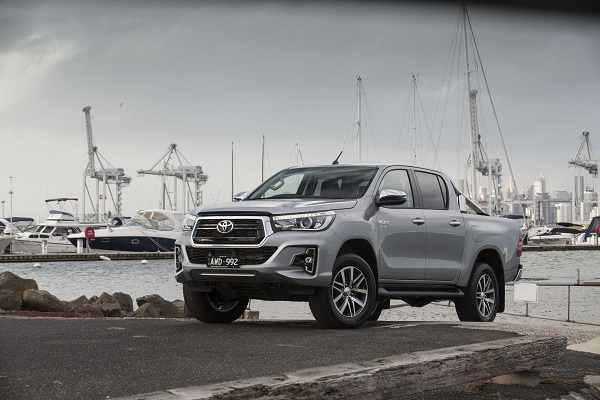 Toyota Australia has introduced an upgrade for its top-selling HiLux, headlined by a diesel particulate filter (DPF) switch for all diesel-powered models.
This is an important mechanical tweak that allows the driver to initiate a manual "burn off" which unclogs the DPF, addressing concerns raised by tradies and other owners typically based in city areas who have faced unexpected repair bills stemming from a system failure.
The DPF works by capturing fine particles before they are emitted through the exhaust and regularly burning them off at extremely high temperatures.
This occurs automatically in normal operating conditions via the engine's electronic control unit, or ECU, but if the vehicle spends most of its time doing short trips at low speeds, the system might rarely get to a high enough temperature for automatic filter regeneration (burn-off). As a result, the DPF can become overloaded and lead to failure.
A warning is now given to the driver, who can use the manual DPF switch to initiate a burn-off.
The switch is now a feature on all diesel-powered HiLux variants, including both the 2.8-litre and 2.4-litre engines.
Toyota has also introduced revised front end styling for its HiLux SR and SR5 extra cab and dual cab models, grafting the Australian-developed premium bumper and grille from the upmarket Rogue variant launched earlier this year.
The redesigned front end has a large trapezoidal grille with honeycomb insert – said to be inspired by the US-market Tacoma full-size pick-up truck – and outboard fog lamps.
The latest update to HiLux also brings with it some slight improvements to fuel economy of select SR and SR5 variants with a six-speed automatic transmission. On 4×2 RS and SR5 automatic models, the official combined-cycle consumption drops 0.2 litres per 100km to 7.9L/100km, while equivalent 4×4 variants come in at 8.4L/100km (down 0.1L).
The 2.8-litre four-cylinder engine produces 130kW of power and 420Nm of torque with the standard six-speed manual, or 450Nm with the optional six-speed automatic. The smaller 2.4-litre unit churns out 110kW and 343Nm with the five-speed manual, or 400Nm with the six-speed auto.
Pricing holds relatively firm across the broad HiLux range – spanning almost 40 variants at last count – with only a minor increase of less than $100 for 4×2 Hi-Rider SR variants and 4×4 SR extra cab chassis and SR double cab chassis and pick-up models.