Tiny solar panels could save koalas from bushfires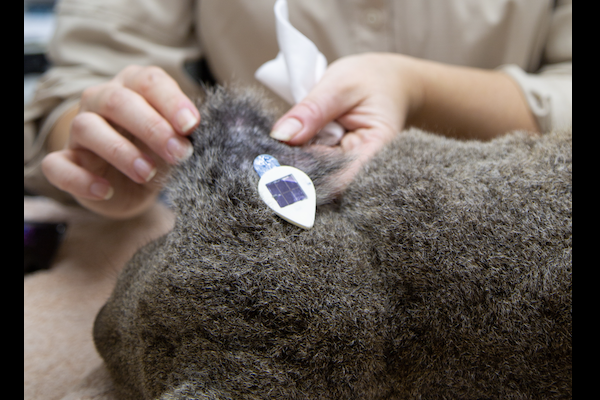 The World Wide Fund for Nature-Australia has announced an investment of $1.32 million into innovative projects designed to help wildlife survive and recover from bushfires. One of the nine projects includes a koala location tag, powered by a solar panel the size of a five-cent piece.
Koala ecologist Dr Romane Cristescu and her team at the University of the Sunshine Coast, are the brains behind the solar-powered ear tag for koalas. They have already developed a Bluetooth koala ear tag, powered by a tiny solar panel but Bluetooth signals only travel for 20 to 30 metres.
The WWF funding will enable Dr Cristescu and PhD candidate Kye McDonald to develop the same sized ear tag but this time with Very High Frequency (VHF) technology which can be picked up for hundreds of metres.
"VHF solar ear tags will enable us to locate koalas and take them into care when a large bushfire is approaching. Once the danger has passed, and their forest home is regenerating, we can return the koalas," Romane says.
"In those first few months after koalas are returned to the wild, we can find them again and do a visual health check to make sure they're getting enough food. If necessary we can take them back into care."
She adds that the ear tags are light in weight because they're powered by solar panels, meaning there's no need for a heavy battery. Additionally, the small panels don't need changing every six months like some tags in the past.
"An estimated 60,000 koalas were impacted by the bushfires. As intense bushfires become more common, the VHF solar ear tag could play a crucial role in saving koalas and conserving genetic diversity," she says.
WWF-Australia chief executive Dermot O'Gorman says that as part of Regenerate Australia, the team is re-imagining how to solve the challenges facing wildlife and wild places: "Bold new ideas are crucial to help restore species and landscapes, build their resilience, and adapt to a changing climate. That's why, coming off the back of the 2020 bushfires, WWF ran a national innovation challenge – Innovate to Regenerate".