Thorn Lighting releases HiPak Gen4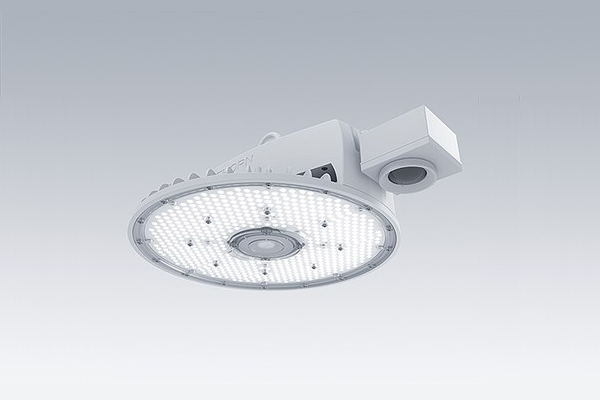 Thorn Lighting has released the HiPak Gen4, the latest generation in industrial bay luminaire.
The high bay luminaire, with two light distributions, includes wide beam (WB) for open spaces and rack beam for high shelves as well as an efficient one-for-one replacement for conventional industrial luminaires, promising faster payback with a higher efficacy than its predecessors.
With three sizes and six lumen outputs ranging up to 35,000lm, HiPak is an ideal option for point-for-point replacements on retrofit projects and enables greater energy savings through DALI versions and motion and daylight sensor integration. An emergency option is also available.
For even higher energy-saving potential, a sensor can also be combined with basicDIM wireless, offering a simple and convenient way to connect the luminaires wirelessly across our portfolio.
With a die-cast aluminium of RAL 9006, and a housing and polycarbonate lens/diffuser, all luminaires are suitable for single-point suspension. All WB luminaires are also supplied with a mounting hook as standard, with chain to be ordered separately.
Mounting accessories, to be ordered separately, include a stirrup for wall mounting, rod suspension for pendant mounting, wire suspension and catenary suspension. All luminaires are supplied pre-wired with a quick connector plug.
Made with a robust dust, dirt and moisture and shock-resistant high bay luminaire with IP65 and IK08, the HiPak Gen4 has efficiency up to 180 lm/W and is available in 10,000lm, 15,000lm, 20,000lm, 25,000lm, 30,000lm and 35,000lm with a choice of rack or WB optic with Ra80, 4000K and a long service life of 720,000 hours.
The Thorn Lighting Bay luminaires include quick connectors, wireless communication (basicDIM), passive infrared sensors, a microwave sensor, is DALI dimmable and has DALI-2 (D4i), E3, E3D and E3DUK options available.
ADVERTISEMENT

ADVERTISEMENT