Thermogroup releases Thermotouch 4.3dC dual controller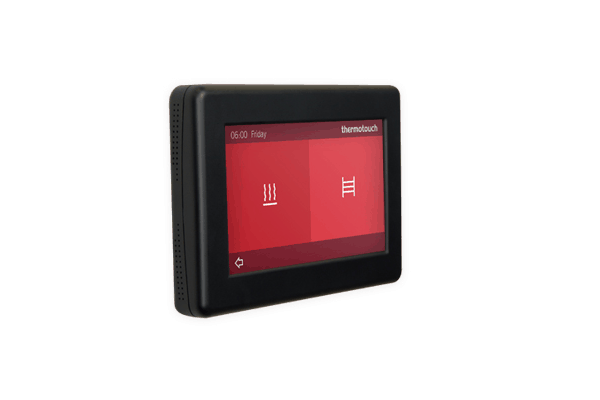 Thermogroup Australia has announced the release of its first dual control electric underfloor heating thermostat, the Thermotouch 4.3dC.
The dual control Thermotouch features two relays that can be independently controlled, a simple copy and paste function for a heating schedule and five heating modes.
The heating modes are:
Eco mode – designed to maintain a low energy eco temperature to help save money on energy bills.
Comfort mode – maintains a height comfort temperature outside the heating schedule. It has an added boost function that will put the thermostat into an eco comfort mode for a selected time and automatically switch back to the programmed schedule.
Manual mode – allows users to manually select any temperature within the set limits of the thermostat. It will maintain the selected temperature until the user changes it or switch to a different heating mode.
Schedule mode – adjusts the temperature of the underfloor heating according to the pre-set heating schedule and allows the user to select the boost function to manually adjust the temperature using the up and down arrows.
Holiday – can be used as a frost protection setting while away. A low holiday temperature will keep the heating off unless the floor temperature drops below the set temperature (default 10°C).
Thermotouch 4.3dC is available in two colours, ice white and satin black, and has eight display colour options. It can be used in landscape or portrait made allowing the user to personalise their thermostat to suit their home.