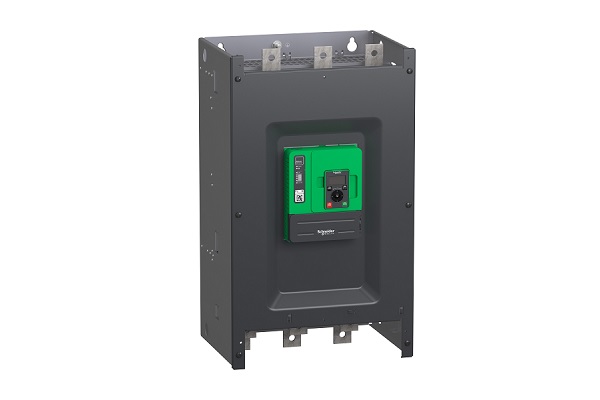 Schneider Electric has released the ATS480 range of soft starters, designed for tough industrial environments. Sean Carroll finds out more.
ATS480 is a full three-phase soft starter that ensures smooth and reliable starting and stopping of AC electric motors. It aims to be the next evolution of soft starters for digitisation, aiming to meet cybersecurity standards and address processes and infrastructures from 4kW to 900kW.
Based on the proven robustness and performance of the legendary ATS48, the ATS480 preserves the initial investment by reusing the current design, while providing increased connectivity and usability.
These soft starters are typically used to control motors within processes and infrastructure across many industries including equipment manufacturing; mining, minerals and metals; water, and wastewater; oil and gas and more.
"The ATS480 excels in harsh industrial conditions where performance and reliability are critical," Schneider Electric offer manager, drives and soft starters, John Macdonald says.
"With up to 700% motor starting current, coated boards to 3C3 and up to 50°C ambient temperature without derating, the ATS480 provides highly robust and reliable operations."
With integration in EcoStruxure apps and software for automation and power, motor control selection and detailed design are drastically simplified.
"The online motor control configurator tool allows for easy selection of the soft starter, options and coordinated protection of equipment within two minutes, making the electrician's life easier," John explains.
"ATS480 also comes with an HMI keypad that makes parameter set-up easy, and the keypad can be remotely mounted via a panel mounting kit using a 22mmØ hole. There is also a dynamic QR code function with an optional graphic keypad that provides direct access to relevant troubleshooting information.
"And on top of that, it has the same footprint, wiring and panel integration as the previous ATS48 range, allowing for fast and direct replacement. Parameters and settings are converted using a software tool, and the web server provides access to dashboards and much more."
The Altivar Soft Starter ATS480 is available for ordering now with sizes 17A and 320A available ex-stock and sizes above 320A available for delivery from January 2023.
ADVERTISEMENT

ADVERTISEMENT