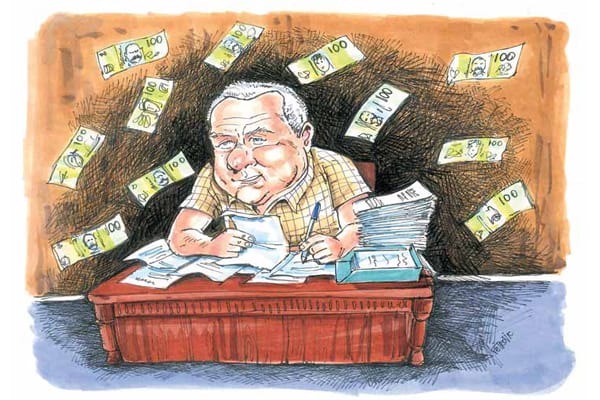 Contractors need to beware of often-missed costs when finalising a tender. Brian Seymour explains.
Preliminary costs are a particular category of expenses incurred during construction.
They are directly related to the running of the project and have not been included in the costs of materials, labour or overheads.
Preliminary costs include such items as attending site meetings, ordering materials and supervising workers.
These real costs are often overlooked in the initial estimate. Though such costs may be included in the overhead on minor jobs, they can be considerable on a large project.
I have experienced unusual projects on which the preliminaries have exceeded the electrical installation cost.
Many of the following items will be covered in general overheads, but there will be projects on which the overheads must be extended due to the nature of the work, including the following instances:
On-site administration
The project may be big enough to require an on-site management group, including project manager, estimator, storeman/purchasing officer.
Supervision
The job may need full-time supervision staff on site due to the size or degree of difficulty, or it may require management of numerous sub-contractors.
Co-ordination
Liaison with other trades may be required, especially on fast-track projects, where these tasks consume an inordinate amount of time.
Samples
These have become more common requirements on projects due to the increased number and complexity of goods and materials.
Clients frequently stipulate such items as housing and trim colour, diffuser colour and lighting intensity.
The increased sophistication of lighting, coupled with greater client expectations, has become time consuming and the cost must be considered.
Site accommodation
This can be a formidable cost if you have to provide it.
Large construction sites may require the electrical contractor to supply a materials store, change/lunch room (complete with heaters and air-conditioning, refrigerator and a microwave oven or pie warmer) and a ready supply of cool, clean drinking water.
Some major projects require the contractor to provide amenities including toilets and sanitation, washing and showers. And don't forget rent to the head contractor if a cost is involved.
Remote sites
Travel, accommodation and a living away from home allowance are usually included in the labour cost.
However, if travel and accommodation is to be provided for supervisory staff, the costs would be included in the preliminaries.
First aid
A sufficient number of qualified first aiders must be allowed for the size of the job.
Also, a well-maintained first aid kit should be kept in a suitable location with clear directions to guide emergency services to your site.
Site induction
All workers must have training and a full understanding with regard to safety rules and site procedures.
This may require every worker to attend induction training, which may take several hours.
Health and safety
A health and safety representative will be a cost outside the normal overheads and will mean attendance at all site safety meetings from the planning stage to the final hand-over.
Make allowance for the right safety systems, safety clothing and safety equipment requirements for each part of the work.
Security
If your own security system is required, it may include installation of an alarm system, security lighting on motion detectors, video surveillance, or even security guards.
Risk assessment
This is a function of the estimating department and is included in company overheads.
However, there may be concerns requiring specialised knowledge, such as hazardous environments or high-security installations (military, government, etc.).
Risk management can be divided into three stages: identification, analysis and control.
Many companies do not give enough thought to the cost of risk management, despite the fact that it can be one of the largest expense items of the contract.
Site transport
The movement of workers and materials on a project depends on the size of the site, remoteness and terrain.
Can the company's current vehicles cope, or is there a need for a fleet of specialised vehicles, water craft or even a helicopter?
Permit to work
This is a formal written system for controlling certain types of work identified as potentially hazardous.
It is also a means of communication between site management or installation management, plant supervisors and operators, and those who carry out the work.
The system is essentially for:
clear identification of who may authorise particular jobs (and any limits to their authority) and who is responsible for specifying the necessary precautions;
training and instruction in the issue and use of permits; and
monitoring and auditing to ensure the system works as intended.
Fire precautions
Contractors are responsible for fire protection in their work environment.
Fire prevention is taken into consideration when determining work methods and selecting tools and equipment for use at the workplace.
Contractors are responsible for ensuring that flammable liquids are stored in closed metal containers labelled as per the regulations to identify the contents.
Vehicles and machinery brought onto the site, as authorised by the site manager, must be equipped with a relevant fire extinguisher of adequate type and capacity.
Insurance
Contractors must have an insurance policy that covers all risks normally associated with a construction project
In addition, they should have public liability insurance, which is generally required to provide cover against personal injury, death or loss or damage to property suffered by third parties such as members of the public or independent sub-contractors.
However, occasionally the specification will require insurance beyond the normal, for instance, $50 million public liability cover in lieu of the current $20 million policy. T
This additional cost is entered into preliminaries.
Tools and equipment
This can be an expensive classification.
The common tools used in regular works are included in the overheads, but any additional tools or items of equipment that need to be purchased, hired or leased for a particular project must be included in preliminaries, such as:
crimping tools
test equipment
scaffolding
scissor lifts
cherry pickers
winches and cable pulling gear; and
trenching equipment.
Note; any equipment on lease must be monitored to ensure the lease does not run on long after the task has been completed.
Utilities
Electricity, water, telephone, etc, for a specific project are also entered into preliminaries.
Partial hand-over
This needs to be considered in the preliminaries when the client wants to take possession of part of the building.
The logistics that need to be considered include:
protection of completed parts of the works;
client responsibility for that part (should sign off and insure it);
partial hand-over deems that practical completion has been achieved and retention for that part must be released;
liquidated damages to be reduced proportionally; and
the defects liability period begins for that part.
Waste
If the electrical contractor is required to remove its own waste material – which may include the hire of skips or waste contractors – then these costs are preliminary items.
Conclusion
It is common to refer to the preliminaries section as 'project overheads'.
However, it should be noted that preliminaries are direct costs specific to the particular site.
The preliminaries section of contract documents sets out the general obligations of the contract. These are items of a general nature related to the project as a whole and are not specific to any single trade or element.
Decisions relating to matters such as plant, equipment, management resources, manpower resources and systems, etc, are reflected in the pricing of this section.
The cost of many preliminary items depends on the contract period and the time that staff, plant and equipment are required on site.
Many of these items contain fixed costs and time-related charges. Fixed charges occur when the cost is independent of activity or time required.