Supposedly cheaper materials can lead to technology risk, warranty issues and financial problems. Wes McKnight poses the question: should we support the established supply channels?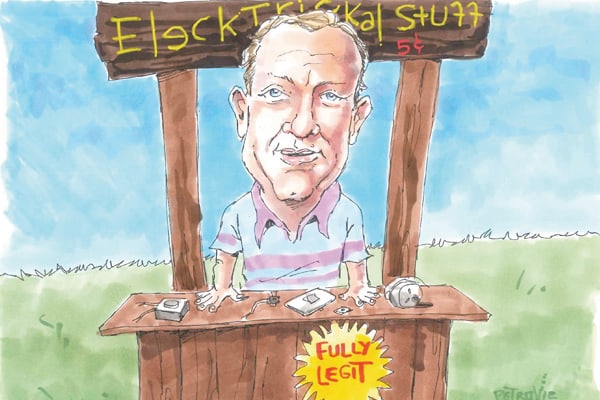 The manuscript of a new publication on the 100-year history of NECA Victoria makes for interesting reading.
It contains many references to how our forefathers accessed product and material, and it solidified thoughts I've had for many years.
Our industry began with electrical contractors buying and sourcing material direct from manufacturers and some 'appointed' distributors throughout the country.
In many cases contractors personally knew the manufacturers or importing agents. Our history is full of such families and personalities. We relied on these contacts, trusted the product and got excellent service.
Over time the industry grew. So did the number of suppliers, and direct contacts were lost.
Today, the way we source product is something of a free-for-all, and the role of the industry wholesaler is being challenged as never before. However, there seems to have been a change in the past two years.
In a previous life I had many opportunities to talk about this topic at presentations and in speeches, suggesting that wholesalers needed to change from corner store stockist to value-added true partner in the industry.
Technologies such as solar, batteries, automation and integration all need a local link to the installation sector.
Manufacturers used to provide this technical link to the contractor. However, as local manufacturing was subsumed by globalisation, there's been a substantial reduction in the number of personnel assigned to this task.
Enter the wholesaler. No longer do they need to be simply account holders or stock holders – and just in time.
Over the past 10 years there's been a substantial increase in contractors sourcing their own product from hardware stores or through direct importation from Asia, made easy by the internet. NECA research has proved it. Technologies such as solar have only increased this trend.
This attempt by contractors to bypass a step in the established channel has had added substantially to the risks involved in running a contracting business. It opens up the potential for non-conforming product, financial problems when dealing with an unknown entity, warranty issues, product training and many other pitfalls.
In an attempt to counter direct purchasing many wholesalers introduced 'private label' product under their own brands. Perhaps this is why some importers and manufacturers put more emphasis on marketing directly to contractors. So it became a 'chicken and the egg' situation.
In any event, contractors seemed to win in this race to the bottom of the price curve. Yet after the price bottoms out the only thing that can move is the quality.
The established channel via wholesalers and manufacturers or importers provides levels of protection that cannot be argued against.
Some in the industry contend that they have enough experience to handle the risks in sourcing product, that they can control quality and that certification is correct and will be maintained.
However, the evidence of the past few years has shown that management of these issues is difficult even for wholesalers (who do this for a living), let alone contractors
For instance, the entire industry has made headlines because of cable. The product in question was not only sold by non-mainstream wholesalers but also by a limited number of established wholesalers. And it was also imported directly by contractors.
This particular issue is ongoing, and will be for years.
In another instance NECA research found that circuit breakers from different suppliers were stamped with the same certification approval number. Which one was correctly tested and approved? How would a contractor know?
LED lighting has the potential to be this industry's 'pink batt' moment. The amount of LED product flooding our market is phenomenal.
It's impossible for individual contractors to manage, test and monitor each product's certification. Why would anyone take that risk? Importing the fittings directly leaves contractors completely exposed. Insurance can be obtained for this risk, but the supposed economic benefit is lost once the cost of a policy is added.
Tracking the original manufacturer for a warranty claim has proved difficult for the most experienced operators. Imagine telling customers you can't find the company from which you sourced the product. It isn't a good look for your company or the industry.
New market opportunities that appear regularly provide an entry for new suppliers. Solar and batteries are current examples. But think broadly about the future, and some of the technologies that will be introduced by new and existing players:
diesel and natural gas generators small enough for homes to go off the grid;
voltage optimisation devices;
Integration systems; and
extra low voltage lighting.
There are almost 10,000 electrical contractors in the country. How will these suppliers reach them: through the wholesale distribution model or direct marketing?
We need to be aware of the supply of technology direct to end users. For example, they are major purchasers in the domestic plumbing sector. Builders in the United States are the major purchasers of switchboards and lighting for large commercial projects.
Our industry needs to determine its preferred method of delivery of material and technology to end users. Do we have a role? Do we want one? How important is it to have less technology risk, less product warranty risk and less financial risk?
We are the best people to advise our customers. We are responsible for their property. Why would we leave the crucial matter of supply up to websites, overseas traders and importers?
The old supply channel will never be the same again, and we will be dealing with this issue for a long time to come.
However, as long as electrical contractors understand the risks and concern themselves with protecting customers' assets, we will be able to maintain our standards.