The markets they are a-changin'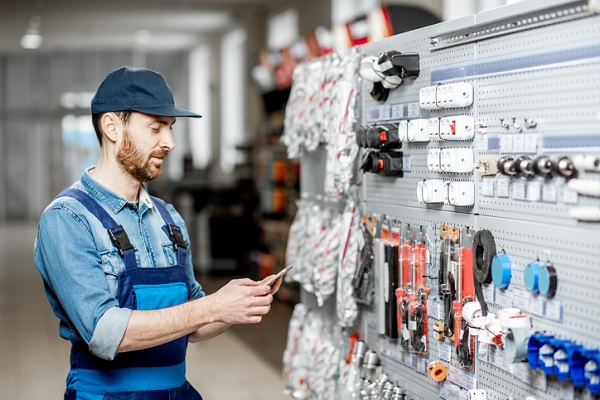 The way some electricians source their components is changing with online distributors operating differently to the traditional wholesale channel. Electrical Connection finds out more about the trend and what its future looks like.
Come gather round people, wherever you roam as the traditional market for electrical products is changing and the standard 'manufacturer sells to wholesaler sells to electrician' model is no longer the only show in town.
With several online distributors entering the market and a pandemic either closing or limiting face-to-face retail, there are now multiple avenues for electricians to buy what they need for their jobs.
While many worked from home during the COVID-19 pandemic, the electrical industry, considered as an essential service, was still on the tools through the past 18 months.
It meant that it was harder to just duck up to the local wholesaler to buy some cables and it was recommended that sparkies order their electrical components online.
JH Market chief commercial officer Damien Cummins says the market was already changing and changing rapidly but the COVID-19 pandemic contributed to it: "Australia and New Zealand is a very unique electrical distribution market due to the amount of wholesale electrical branches servicing electrical contracting businesses.
"The digital and online market is a rapidly evolving supply chain model for retail products, and we are now seeing that same growth in building material products. Tradies are continually exploring areas of making their business more profitable whether its labour efficiency or product costs."
One of the key points that JH Market likes to mention is that if the sparkie can plan ahead, look at what equipment they need for an upcoming job or hold stock of fast-moving products in their own premise or van, they can order it and have it arrive before it's needed.
Damien says that if a contractor is planning ahead, they can find themselves a lot of savings both in time and money when shopping online.
Voltex is an Australian direct-to-contractor supplier. Established in 2001, they say they've never seen themselves as an online distributor, but a relationship driven business with a very large phone team and an excellent array of digital connectivity tools.
Terry Rowe, who works in operations for the company, says their main reason for going direct was always to provide super-responsive service and warranty support for the small contractor: "The point is, every product we sell Includes parts and labour cover for the full term of the warranty. The contractor decides what he needs to do for his customer to resolve an issue, and then lets us know what he's done. That only works when there's no intermediate dealer."
He agrees with Damien from JH Market, saying the change has been happening for a while now but it was further emphasised during the pandemic.
"COVID-19 pushed the amount of market change that was happening to the foreground," he explains.
"We noticed a huge spike in acceptance last year because, all of a sudden, zero contact was a thing, and it suddenly made a lot more sense."
Damien adds that the demographic of customers is varied with more younger electricians who are used to shopping online: "Whether it's Uber Eats, clothing, etc. the younger demographic is more used to buying online. It's an easy progression for a lot of contractors to say, well, I've got my own business, it's easy to buy online.
"Contractors don't want to be stuck on the road, driving to a wholesaler three-to-four times a week because at the end of the day, time is money."
This supports the NECA Market Monitor 2017 hypothesis after extensive market research: "While relationships are still central to how business is done, younger electrical contractors expect better digital connectivity from their business partners," the report stated.
"As in other industries, being able to conduct business online is increasingly important and prevalent."
Obviously in terms of convenience, walking in and out of a store with all the equipment needed is the simpler way of getting products, but the delivery times for supplies aren't over-the-top.
JH Market's website says it dispatches all orders on the same day if ordered before 10am and it offers same-day delivery in Melbourne or Brisbane. Voltex offers same day dispatch for all orders placed before 3.30pm, with delivery times varying across the states, and freight is free to everywhere.
It's a case-by-case basis but those delivery times are much easier to deal with than the snail mail it seems usual online orders would take.
We're not the cable guys
Terry acknowledges that the market is going to remain hybrid for some time: "I think there's definitely a place for local outlets.
"For example, we don't do cable, and I don't think we're ever likely to as cable has become a loss leader pretty much. It doesn't work very well for anybody that operates online because you've got to ship small consignments on parcel freight, and it's very dense, it's very heavy, and it's low margins."
JH Market echoes this thought and also leaves cable to the local wholesaler.
"This is one example of something bricks and mortar guys will have while we won't and as the market continues to change, I'm sure they'll find products we're not carrying," Terry says.
At the end of the day, what works for the individual electrician is best. There will always be a bricks and mortar distributors and it looks like there will always be online outlets. It's in the electricians' hands, depending on which direction they want to go.