The future of electric vehicles: Crossing Australia in a solar tuk tuk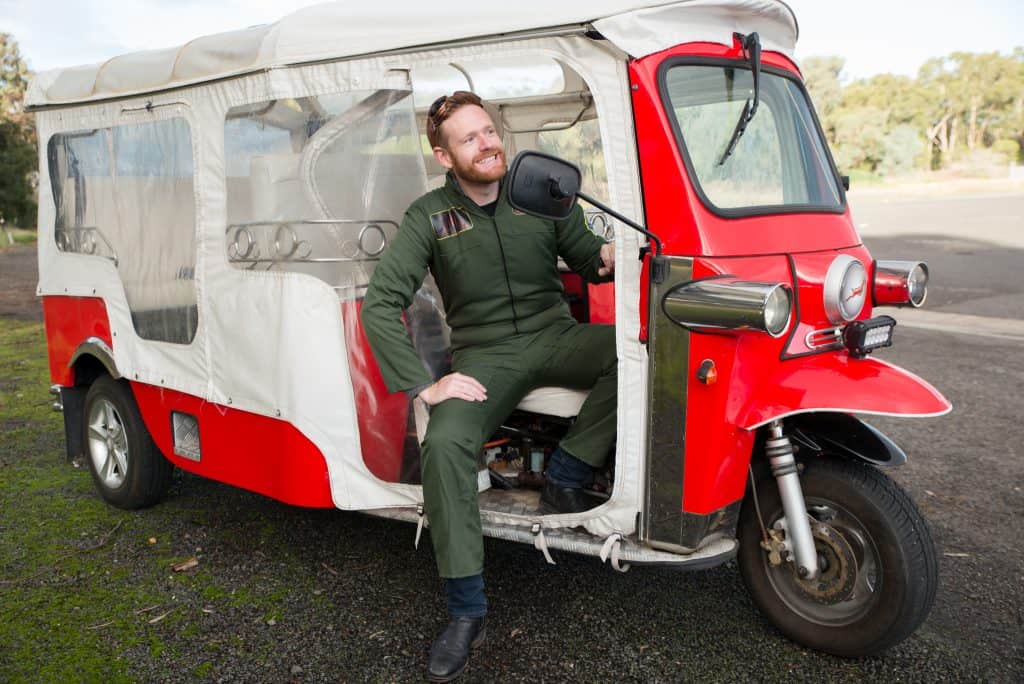 A team of young Australians are about to embark on a solar-powered journey across Australia in an unlikely vehicle – a tuk tuk.
Helmed by social entrepreneur Julian O'Shea, the SolarTuk Expedition is a three-wheeled outreach and sustainability project that will see the team drive the length of Australia powered by the sun.
"This is very real. On 24 November we will kick things off and drive 55km/h up the east coast of Australia," he says.
The SolarTuk was unveiled at RMIT University's EnGenius event on 17 October at the Melbourne Convention and Exhibition Centre, where it was showcased alongside projects from 1,000 final year engineering students.
A team of final year students from RMIT University's School of Engineering were responsible for converting the tuk tuk to solar power and preparing it for the expedition.
"The focus of this project is promoting sustainable transport and sustainable engineering," says final year electrical engineering student Andrew Klink.
"While we haven't been able to measure it yet, based on our calculations we're anticipating the tuk tuk's battery has a range of 250-300km.
"In an earlier version of the tuk tuk, we installed approximately 330kg of lead acid batteries, which led to a capacity of 15-16kWh. We have since replaced that with six Tesla Model S battery modules, each of which offers about 5.3kWh, so we've now got a total pack capacity of more than 30kWh."
In addition to the solar panels, the tuk tuk is fitted with a charger that plugs directly into a power outlet.
"Unfortunately, there isn't enough surface area on the tuk tuk to be able to make it completely solar powered just yet, so we have included a 2,500W charger.
"From a normal wall outlet, to fully charge the tuk tuk's battery would take about 14 hours, from 0-100%."
Final year environmental and sustainable engineering student Jake Collier is responsible for planning the route the tuk tuk will take on its journey.
"Our aim with this project isn't to advocate for people to have solar panels on their cars; rather, we're trying to educate people about the benefits of electric vehicles and about renewable energy as a whole," Jake says.
"Plus in the future, when more mains power is created by renewable sources, electric vehicles will be much better."
Julian says an important side effect of the trip is to dispel a few of the myths surrounding electric cars.
"We want to show that electric vehicles don't need to be expensive. When you say 'electric vehicle' people think 'Tesla' and they think '$100,000'," he says.
"We are aiming to show that you can drive across the country with zero carbon emissions in the cheapest vehicle humanity drives – the tuk tuk."
The journey is expected to take three to four weeks.
"We're not trying to set a land speed record; the goal is to do outreach and you can't drive this without turning heads," Julian says.
"We chose to be attention seeking – we could have used a traditional electric vehicle but this is very much about education outreach so we want people to take notice."
The journey will commence on 24 November, and throughout the trip the team will conduct educational and outreach workshops with rural schools and community groups.
The project is run by global educational social enterprise Unbound. Julian, who studied engineering, wants to encourage Australians to find more sustainable ways to live, work and travel, and transportation is an important part of the equation.
"We think that electric vehicles have a role to play and would love to see a faster transition to greener forms of mobility," he says.
"We think that if we can make it across Australia and the world in a slow-moving tuk tuk then people needn't be too worried about the range of their own, more appropriate, electric vehicles.
"Our goal is to use 100% solar power and make our way across the country – meeting and running workshops with schools, politicians, innovators, educators, media and the wider community to share how transport can be more sustainable."
The SolarTuk Expedition also aims to encourage young Australians to consider careers in science, technology, engineering and mathematics (STEM), and to be involved in designing and inventing sustainable solutions. The team will deliver outreach events throughout their journey in major cities: Melbourne, Canberra, Newcastle, Sydney, Brisbane, Cairns and many rural and remote towns along the way.
The team aims to arrive in northern Australia by Christmas.
Beyond Australia, the SolarTuk Expedition will travel across South East Asia with the support of the Australia-ASEAN Council, as a sustainability and outreach initiative to strengthen ties between Australia and the region – including a stop in Bangkok, the historical home of the tuk tuk.
This expedition is supported by the Australian Geographic Society and, if the expedition across Australia and Asia is a success, then the team hopes to complete a full global circumnavigation.
"This is a celebration of all the hard work that the students have done throughout the year and it shows how all that hard work can come to fruition," says RMIT School of Engineering deputy dean of learning and teaching, Professor Colin Kestell.
RMIT School of Engineering executive dean, Professor Adrian Mouritz adds: "EnGenius brings engineering out of the classroom and into real life," he said.
"Visitors to EnGenius witnessed how a robotic desk arm could help children with spinal cord injuries gain independence, learn how a bike for people with special needs was designed and developed and drive a drone.
"By embedding industry in everything we do, we're able to create meaningful partnerships and close the gap between research and impact to help shape the world."
"There's no better example of this than EnGenius. The event gives industry the opportunity to meet its future workforce and students the opportunity to meet employers."
If you'd like to track Julian and his team's journey across Australia, you can follow his progress at www.solartuk.org.
"The SolarTuk project is an ambitious, and slightly crazy, project, but one that we hope will reach thousands of Australians, and encourage a more sustainable future," Julian says.