Teledyne FLIR releases Premium E8 Pro Edition for Point-and-Shoot Thermography Inspection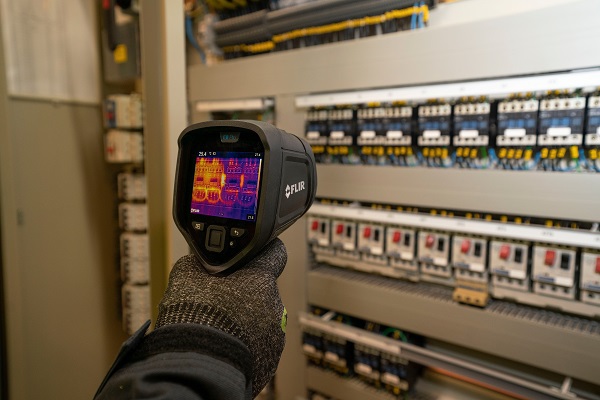 Teledyne FLIR has released its Premium E8 Pro Edition for Point-and-Shoot Thermography Inspection, providing a larger 3.5" touchscreen with FLIR Ignite Cloud connectivity within the same pistol-grip form factor as legacy E8 series thermal cameras.
Through the touchscreen, users can share captured images with colleagues, partners and clients over WiFi, including with on-screen annotations to highlight findings. Images can then be loaded straight to the FLIR Ignite Cloud for improved efficiency and a smoother workflow.
"As part of effective predictive maintenance and condition monitoring programs, thermography inspectors require easy-to-use and cloud-connected handheld thermal cameras to quickly locate issues and effortlessly share that data with colleagues and clients for further analysis," Teledyne FLIR business development director Rob Milner says.
"The FLIR E8 Pro answers the call with a larger touchscreen and improved 640×480 screen resolution. It also features FLIR Ignite cloud connectivity for instant documentation to provide inspectors with a familiar, yet superior, handheld thermal imaging camera to get the job done quickly and efficiently."
The FLIR E8 Pro offers crisp thermal and visual detail at an affordable price by pairing a 5MP digital camera with a powerful thermal camera via the FLIR patented Multi-Spectral Dynamic Imaging (MSX) capability. MSX overlays the edge detail of the visible camera upon the thermal image, providing significantly greater detail and contextual awareness without sacrificing any thermal data. The tool also includes a built-in LED lamp to capture critical details via MSX in low-light scenarios for improved decision support.
When connected to WiFi, the FLIR E8 Pro can automatically sync with the FLIR Ignite application, accessible from anywhere on mobile devices, a web browser or a desktop, eliminating the need to carry extra USB flash drives, card storage or cables. Images and videos shared via FLIR Ignite can then be accessed through FLIR Thermal Studio software so inspectors, colleagues and clients can instantly review, edit, analyse and report findings.
Built to handle the harshest of industrial and outdoor environments, the FLIR E8 Pro is drop-tested up to 2m. The ruggedised design also features a 25G-shock and 2G vibration test rating along with built-in lens protection. The FLIR E8 Pro also offers up to four hours of continuous operation on one battery which can be quickly swapped out and recharged for all-day use.
The FLIR E8 Pro is available today to buy globally from Teledyne FLIR and its authorised dealers. The purchase also includes two removable and rechargeable batteries, a hard-carrying case, a battery charger, a USB cable power supply and printed documentation.
ADVERTISEMENT

ADVERTISEMENT