Tackling wind turbine noise complaints
Wind and solar are two major players in the renewable energy market – and both technologies could bode well for electricians. David Herres explains the world of wind turbines and their noise-generating characteristics.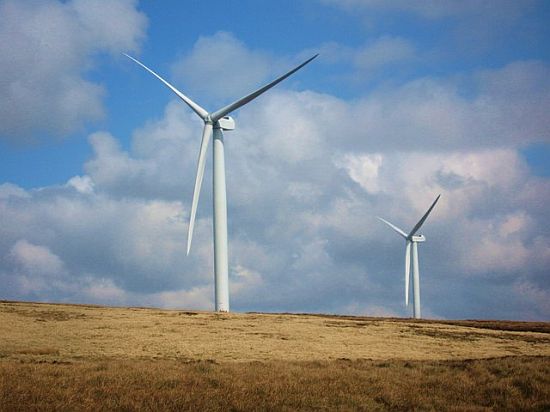 Small wind turbine systems are generally defined as up to and including 100kW. This upper limit may seem large for a single-family residence, which can often be served by a 10kW power source, but it must be remembered that this is a peak value for optimum wind conditions. Moreover, the generator must be able to charge batteries in addition to supplying the immediate needs of the building.
We sense that our use of oil as an energy source cannot continue indefinitely. It would seem that everyone should favour small wind turbine systems, but there has been a large amount of intense and sincere opposition to this seemingly limitless resource.
Large wind farms, consisting of multiple huge machines often over 1MW, generate substantial noise. These mammoth machines populate high ridges above small rural settlements and the sounds they produce may be overwhelming to the unfortunate nearby residents. Smaller stand-alone and utility-interactive versions are naturally much quieter, but the noise may be objectionable for them as well, due to less distance to neighbours.
Noise is defined as unwanted sound. It is usually perceived as objectionable or harmful. Depending upon the intensity, it can be a minor annoyance or damaging to the health of those who live nearby.
What we perceive as sound is the result of air pressure fluctuations that impinge upon the eardrums or upon a microphone. Sound pressure is measured in micropascals. The level or intensity of sound as perceived by humans, in contrast, is measured in decibels (dB). This scale is logarithmic and it is the key concept in any discussion of objectionable noise levels.
If there are two or more frequencies that are fairly close, less than 1/3 of an octave apart, the sound is described as narrowband. Broadband sounds are made up of two or more frequencies, 1/3 of an octave or more apart. Most types of machinery, including wind turbines, produce broadband noise.
Humans experience significant health issues as a result of exposure to noise and it is possible that even small, non-utility scale machines would cause problems for nearby neighbours. Noticeable impacts include temporary or permanent hearing loss and sleep disruption. For some individuals there can be negative psychological effects resulting from noise or visual impact of towers blocking the landowner's cherished view of mountains and sky. Shadows crossing the ground resulting from cyclical blade motion may produce a highly unpleasant strobe phenomenon for some people, causing physiological symptoms as well as mental distress.
High noise levels may also cause depression, headaches, irritability, vascular problems and a compromised immune system. Hearing loss may be manifest as increased minimum threshold, sensitivity to low sound levels and an inability to hear certain frequencies. Wind turbine noise is usually not intense enough to initiate these problems, but we have to consider whether it is within the rights of individuals to determine, on their own property, what level of noise is objectionable to them.
It seems inevitable that wind turbines will continue to proliferate, both large wind farm machines and small stand-alone and utility-interactive turbines on individual homesteads. These machines seem to have a remarkable ability to polarise opinion. Those who are in favour of the technology are very enthusiastic, whereas those who are opposed are steadfast in their opposition. The arguments against wind power will continue to be of an environmental nature.
Besides the impact of sonic energy on nearby abutters, several other issues arise. One of these is the negative affect these machines could have on wildlife. Birds, colliding with the rapidly turning blades, will inevitably be killed, but the frequency of occurrence has been fiercely debated. We do not see a pile of dead birds at the foot of every wind tower, but such an observation is at best anecdotal rather than definitive. Other wildlife could be affected. If the sound bothers humans, it is likely to bother animals, possibly to an even greater degree.
A wind turbine produces two types of noise, the periodic whoosh caused by rotor blades as they pass the upper part of the tower, which generates turbulence and reflects noise in a forward direction. The second type of noise is produced within the nacelle, or generator housing. It comes from the gearbox (if any) and generator bearings. It is higher-pitched, and therefore more readily attenuated by distance.
Large wind-farm machines have been insulated and acoustically engineered to reduce this noise, but the under 100kW models are less muted even though there is less of this noise to begin with. The periodic blade disturbance is present whenever there is sufficient wind to turn the rotor. This low-frequency noise is disturbing to some individuals more than to others.
Most people agree that neighbours should be left in peace to enjoy their lives unencumbered by any degree of unwanted sound. Several methods for reducing acoustic disturbance are possible. Wind turbine manufacturers have taken increasing notice of the problem on a micro-installation level. Curved blades disperse the reflected thumping phenomenon, having the effect of making the sound more muted. Internal sound insulation and detuned gearboxes are definite advances, but these are seen at the large utility-scale level, as opposed to stand-alone and utility-interactive versions. Sound-absorbing ground cover shows promise, and it is likely that other sound mitigating strategies will be developed in the future.
By far the most effective means for lessening the harmful effects of unwanted noise pollution is spatial separation. The exact distance will depend upon a number of factors including the amount of sound produced by the machine, the neighbour's building setback, the amount of setback that the lot will support, local building ordinances, and others. Prior to construction owners contemplating a wind turbine installation should provide an adequate property-line setback, to be determined in consultation with the wind turbine manufacturer. For those unwilling or unable to do that, there is always the solar photovoltaic option where any noise occurs on the subatomic level and should not disturb even the most squeamish abutter.
ADVERTISEMENT

ADVERTISEMENT