Solar roof tiles on the rise
Solar roof tiles are set to revolutionise roofing systems, as the benefits of integrated multifunctionality outweigh the clumsiness of 'bolt on' solar panels.  John Power reports.
Solar roof tiles, in case you missed it, are roof tiles with built-in photovoltaic (PV, or solar) cells. When used in combination with matching non-solar tiles to create a full roof, the result is a sleek, single-profile roofing system that serves as both weather shield and solar energy collector (and much more, see below).
In this article, we take a step back to examine how this emerging product sector gained momentum in the first place… What do solar roof tiles offer that conventional 'bolt on' solar panels lack? And what are some of the practicalities and challenges relating to the mainstream adoption of solar roof tiles in the Australian building industry?
A BRUTAL TRUTH
In order to understand the new category of solar roof tiles, we must first admit a brutal truth: In our haste to embrace the virtues of solar power, the building industry has been slow to criticise the clumsiness of solar panels.
Conventional rooftop solar panels are a classic example of 'bolt on' mass-market technology, having been commercialised as accessories for homes of all ages and styles. To their credit, when considered as add-on devices affixed to existing homes, solar panels have been intrinsic to a worldwide cultural shift towards sustainable energy.
But does it make sense to use the same 'bolt on' technology on new dwellings? A few lateral thinkers say, 'Absolutely not! Solar roof tiles present a new world of opportunities.'
Conventional 'bolt on' solar panels have numerous deficiencies. These include:
Aesthetic ugliness. Interruption of linear tiling designs.
Unnecessary 'second skin'. Solar panels, which double as weatherproof barriers positioned over perfectly good roofing, represent an unnecessary duplication of a significant portion of a roof's shielding.
Invasive fixings. Why drill holes into perfectly acceptable roofing to attach solar panels, creating the potential for leaks or corrosion?
Leaf litter hazard. Cavities between solar panels and roofing can become litter traps and havens for vermin.
Loss of thermal performance. Solar panels lose efficiency if they become too hot (more on this point later).
Projectile hazard. Solar panels, if fitted incorrectly, can become missiles in cyclonic or stormy conditions.
Exposed wiring. External panels are susceptible to cable and wiring damage from airborne debris, birds and rodents.
In light of these many deficiencies, some innovative manufacturers have developed solar roof tiles as a means of improving the look, efficiency and multifunctionality of roofing. Solar roof tile designs differ from one company to the next, but all propose the use of solar (and matching non-solar) roof tiles to create complete full-roof solutions. The technology, therefore, does not lend itself to partial or 'spot' applications on existing buildings.
SOLAR, AND MUCH MORE
An Australian manufacturer at the forefront of solar roof tile technology is Tractile, based in Queensland. With local installations dating back more than seven years, the company's internationally patented solar roof tiles have been developed and thoroughly field tested in Australian conditions, and are gaining the attention of worldwide architectural and construction markets, most notably in the US and Europe.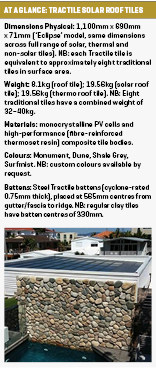 Tractile chief executive Jason Perkins says the advantages of solar roof tiles are obvious once they are appreciated in the context of full-roof design.
Jason says Tractile's success is based on an assessment that multifunctional roofing is the way of the future. The keyword here is 'multifunctionality' – Tractile solar roofing systems, he says, are not only designed to harness solar energy, but they also have the capacity to heat water via internal piping (1L capacity) in thermal tiles. This means the overall tiling functionality achieves four objectives: weather shield, solar energy capture, water heating, and insulation – all without any external 'bolt on' devices to ruin the roofline aesthetic.
It is worth explaining how the water heating function works, as this specific function has two subordinate aims: to act as a cooling radiator for the tiles, and to heat water for use in the home or swimming pool, etc.
A little-known fact is that PV cells, while dependent on direct sunlight for optimal performance, actually begin to lose effectiveness if they get too hot.
"Tractile is the only solar roof tile with water cooling," Jason says.
"This is because each PV panel is an electric circuit and when they get hot – from both being in direct sunlight and the electricity flowing – they experience thermal resistance which in simple terms means the electrons flow less freely."
This means that for every 1°C increase in temperature there will be a corresponding percentage drop in efficiency (usually a loss of around 0.5%–1.0% per one-degree rise). If thermal resistance becomes very high, as often happens in Australia, efficiency losses can be as great as 25%–30%. Water-cooled solar tiles overcome this problem while providing valuable heated water for other household applications, as stated.
"We ran a test site at Bond University, which showed we were able to get 7%–12% more electricity from the same PV unit in a traditional PV installation because of our water cooling," Jason says.
Insulation performance is another equally important feature of Tractile tiles. Not only are tiles designed to be snug-fitting, but the tight 'slide and lock' mating system also minimizes unwanted air transference between the external atmosphere and roof cavity – the tiles themselves have insulation ratings (R-Values) of 2.0 (Eclipse solar roof tile) and 0.05 (Eclipse roof tile) respectively, compared with R-Values of 0.0 for typical metal roofing or 0.02 for concrete tiling. Needless to say, this locked-down tile fitment enhances resistance to wind loads and is designed to withstand even cyclonic conditions.
At present the Eclipse tile model is the flagship of the company, though Tractile Solar Horizon is also in development for integration with Monier CSR flat concrete tiles. Other new models are due for release later this year.
INSTALLATION PRACTICALITIES
Tractile roofing systems are designed for easy and fast installation. A typical 200m2 roof might comprise 15% solar roof tiles, covering approximately 29m2 for a 5kW system. The balance of the roof would be made from matching non-solar tiles. As solar tiles cannot be cut, it is common to position them in a rectangular grouping on a north-facing section of roof. However, configurations can be tailored to fit prevailing conditions and unusual architectural designs.
Tractile head of manufacturing Greg Morwood says roofing contractors should have little difficulty coming to grips with the Tractile batten placement and assembly processes. The solar roof tiles have 'Plug & Play' connectors for both the PV electrical and heated water conduits. The PV tiles use standard solar MV4 connectors and the water uses standard SharkBite plumbing fittings. Greg says a certified electrician and plumber are required to complete connections, which can be done post-construction if necessary. However, in most cases connections would take place at the same time as tile installation and inverter connection.
"I think most roofing contractors would have little trouble installing a Tractile solar tile roof," Greg says.
Crucial considerations to remember when calculating installation schedules are the lightness and large size of Tractile tiles – each tile has an area equivalent to eight regular concrete tiles (See the 'At a Glance' Table for more unit specifications). This equates to far fewer tiles required to cover a given surface area, with far less heavy weightlifting in the process – significant bonuses for contractors!
Tractile is able to provide training to contractors, but in most cases it is envisaged that building professionals would engage the services of a roofing contractor from Tractile's approved installer base. Combined Roofing Solutions in NSW is a preferred installer with national experience.
Of course, Tractile would be delighted to hear from other roofing contractors interested in joining the installer base.
SKY IS THE LIMIT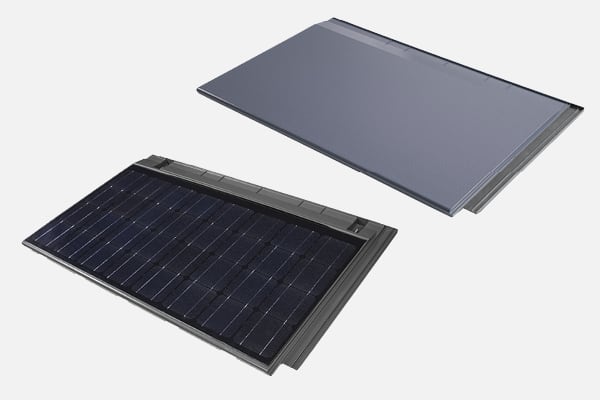 Tractile's fresh approach to multifunctional tiles has the potential for further expansion. As Greg Morwood notes, there is scope for solar technologies to be incorporated into façade cladding systems, for instance.
Jason Perkins has the last word: "We don't want to say too much right now about products that are still in development, but I assure you they are game changers and Tractile will continue to lead the roofing and solar markets in innovation, ideas and design."