Solar Masterclass to be held at the 2022 ENERGY NEXT conference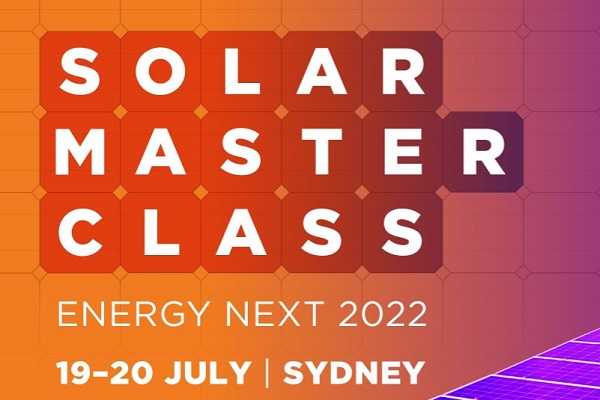 Making its debut in Sydney this July at the Energy Next 2022, the Solar Masterclass will provide solar designers and installers with the latest expert advice on the major design and installation issues currently facing the rooftop solar sector.
Attendance is free and Continuous Professional Development (CPD) points will be available to eligible installers who scan into each session. This is a must-attend event for anyone working in the Australian rooftop solar installation sector.
Below is a list of sessions included in the Solar Masterclass. It's a free event to attend in Sydney and the full list of sessions can be found here.
19 July 2022 at 10:00am-10:15am: Strength in adversity: maintaining solar success and the road ahead
The past two years have been incredibly difficult, with lockdowns and health concerns taking a considerable toll on people and businesses alike. Yet despite these challenges, the rooftop solar industry's momentum has continued to grow. With the lingering effects of the pandemic now joined by geopolitical conflict, what effect will this new challenge have on the sector and what does the future hold for rooftop solar?
19 July 2022 at 10:15am-11:15am: Safety first: addressing health and safety risks in rooftop solar
Workplace health and safety is an essential consideration in any industry, but it is especially critical in a sector such as rooftop solar where mistakes can be fatal. This session will look at the well-known health and safety risks in the solar industry, such as working at heights and electrical hazards, mental health and wellbeing, and electrical and physical safety after natural disasters.
19 July 2022 at 11:30am-12:15pm: Setting for the sun: ensuring that inverter settings are correct
The introduction of the new inverter standard AS/NZS 4777.2:2020 clearly defines the settings for a newly installed inverter. However, to complicate matters, not all networks use the same settings. This session will take a close look at inverter settings, outlining how to set them and what they should be in each region to ensure that installations comply with all the relevant requirements.
19 July 2022 at 2:30pm-3:30pm: Good advice: key updates on common installation questions
The introduction of new standards and guidelines is crucial to the continual improvement of the rooftop solar industry, but it can be difficult to stay on top of all the changes that regularly occur. This session will provide key updates on some of the most common points of confusion currently, including AS/NZS 1170.2, labelling advice and the application of standards, and the floor will then be opened to your questions on the latest technical challenges.
20 July 2022 at 10:00am-11:00am: The ultimate guide: understanding AS/NZS 5033:2021
With AS/NZS 5033 now mandatory across Australia, it is crucial that installers understand all aspects of the new standard and adhere to it when completing an installation. This session will provide an overview of AS/NZS 5033:2021, look at some of the key challenges of implementation that we've seen so far and run through everything else that installers need to know to ensure that they are complying with the new standard.
20 July 2022 at 11:30am-12:30pm: Stored knowledge: learning the ins and outs of battery installation
The demand for household batteries is growing rapidly, creating a considerable opportunity for solar installers. However, battery installation is quite new for a lot of installers and can be a complicated process for the uninitiated. Come to this session to get a comprehensive overview of the battery installation process, an update on the latest products and information about current government schemes.
20 July 2022 at 2:15pm-3:00pm: Inspection reflections: common issues and recommendations from solar inspectors
Rooftop solar inspectors see the best and the worst that the industry has to offer. As a result, they have a unique insight into what installers find most difficult and how to improve compliance across the industry.  Join us at this session to hear solar inspectors discuss the most common issues they encounter when conducting inspections and provide recommendations on how to ensure compliance, and then the floor will be opened to any questions you've always wanted to ask an inspector.