Simonds Stadium undergoes major upgrades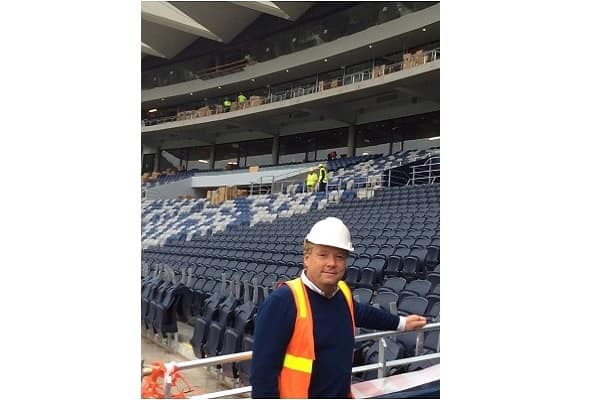 Connection Magazines publisher Jeff Patchell recently donned a vest and safety boots and headed into the heartland of the Geelong Football Club.
It was at the invitation of Cats tragic Wes McKnight who, when he is not contracting, is also one of our Electrical Connection columnists and respected industry professionals.
Jeff took up the offer to tour the new state-of-the-art Stage 4 project at what is currently known as Geelong's Simonds Stadium.
This was done for no other reason than to report back some secrets to his beloved Collingwood Football Club. Not that the Pies have played at Geelong's home ground for decades as the capacity of Simonds Stadium could barely hold a crowd large enough to fill a front bar of Magpie members!
With a procession of recent Victorian Premiers claiming to be Cats supporters, it's not surprising that the political gravy train has poured millions into this facility, even though it's only used for nine AFL games a year. However, if that makes all the punters 'down the road' from the big smoke happy, so be it.
The local electrical sector has gained a lot through Wes' efforts to fitout the sporting facility with the latest of everything in electrical and data. Over the past decade he has competed fiercely to win the tenders for previous stages and this will be the fourth stage of the Simonds Stadium redevelopment program – he nearly knows where every GPO and metre of data cable is located!
Electrical Connection wrote a cover story when Wes installed the park's brilliant outdoor lighting system, enabling a number of sports to be played at night. The new stadium (soon to be the GMHBA Stadium from next year) wraps around half the ground and contains all the club's management, football department, indoor training facilities and impressive entertainment facilities that are intended to be used year-round.
However, visiting teams will still have to put up with cold showers and a dilapidated coach's box on the opposite side of the ground – such is the love between clubs.
The AFL has shared the lessons of recently upgraded stadium facilities on the Gold Coast and Adelaide Oval, to enable these state-of-the-art upgrades which have raised the bar.
As a Pies supporter, it warmed Jeff's heart to see how the Geelong players will be so molly-coddled in this new facility. There will no doubt be some difficulty for players to leave their gaming consoles that are linked to USB charging points in their lockers on game day. I doubt you'll even smell liniment in this new age of sport professionalism!
To meet the needs of this impressive project, Wes chose a number of suppliers who worked closely with him to design solutions that were cognisant of the overall project.
Those credits go to:
Middys.com.au, MySmartCTI.com.au (C-Bus Integrator), Thomas & Betts Stanilite Network Exit  and Emergency Lighting, Stokes Technologies (A/V, P/A, & Broadcast), Elaren Security (CCTV & Access Control), Sonic Lighting and IPD Switchboards.
Simonds Stadium remains hallowed turf for the mad Geelong army, as well as McKnights Electrical.